Welcome to an hour of LISTENING LYRICS. Right here on KDRT 95.7FM in Davis, California. Listening Lyrics is a genre free zone - we feature the artist. What makes them do their thing. Listen to the hope and satisfaction in their voices. Listen to what only commercial free community radio can bring you. Close your eyes - open your ears - relax your mind. Join host Pieter Pastoor as he sends color to your ears. Now lets enter, the mother of all that is music and lyrics and the human capability of producing art.

Podcast
Music programs are only online for two weeks after they are broadcast.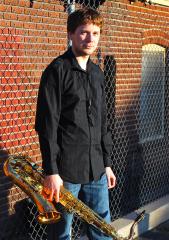 Chris Clark was our call in guest this week. We will be playing tracks from his new CD "CEDAR WISELY"
Jazz runs through the veins of this musician, which really shows when he is playing a saxaphone or behind a piano. Chris grew up in Davis, developing his talent in Davis High. he went on to earn his B.M. in Jazz Studies from the University of Oregon and his M.M. in Jazz and Improvisational Music from the University of Nevada, Reno. Currently he resides in Boston and performs on the east coast. Listen in for an in depth interview along with playing a few tracks from his CD and some music that has influenced him.
This show features my "special song" folder selections. No guest this week but wow - what a mix of music