Welcome to an hour of LISTENING LYRICS. Right here on KDRT 95.7FM in Davis, California. Listening Lyrics is a genre free zone - we feature the artist. What makes them do their thing. Listen to the hope and satisfaction in their voices. Listen to what only commercial free community radio can bring you. Close your eyes - open your ears - relax your mind. Join host Pieter Pastoor as he sends color to your ears. Now lets enter, the mother of all that is music and lyrics and the human capability of producing art.

Podcast
Music programs are only online for two weeks after they are broadcast.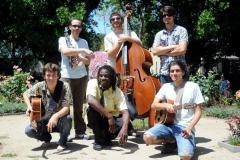 This weeks Listening Lyrics we talk with Marque Cass of "Tha Dirt Feelin".
To describe the band I will use Marque's own words: "Our music is, in my opinion, a very original and eclectic amalgamation of hip-hop, soul, and rock & roll. It is always upbeat, positive, and danceable. Our lyrical styles range from rapid-fire raps that may remind you of Bone Thugs 'n Harmony or Three Six Mafia to soulful crooning that evokes Sam Cooke or Bill Withers."
I have heard Marque at the Dr. Andy poetry reading series and frankly Marque blew me away with his presentation and passion.