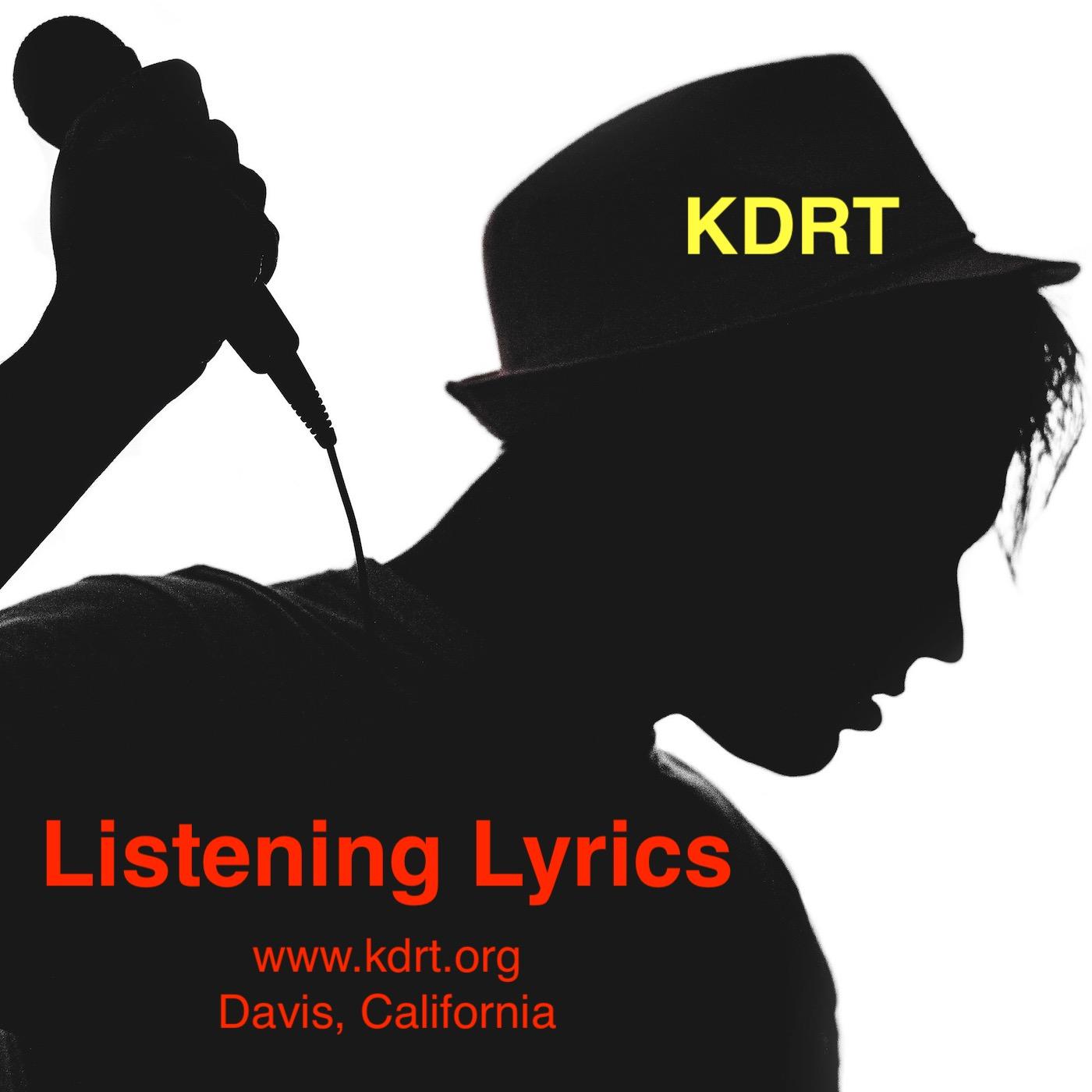 Welcome to an hour of LISTENING LYRICS. Right here on KDRT 95.7FM in Davis, California. Listening Lyrics is a genre free zone - we feature the artist. What makes them do their thing. Listen to the hope and satisfaction in their voices. Listen to what only commercial free community radio can bring you. Close your eyes - open your ears - relax your mind. Join host Pieter Pastoor and co-host Jeanne Pastoor. Now lets enter, the mother of all that is music and lyrics and the human capability of producing art.
Replays Monday 7-8am, Sunday 9-10pm
Live Friday 4-5pm

Podcast
Music programs are only online for two weeks after they are broadcast.
This was EPIC. The Big Poppies are one of northern California's favorite bands and were in the studio with us. (In the studio 2/3rd of the Big Poppies, Chris Preston and Max Van Dyke). Their music is contagious with a heavy influence of blues, rock and throw in a bit of funk. Their stage presence is electrifying. If that is not enough, all of the band members are spot on talented musicians. Influences include the likes of Vance Joy, Alabama Shakes, Gary Clark Jr., The Black Keys, Daft Punk, just to name a few. On this show we will focus in on their new CD release
Skyler and Julia of the Yo! and the Electric joined us this week. Yo! And The Electric formed in 2017. This psychedelic group gets its inspiration from such artists as Bob Dylan, Frank Zappa, and The Beach Boys. Based in Sacramento, Yo! And The Electric self-released "Spartacus," an EP of original psychedelic jams, in August, and is known for blending '60s pop sensibilities with cool undertones of jazz. The band offers a full rich sound that has a wonderful depth.
Band members are: Skyler Leftridge, Julia Stimson, Ryan Coughran, Dane Skinner, and Patrick Lema.
Boot Juice, The band has been kickin' since 2012, indiscriminately leaving dance floors sticky in California and Idaho. We are a 5-piece band consisting of electric and acoustic guitars, three vocalists, bass and drums. The music we play has evolved over 10 years, starting when our lead guitarist, Evan Daly, would play his beat-up acoustic seagull guitar and sing his heart out to an apartment full of lost kids until the strings broke. One of those kids was me, Connor Herdt. Since then, I have been writing and playing music, and eventually founded BootJuice. We have had an evolving line-up over the years that has finally solidified with David Provost on Drum kit, Brett Worley on Bass, Evan Daly on lead guitar and vocals, Jessica Stoll on vocals, and myself, playing acoustic and singing. It has been a long road, and it just keeps getting better. Our music will attempt to bring you to the street corner, the river side, or the dance floor. I've always wanted the music to hold on to the raw inspiration I felt sitting in that apartment as a 17 year old, searching for meaning in life. I carry it with me everyday, growing and improving in my minds ear. I hope to pass on that joy and the power of music to every audience gracious enough to listen. Showcasing up-beat, rocking, acoustic music, this isn't folk night at the coffee shop. Boot Juice will get your heart beating and your feet stomping.
Check out the video clip recorded in the studio on YouTube
Listen now to Doc Tari as a one-man band, formed under the influence of New Orleans busking acts. Driving out feel-good rhythms on foot pedal drums, guitar and harmonica, Doc Tari sings songs that trace the roots of American music back through the annals of country, blues, gospel and folk music. His set includes new arrangements of both rare and well-known gems of American music as well as original songs, drawing on experiences gained while living across the country, from New Orleans to Montana and, now, veterinary school in Davis, California.
Andrew Castro has been a full time professional musician in Sacramento for about 4 years now. Over the summer he took a break from writing and performing music to sit down and write his first book and most important project of his life. It's called Overcoming Your Anxiety for People on the Go. The title comes from not managing your anxiety but overcoming it. The book is short and concise, only a little over 100 pages. In our fast moving world he wanted to make something compact and easy to reference.
It was just released on Monday the 17th and since then has hit #1 for New Releases in the short self-help category on Amazon. It also was #9 in Kindle version and #10 in paperback version in the major category Anxieties and Phobias.
We had him back in the studio for the whole hour. Jesse Deere returned with a bag full of new songs and artists he has found since his "Dead Wax" days. Jesse has a very good ear to spot new and insightful music. So the playlist is all his. Tune in for a vinyl-centric exploration of Americana, from classic country to roots rock and blues. Check out the playlist below.
Thank you Jesse
Brett Vaughn (of The Mindful ) uses his passion in music to "find meaning in an often meaningless culture". Brett says If experimentalism is defined as "the philosophical belief that the way to truth is through experiments and empiricism", then the Mindful aim to be a musical expression of this belief. Founded by Berklee College of Music alum Brett Vaughn, The Mindful plays with sounds, styles and musical approaches at will, making use of primarily rock and jazz influences while also offering funk and Americana vibes. Not merely instrumental-based music, Vaughn's colorful lyrics narrate a vast and varied display of songwriting prowess and discovery.
Rob Read joins us this week to talk to us about cannabis. Cannabis and music have a relationship so we also played some related music. Rob is the CEO of the F Street Dispensary in Davis which will open the end of September. Rob is a life long resident of Davis, I might even add a proud Davisitte. Listening Lyrics used the article "Use Weed To Listen To Music" by Andry Bourgue as a base of talking points.