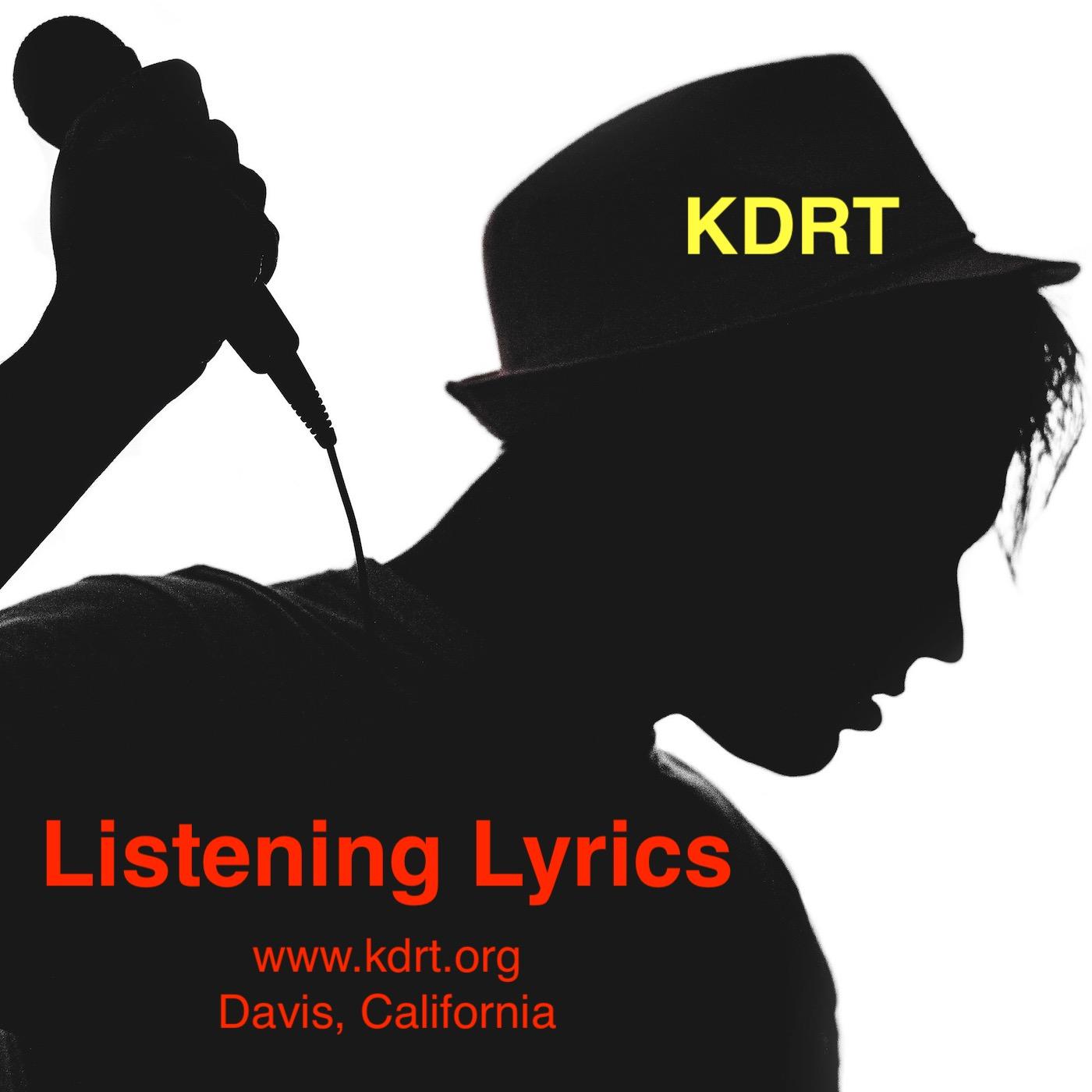 Welcome to an hour of LISTENING LYRICS. Right here on KDRT 95.7FM in Davis, California. Listening Lyrics is a genre free zone - we feature the artist. What makes them do their thing. Listen to the hope and satisfaction in their voices. Listen to what only commercial free community radio can bring you. Close your eyes - open your ears - relax your mind. Join host Pieter Pastoor and co-host Jeanne Pastoor. Now lets enter, the mother of all that is music and lyrics and the human capability of producing art.
Replays Monday 7-8am, Sunday 9-10pm
Live Friday 4-5pm

Podcast
Music programs are only online for two weeks after they are broadcast.
Neil Heaton discussed his new project called "Limits and Rituals". He can sing, he can play, he can compose. Neil Heaton is a pianist from Sacramento, California. As influenced by jazz virtuosos as he is alternative auteurs, his music attempts to find the common ground between rock, jazz, pop, and hip-hop. That description is exactly why his compositions are a delight. Listen in as we talk with and listen to Neil. Vist and listen to Neil https://neilheaton.bandcamp.com.
We interviewed Jessica Malone about her new album "Jessica Malone Live" playing some songs from the CD and also she performed a few live for us. Jessica Malone is an award winning singer/ songwriter who was raised in the tall mountains of far northern California. Her original music evokes a sense of wanderlust, self-discovery, positivity and moving forward. On Jessica's latest release, "The Waiting Hours" EP, drums, upright bass, violin, acoustic & electric guitar accompany her powerful and soothing vocals. Her raw and unfiltered approach to folk/ Americana songwriting creates music that will take you back in time, while her heartfelt lyrics will keep you rooted in the present.
Adam Block been involved with the local Sacramento music scene for 20+ years. he graduated from Berklee College of Music. He has played throughout the East and West coasts with various bands, and briefly toured the South. His music is a blend of electric and acoustic exploration inspired by various musical styles such as blues, jazz, country, classical music, and flamenco. Today with Adam we discused his latest CD "LIGHT".
We covered a lot of topics with this very special guest.
Juan Miranda is a recent Ph.D. of the Department of Spanish and Portuguese, with an emphasis in Performance Studies from the University of California, Davis, focusing in Spanish, Southern Cone and Latinx Literature, Cinema and Culture. He is a radio host for KDVS 90.3's Correveydile (Every other Monday from 5 p.m. to 6 p.m.), an associate editor of the peer-reviewed journal Spanish and Portuguese Review, and an activist in various non-governmental institutions. In addition, he is a writer (including the plays ¡Mama! Grandes Funerales and The Karma of Fools), actor (La Fronteriza Theatre Company; La Poltrona; The Art Theater of Davis), and a performer in the Sammy award winning musical project group Bomba Fried Rice.
Juan and Listening Lyrics encourage you to read Julio Cortazar's book, "Todos los fuegos el fuego" (All Fires the Fire) (1966) as discussed on this broadcast.
Remember sitting up all night with friends listening to vinyl. Thats what this hour is about. Listening to Tari's vintage vinyl blues collection and some talking with Tari and friend Lee. This show embraces the concept of community radio.