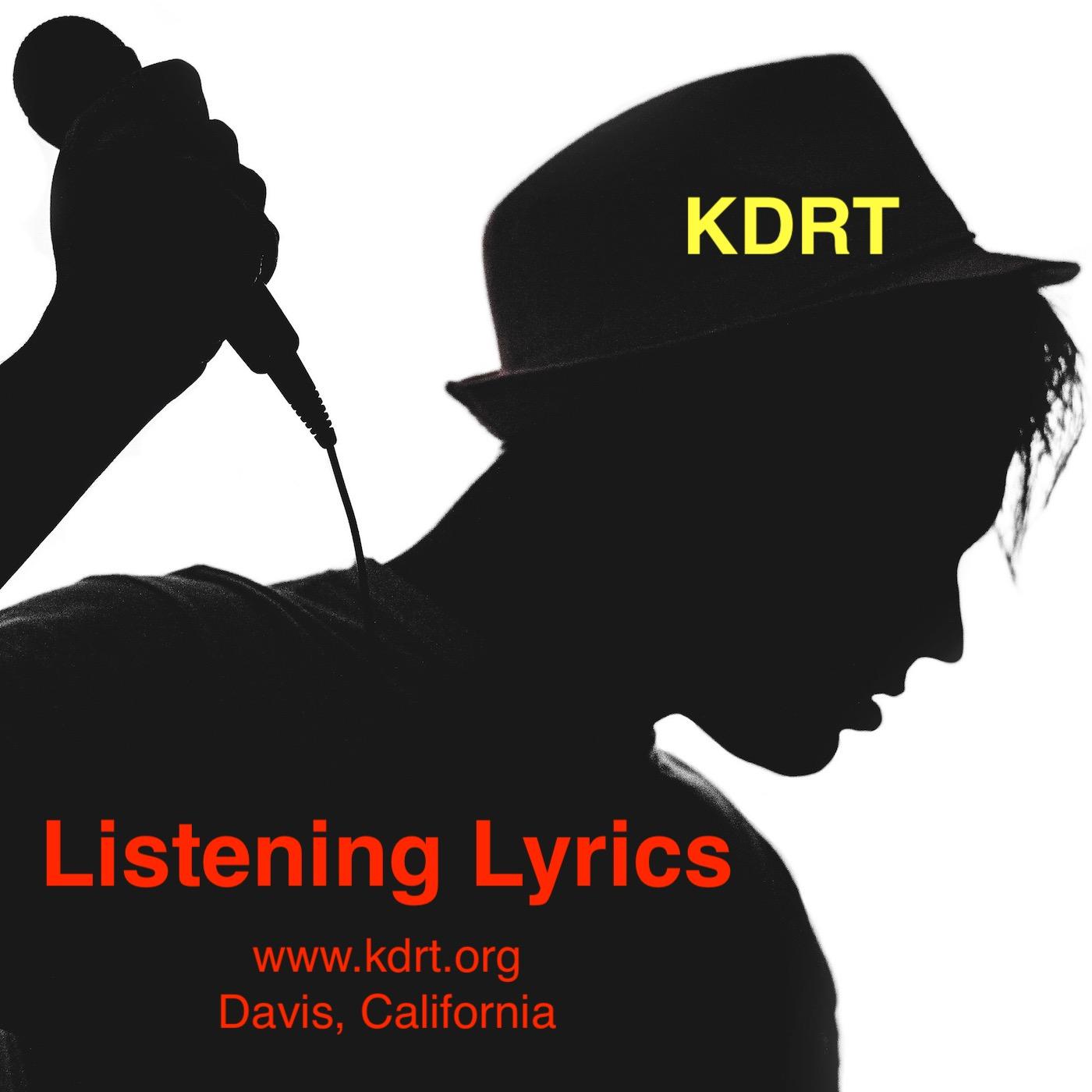 Welcome to an hour of LISTENING LYRICS. Right here on KDRT 95.7FM in Davis, California. Listening Lyrics is a genre free zone - we feature the artist. What makes them do their thing. Listen to the hope and satisfaction in their voices. Listen to what only commercial free community radio can bring you. Close your eyes - open your ears - relax your mind. Join host Pieter Pastoor and co-host Jeanne Pastoor. Now lets enter, the mother of all that is music and lyrics and the human capability of producing art.
Replays Monday 7-8am, Sunday 9-10pm
Live Friday 4-5pm

Podcast
Music programs are only online for two weeks after they are broadcast.
Bart Van Der Zeeuw -- a drummer in several local bands, and a studio musician -- spends some time with Listening Lyrics, talking about music and what he has been doing during the Covid-19 lockdown. Bart also shares some talents that we have not heard before: his vocals and piano playing.
Yes we are back, this time from our home studio. Listen in as Johua Wisterman and members of The Gold Souls share how musicians are coping during the lockdown. The Gold Souls introduced us to their new single "Got It" and Joshua sings an original tune "I'm Still So Happy.
Donut Exchange is a folk group based in both Davis and in Berlin, Germany. Members Anya Sturm, Obin Sturm, and Emma Ware grew up playing traditional old-time, bluegrass, and Irish fiddle music. They blend the three styles on their debut album, Any Place Is Home, with 11 original tracks. The album, started from transatlantic voice memos, features a warm blend of strings, percussion, utensils, and the occasional bagpipes. Recorded in December 2019, during the only week when the bandmates were on the same continent, it captures the magic and charm of sleepless nights spent playing tunes with the people you love.
We opened the show with a tune from The HackensawBoys and played a new one from Mikey LP and the Kooks
Karma Loading is a folk-rock group featuring original tunes by Didar Singh Khalsa. The smart lyrics and catchy tunes make this band a unique, fun live experience. Their appearance on Listening Lyrics captures a bit of that.
The members are Didar Singh Khalsa (singer, songwriter, lead guitar), Jane Thompson (bass), and Tobias Wehrhan (drums).
Hey, Davis musicians, this is a must-listen for you. Joel Daniel received his grant last year, and he and the city want you to know about it. Here it is, in Joel's words:
1) With the aim of bettering the quality of music that comes from Davis, I applied for a grant that I hope will impact it over many years to come. I have called it the Davis Independent Music Initiative ("DIMI"). The main parts of the grant are:
First, over the next few months, I will host a free and public series of talks aimed at songwriting and the process of recording and marketing a work. These will take place at Repower Yolo and will be hosted by Bike City Theater Company. This will be the first Wednesday in April (executive production), the first Wednesday in May (songwriting) and the second Wednesday in June (publicity/promotion). I hope this will be an opportunity for musicians of ALL levels to network, and to start to think about how to better their work.
Listen in now as Gabe Lewin is joined by vocalist Lane Suaraz.
Gabe Lewin started singing about the time he learned to walk. He picked up the guitar at 13, or 60 years ago, and then 15 years after that he took up the harmonica. His first professional stage appearance was in 1965 at The Troubadour in Johannesburg, South Africa.
In South Africa he learned a wide variety of musical styles, including very old, very new, and original songs. He learned old folk standards, new folk tunes, reggae tunes, bluegrass, and even a few classic rock and blues tunes.  The common thread is that all have real melodies!
Listen in as we play tunes (and possibly explain why) these artists did not receive a Grammy
Adrian West spends the hour with us in the KDRT studio. Listen now to his musical abilities.
His sound is original acoustic rock that sounds like Paul Simon meets Dave Matthews meets Talking Heads. His band also features vocal harmonies, guitar, electric violin, bass, drums, sometimes an alto sax, and a bit of live "looping."
Born and raised in Montreal, Adrian is an exciting performer. A gifted vocalist, he moves effortlessly between guitar & violin, sometimes using live looping to add layers of sound and intrigue to his songs. With a knack for language that's simple yet poetic, he's not afraid to tackle difficult topics in his songwriting. "Safe Streets" tells an allegory about police violence, "Close Your Eyes" laments the beauty bias that pervades the mass media, and "Senses" entreats you to appreciate your senses while you can. But Adrian doesn't take any of this stuff too seriously; his lyrics are infused with a sense of hope and a touch of whimsy.
On Saturday Jan. 4, 2020 at 3:30 p.m. (San Francisco time), Listening Lyrics spied on some friends and acquaintances and recorded what these folks where listening to at that time. The result is quite a mix of music, and a fun hour. The listeners were Connor Pastoor, Casey Groat, Brad Elliot, Karin Pastoor Hulsebosch, Thomas Bjorkroth, Billy P. Thompson, Ben Simmons, Evan Daly and Kevin Welsch. This was all done through the courtesy of Spotify. Enjoy!
This show was a blast and totally awesome - what a great way to end 2019.
Broken Glass, formed in December 2018, are 8th-graders who practice in their drummer's garage. Performing at small gigs and school events, the band started by playing cover songs, and was soon creating originals. They play a variety of genres, but most often stay within the wider rock style. The members are Alexander (keyboard/vocals/guitar), Alden (guitarist), Everett (bass), and Oscar (drums)
See playlist for details of the songs that inspired the individual members.