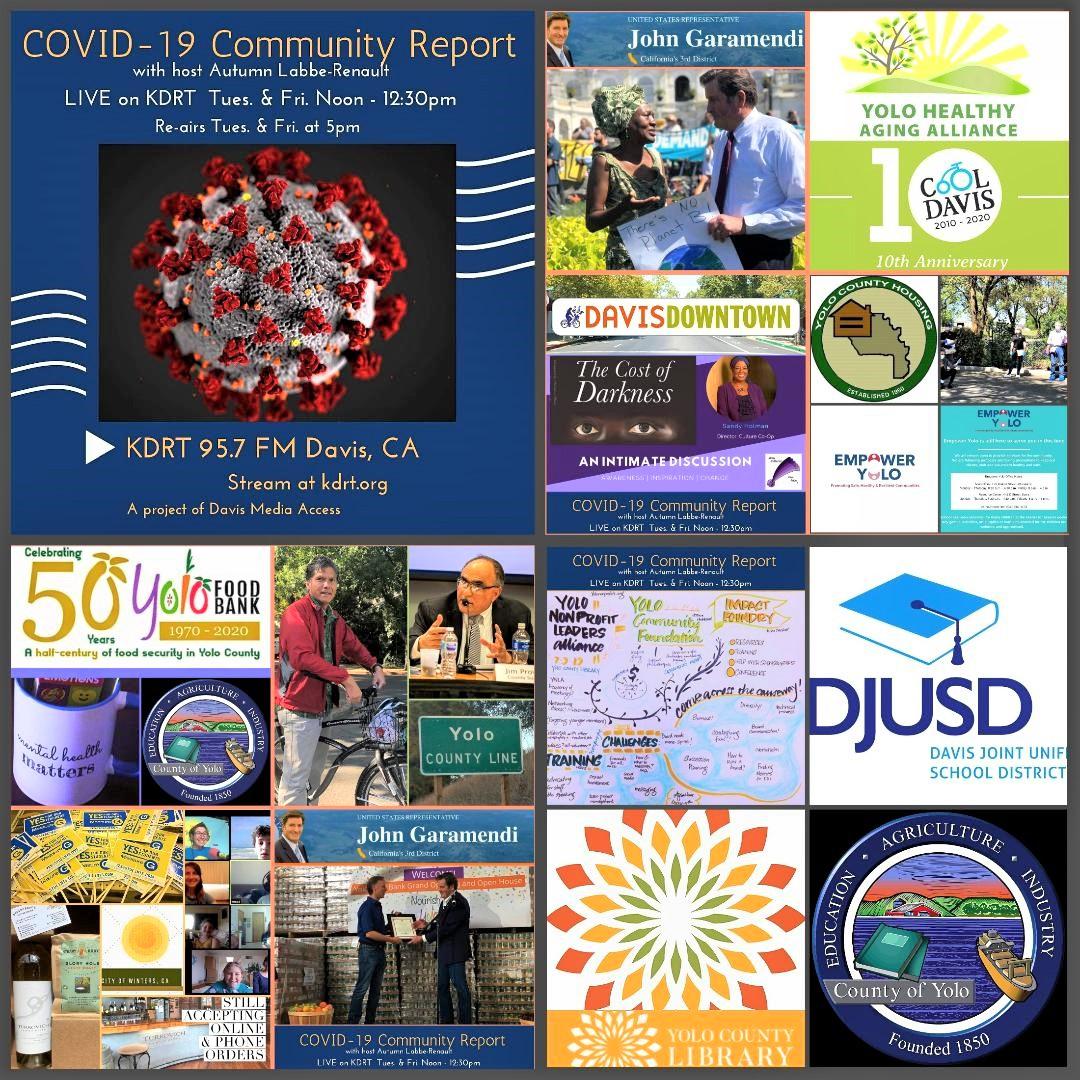 In a time of physical distancing, access to local news and information is more important than ever. Join Host Autumn Labbe-Renault live Tuesdays from 12-12:30. On the air since March 17, 2020, Autumn's been interviewing public health representatives, elected officials, community activists, nonprofit leaders, teachers and more. The information, resources, and strategies around COVID-19 are ever changing, and hearing from decision makers and community members in this moment is powerful. These shows are rebroadcast on Tuesdays and Fridays at 5 pm, and Sundays at noon. Autumn is executive director of Davis Media Access and is currently focusing some of her work time on documenting the effects of the pandemic here in Yolo County, using radio and video archives.
Please scroll down below this description for the archives of all previous episodes available to stream.
Replays Tuesday 5-5:30pm, Friday 12-12:30pm
Live Tuesday 12-12:30pm

Podcast
Music programs are only online for two weeks after they are broadcast.
I've interviewed many people in the last 10 months. With each conversation, I aim to let people tell their stories--whatever they may be--about the impacts of the pandemic.
Sometimes life is stranger than fiction. Consider the sports editor when there are no games, no practices, no preseason. What's a guy to do? If you're Bruce Gallaudet of The Davis Enterprise, you muddle through and cover the angles you can. Catch our conversation about the status of UC Davis athletics, and the trickle-down effect that happens when high-school youth don't have college-level opportunities to pursue.
It's a new year, with hope on the horizon in the form of new vaccines, but the reality is we're still in this for a while, and the State's Stay Home Order is still in effect. The list of stats and updates I'll share on today's show is a bit daunting, which is one reason  I'm glad I have a great community leader to interview.  As Executive Director of International House Davis, longtime Davis resident Shelly Gilbride and her team have been guiding the venerable nonprofit through the challenges and changes of the past year. Before joining I-House, Shelly served  for five years as the Programs Officer of the California Arts Council,  where she was responsible for grant programs to support arts, culture, and creativity across the state.
My guest for Dec. 15 is Jesse Salinas, who serves as the Assessor/ Clerk-Recorder/Chief Election Official (ACE) for Yolo County. Jesse's purview and scope of work is broad and far reaching, but it was really the elections work---and the switch to vote by mail--that took center stage during this pandemic year.
I last spoke with Jesse back at the end of September in Episode 37, when he and his staff were ramping up for vote by mail. In this interview, Episode 45 we'll touch base about lessons learned during this time of COVID-19, voter turnout, and what voting in Yolo County could look like moving forward.
Tune in live at noon at 95.7 FM, or listen anytime at kdrt.org.
Dec. 8 marks nearly nine full months since the first shelter-in-place order back in March, and also Episode 44 of the "COVID-19 Community Report" on KDRT. I've interviewed more than 70 people during this time, documenting the effects of the pandemic on communities, institutions, and individuals across Yolo County. Today we'll catch up with Davis Mayor Gloria Partida.
Municipalities have their own particular burdens to bear during this pandemic, from loss of sales tax and other revenue generated at the local level, to loss of income from state and federal governments. And yet, the work of running the City goes on. We'll hear about recent developments in Davis, from Commission appointments to police accountability, and learn more about a forthcoming Community Conversation on Public Safety Recommendations scheduled for Dec. 14.
Live Tuesdays at noon on KDRT 95.7FM and kdrt.org
As Yolo County saw its adjusted daily case rate for the week ending Nov. 22 jump to 28.2 per 100,000 residents--up from 20.9 just four days prior--many of us are wondering what the numbers might look like 7-10 days after holiday gatherings at Thanksgiving.
It's a good moment to check in with Dr. Aimee Sisson, who joined Yolo County as its chief Public Health Officer in October after resigning from the same position in Placer County when officials there decided to lessen restrictions around COVID-19.
We'll talk about our numbers, what we might expect in the coming weeks and months, and generally check in about the state of public health in Yolo County. We'll also talk about the hard and sometimes demoralizing front-line work that public health officers face as they carry out the state's often unpopular mandates.
At a moment when Yolo County has been returned to the most restrictive tier under the state's COVID-19 protocol, we hear two perspectives about the pandemic's impact on school-aged populations here in Davis.
My first guest today is Lorraine Nail-Visher, president of the Davis School Arts Foundation, which supports culturally relevant arts education for children in Davis public schools through project grants, advocacy, and arts integration training for educators. We'll hear about the foundation's work in general, its funding, and its recent decision to concentrate its efforts on one grade and on one centralized effort during the pandemic, with the Arts Kit project in partnership with the Davis Arts Center.