Live Friday 4-5pm
Replays Monday 7-8pm, Tuesday 12-1pm, Saturday 11am-12pm, Sunday 4-5pm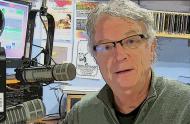 Each one-hour show centers around a theme and plays music to contribute to the theme, or features interviews with local artists to hear their music and/or listen to music that might have inspired them. Do not let the name fool you, this show is all about music--Listening Lyrics plays the tunes that have creative and outstanding lyrics, mostly in the jazz and singer/songwriter genre. The show is hosted by Pieter Pastoor, who as a poet has a good ear for meaningful lyrics. Pieter's co-host is Jeanne Pastoor, who is known to ask those insightful questions that keeps this show in fine-tune mode.

Podcast
Listening Lyrics for 4pm on Sep 26th, 2014
Listening Lyrics Sep 19th, 2014 with CASEY GROAT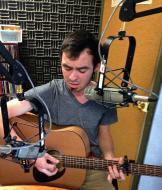 Sometimes young talent needs a little polishing, but in the case of singer/songwriter CASEY GROAT he comes to us with a shine that begs to be heard. Casey enjoys a natural stage presence along with the tunes that he crafts. Picking away at his guitar shows us that young talent is worth more then a listen but worth our attention.
With Casey was his friend/DJ Zach
Listen now for an hour with Casey.
View a short GoPro video of Casey in the studio here https://www.youtube.com/watch?v=3wE0aYWTjK8&feature=youtu.be
Listening Lyrics Sep 12th, 2014 with Eliza Gilkyson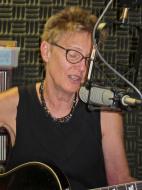 Eliza Gilkyson is a politically minded, poetically gifted singer-songwriter who has become one of the most respected musicians in folk and Americana music circles. The daughter of legendary songwriter Terry Gilkyson, Eliza entered the music world as a teenager, recording demos for her father. Since then she has released 20 recordings of her own, and her songs have been covered by such notables as Joan Baez, Bob Geldof, Tom Rush and Rosanne Cash.
The Grammy-nominated songwriter has appeared on NPR, Austin City Limits, Mountain Stage, etown, XM Radio, Air America Radio and has toured worldwide as a solo artist and in support of Richard Thompson, Patty Griffin, Mary Chapin Carpenter, Dan Fogelberg, as well as with the Woody Guthrie review, Ribbon of Highway-Endless Skyway, alongside the Guthrie Family, Jimmy Lafave, Slaid Cleaves, and special guests Pete Seeger, Jackson Browne and Kris Kristofferson. She has been inducted into the Austin Music Hall of Fame alongside such legends as Willie Nelson, Townes Van Zandt and Nanci Griffith and is an ongoing winner of the Austin Chronicle's various music awards, as well as Folk Alliance awards for Best Artist, Best Songwriter and Record of the Year.
Her CD Land of Milk and Honey was nominated for a Grammy for Best Contemporary Folk Album. Eliza's meditative "Requiem," written as a prayer for those who lost their lives in the devastating tsunami in Southeast Asia, was recorded by the nationally recognized choral group Conspirare, whose version was nominated for a Grammy and won the prestigious Edison Award in Europe. The song has become a standard in choir repertory the world over. Two of her songs appeared on Joan Baez' Grammy-nominated CD, Day After Tomorrow. In addition to touring in support of her previous release, Roses at the End of Time, in 2011 and 2012 Eliza and label-mates John Gorka and Lucy Kaplansky performed as "Folk Super Trio" Red Horse, a side project whose CD stayed for months at the top of the Folk Music Charts. Eliza recently was invited to contribute a track on the Jackson Browne tribute, Looking Into You (due to be released in early 2014), along with Bruce Springsteen, Don Henley, Sara Watkins, Bonnie Raitt, Shawn Colvin and others.
Eliza is an active member of the Austin music and political community, including the environmental organization Save Our Springs (www.sosalliance.org), and she is a co-founder of www.5604manor.org, an Austin-based activist resource center that promotes political activism and community involvement around issues of race, patriarchy and global injustice.
Listening Lyrics Sep 5th, 2014 with Nat Lefkoff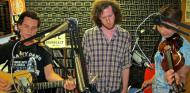 Nat LEFKOFF visited LISTENING LYRICS for the second time, and rightfully so. Nat is an American singer/songwriter from Northern California, currently residing in Washington state. Nat brings with him not only his great writing capability but also a voice that compliments his lyrics. A voice that shares its soul is rare, and Nat does share it with us. It's a complete package that makes you want to hear more. Nat is also full of enthusiasm about his life, and we heard all about it. Nat was accompanied with Tyler Gholson (back up vocals) and Raven (Vocals and violin).
Short video clip from the studio https://www.youtube.com/watch?v=ptsf792dbXo&feature=youtu.be
Listening Lyrics is on Facebook - like to keep in touch with the weekly interviews https://www.facebook.com/ListeningLyrics?ref=bookmarks
Check the playlist below for more details.
Also played was Corey Larue "House of the Rising Sun"
Listening Lyrics Aug 22nd, 2014 with Evan Clayburg and Sally Hensel.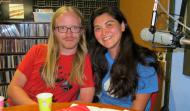 Listen in to the dynamic duo of Evan Clayburg and Sally Hensel. They are Davis residents who met through their shared passion for music and art. Evan along with Sally are founding members of the THIRD SPACE ART COLLECTIVE in Davis, an art collective and music show venue where emerging creatives express themselves in a supportive atmosphere. In mid September Evan and Sally will be embarking on a 4 month creative journey to share what they've learned and learn from other likeminded creative spaces.
The first leg of their journey will take the to an artist residency at Dope Chapel in Norman, Oklahoma. Evan will be walking from Los Angeles to Norman, drawing personal inspiration from the walk, an exercise in discovering the intersection of the mundane and the epic. Sally's project will focus on using plastic bags to create a large scale interactive installation, raising awareness of creative repurposing in a fun, meaningful way. The second leg of their journey will take them to Todos Santos in Mexico where they will work and study under Donna Billick, a well know artist from Davis as she works to create a "Third Space" for school children there.
As if that isn't enough the pair will then go to Mexico City to discover the underground creative network there. All this before they get married in the spring of 2015. Listen in to Evan and Sally discuss their next few months of adventure, The interview was sprinkled with "walking" songs.
Vist THIRD SPACE at http://www.thirdspacedavis.com/art/
Check out Evan's animated sketching in a music video. https://vimeo.com/68958795
Listening Lyrics Aug 15th, 2014 with ROWAN MCGUIRE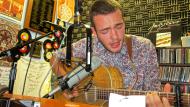 Listen in as you hear a young man funnel his talent through music. He filled the studio with some great sounds. So, Rowan McGuire is my guest for the full hour. Rowan is a singer-songwriter from Davis, California, where he plays guitar, drums and sings. His songs feature unique finger picking techniques that have percussive elements, and they involve many different tunings. Recently he has added lyrics and vocals to his guitar playing to increase the depth and diversity of his music, blending vocal melodies and harmonies with complex picking patterns. His musical influences are John Mayer, Ben Howard, Michael Hedges, Andy McKee, and Tommy Emmanuel.
Check out the short video clip of ROWAN in the studio https://www.youtube.com/watch?v=CYHf3LdhZSs&list=UUGAP8Loyd3hrcPZNy7POLrg
https://soundcloud.com/rowan-mcguire
https://www.facebook.com/rowansguitar
Listening Lyrics Aug 8th, 2014 with Luke Pena & Micah Groom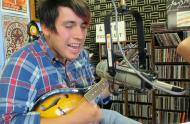 Singer/songwriter Luke O. Pena and Micah Groom were our guests. Lukes' genre is folk/indie/acoustic.With their band mates they form the group TREEBEAR. Listen in while we explore this Davis resident's music.Luke and Micah have climbed 10 of the tallest mountains in the USA -- WITH their GUITARS. Yes, they played and sang on the mountain tops. You can hear their music at -
https://soundcloud.com/treebearmusic
A short video clip of the guys in the studio https://www.youtube.com/watch?v=F522_vqnHlU&feature=youtu.be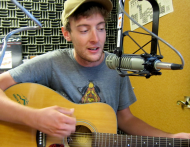 Listening Lyrics Jul 25th, 2014 with Steve Kotarek & Naomi Rogers-Hefley
What a treat to have Steve Kotarek back in the studio. This time Steve will be accompinied by one of his bandmates, Naomi Rogers-Hefley.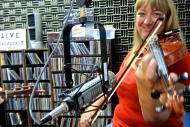 Steve has worked his way into the local music scene with his talent as a songwriter and uses his voice to convey a message in song. Steve lives in Woodland and his music is heard around northern California. Once you hear Steve perform you will be VERY tempted to pick up one of his CDs.
Naomi hails from the UK, recently moved to California. With her classical background, she brings a unique appoach to fiddle playing that complements Steve's music.
Visit Steve at https://www.facebook.com/SteveKotarekBand
View PLAYLIST below for song information
Listening Lyrics Jul 18th, 2014 with RED UNION BLUE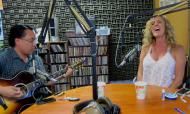 Many months in the making and now its in the can. - RED UNION BLUE in the studio for the whole hour. Red Union Blue from Sacramento, CA brings together the musical talents of Trena Thompson and Chris Lee into an exciting new blend of country, rock, pop, and folk. Since 2012, the band has grown into one of the area's most promising up-and-coming artists, combining thoughtful and insightful lyrics with powerful vocals and dynamic musicianship.

The band's first album "Learning To Fall" was released in June 2013. Featuring 10 original songs, the album ranges in styles from the pop choruses of "I Don't Want To Need You" and "Without You & Me" to the introspective folk-rock reflection of "Ghost Town" and "Let It Rain". Recorded by J.K. Northrup (King Kobra, Montrose, Foreigner, Toto) at Alien Productions & Recordings, the album was voted by Twirl Radio as one of the best debuts of 2013.

Signed with Sunny Dragon Records, the band is currently recording its second album scheduled for release later this year. The band also recently partnered with A&R firm Big Noise Productions for artist development and industry outreach.
Visit RED UNION BLUE at http://www.redunionblue.com
Short video clip of RED UNION BLUE in the studio https://www.youtube.com/watch?v=h9XK5WgXrqc&feature=youtu.be
If you like this type of programming click like on the LISTENING LYRICS Facebook page for weekly updates on our guests. https://www.facebook.com/ListeningLyrics
Listening Lyrics July 11th, 2014 with Michael Leahy of Crossbill Records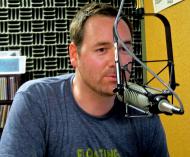 We spend an hour with MICHAEL LEAHY of CROSSBILL RECORDS. Listen in to some of the artists on this label and discuss how a label select artists. Plus much more. Crossbill Records has been releasing a steady stream of songwriter-based indie folk, rock, americana, and bluegrass albums from its Davis, CA home-base since 2005. Headed by longtime KDVS DJ and "Cool as Folk" concert

presenter Michael Leahy, the label thrives as a cooperative effort with releases from friends Tom Brosseau, Brass Bed, Matt Bauer, Appetite, The Loom, Sea of Bees, Garrett Pierce, and Jake Mann making the team push (Leahy is also a basketball coach) for recordings,
See PLAYLIST BELOW for details
Pages