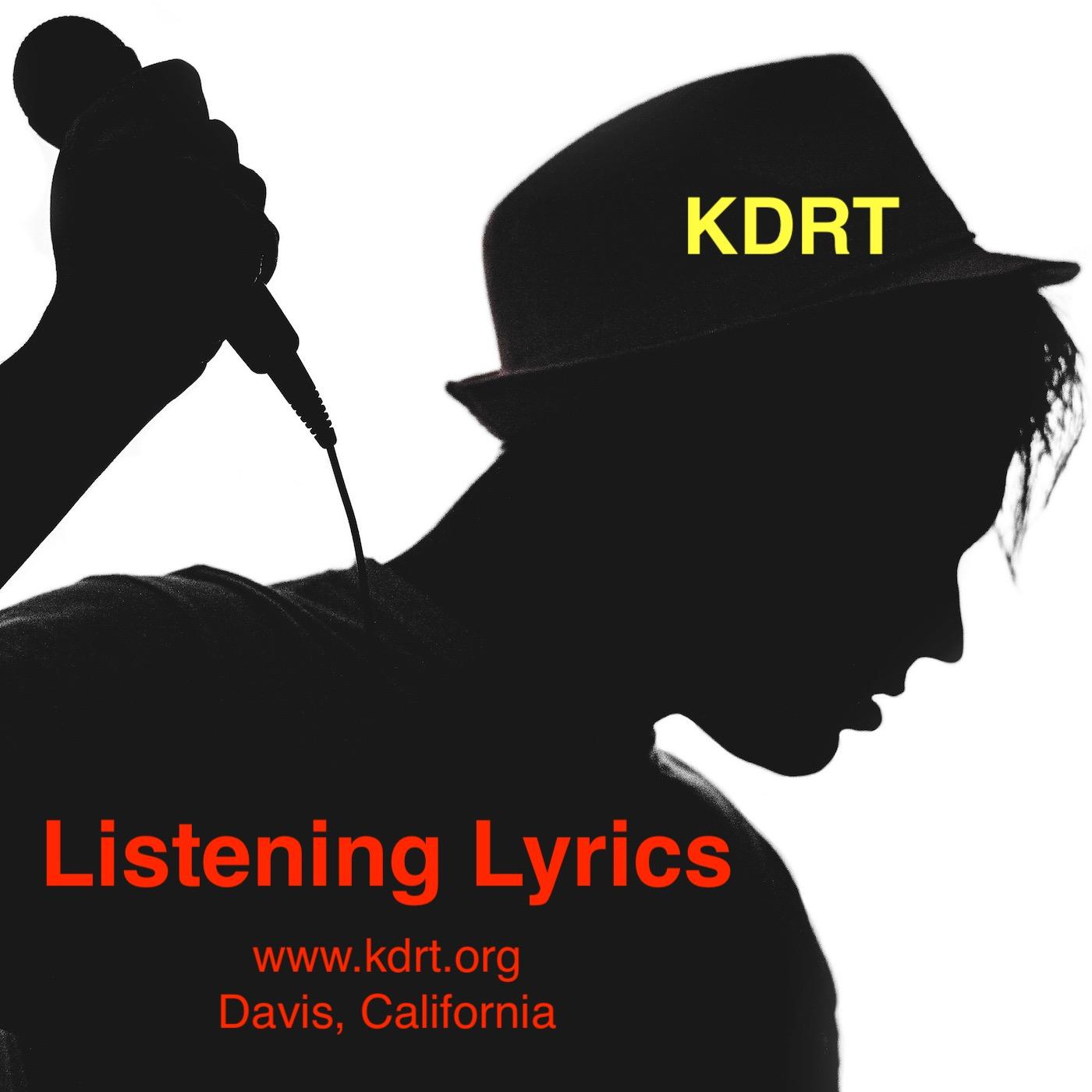 Welcome to an hour of LISTENING LYRICS. Right here on KDRT 95.7FM in Davis, California. Listening Lyrics is a genre free zone - we feature the artist. What makes them do their thing. Listen to the hope and satisfaction in their voices. Listen to what only commercial free community radio can bring you. Close your eyes - open your ears - relax your mind. Join host Pieter Pastoor and co-host Jeanne Pastoor. Now lets enter, the mother of all that is music and lyrics and the human capability of producing art.
Replays Monday 7-8am, Sunday 9-10pm
Live Friday 4-5pm

Podcast
Music programs are only online for two weeks after they are broadcast.
Kat Gallardo, known as "katgrüvs," is riding the new wave of modern fingerstyle guitarists. A self-taught artist with a solid sense of time and rhythm, she discovers new ways to nurture her passion for percussive fingerstyle guitar arrangement and composition.
The name "katgrüvs" captures her innate feel for "grüv" and pocket, a trait steeped in years of playing in jazz, funk, and rock ensembles. A graduate from the University of California, Davis in Mechanical Engineering, she aspires to marry her lifelong passion for music with creative engineering. 
Jacob Swedlow is a talented and beautiful human being. In a far-ranging interview he shares with us his music, and how Covid-19 and the Black Lives Matter storm affected him -- all of it influencing his own being and his creativity.
The best I can do is let Jacob talk a little about himself:
"My name is Jacob Swedlow, and I am a drummer, composer, vibraphonist, and teacher from Sacramento. After being exposed to Black American music at a young age, I have developed a deep passion for the history, culture, and innovation of the music, as well as the urge to play it! After my first few professional performances, I realized that this was the path for me.
Lillian Frances is a sonic collager hailing from Davis, CA. She was a Polly Pocket in a past life, and draws inspiration from the creative nature of children. While crafting her music, Frances isn't bothered by genre, or motivated to create in a particular style. One minute she leads you through a poppy, textured dream-land, the next you tumble into sparse, trappy beats as Lillian glides effortlessly between English and Spanish.
Her unique alt-pop style has been compared to Lorde, Sylvan Esso, and Billie Eilish. On June 5, she will hand over the keys to Moonrise Queendom, her debut album.
Niall Woods (AKA Nylophone), who hails from Wicklow, Ireland, painstakingly tweaks his songs on a modest recording set-up at home before passing them on to a pro to have live drums mixed in and a few bells and whistles added. You can hear the influence of '60s artists such as The Beach Boys and Del Shannon in the neatly arranged bittersweet tunes that always clock in under 4 minutes, but more modern influences make the final result sound more akin to Ariel Pink. Nylophone's music typically features trickling guitar parts and layers of synth with catchy melancholic vocals on top. Bright melodies are contrasted with darker themes, or vice versa. Nylophone can also be found on Spotify and Facebook.
From Pieter: If you enjoyed this program, please hit the like button on the Listening Lyrics Facebook page. If you're interested in appearing on the show, hit me up at promotions@kdrt.org.
In this episode we interview two singer/songwriters, and talk about how the Covid-19 isolation and BLM have influenced their writing.
Nancy Northrup can be found at nancynorthrup.com
Karen Stockton can be found on YouTube
A big thanks to Preacher Cleveland for taking the mic last week in honor of Juneteenth. Listen to the show here
From Pieter: This episode was recorded in my home studio, using a MacBook Air, Bose QuietComfort 15 headphones, Yedi BLUE microphone, Zoom (for the interview), Garageband, and iMovie (to process the MP4 Zoom file to an audio MP3 file).
Preacher Cleveland, host of "Praise Time with Preacher" on KDRT, takes over the "Listening Lyrics" spot this Friday, June 19 at 4 PM with a special show to commemorate Juneteenth, celebrated each June 19 to commemorate the emancipation of enslaved people in the United States. The holiday was first celebrated in Texas, the most remote of all slave states, where on that date in 1865, slaves were declared free under the terms of the 1862 Emancipation Proclamation.
Here in Davis, Juneteenth is typically celebrated at a huge community event sponsored by The Culture Co-op, the Yolo County Library and other community partners, but in the absence of large gatherings, Preacher is stepping up to offer this programming to the community.
The show will be a mix of history, touching on topics from the evolution of Juneteenth to the Tulsa Massacre, weaving in songs of protest and praise, and connecting it all to the current-day Black Lives Matter Movement.
Justin Cox hails from Winters, California. He fronts The Polyorchids, the band he is most associated with. He plays guitar and the keys, and you got to love his vocals. We discussed his life as an artist during the Covid-19 shutdown and how it affects his creativity. Justin's latest venture is a podcast about Jackson Browne called "After The Deluge," and each episode reviews and analyses a specific album. The podcasts include an interesting array of guests. This is one good hour of fine info and great music. If interested, go to any podcast app and search for "After The Deluge." You just won't regret it.
Bart Van Der Zeeuw -- a drummer in several local bands, and a studio musician -- spends some time with Listening Lyrics, talking about music and what he has been doing during the Covid-19 lockdown. Bart also shares some talents that we have not heard before: his vocals and piano playing.
Yes we are back, this time from our home studio. Listen in as Johua Wisterman and members of The Gold Souls share how musicians are coping during the lockdown. The Gold Souls introduced us to their new single "Got It" and Joshua sings an original tune "I'm Still So Happy.
Donut Exchange is a folk group based in both Davis and in Berlin, Germany. Members Anya Sturm, Obin Sturm, and Emma Ware grew up playing traditional old-time, bluegrass, and Irish fiddle music. They blend the three styles on their debut album, Any Place Is Home, with 11 original tracks. The album, started from transatlantic voice memos, features a warm blend of strings, percussion, utensils, and the occasional bagpipes. Recorded in December 2019, during the only week when the bandmates were on the same continent, it captures the magic and charm of sleepless nights spent playing tunes with the people you love.
We opened the show with a tune from The HackensawBoys and played a new one from Mikey LP and the Kooks