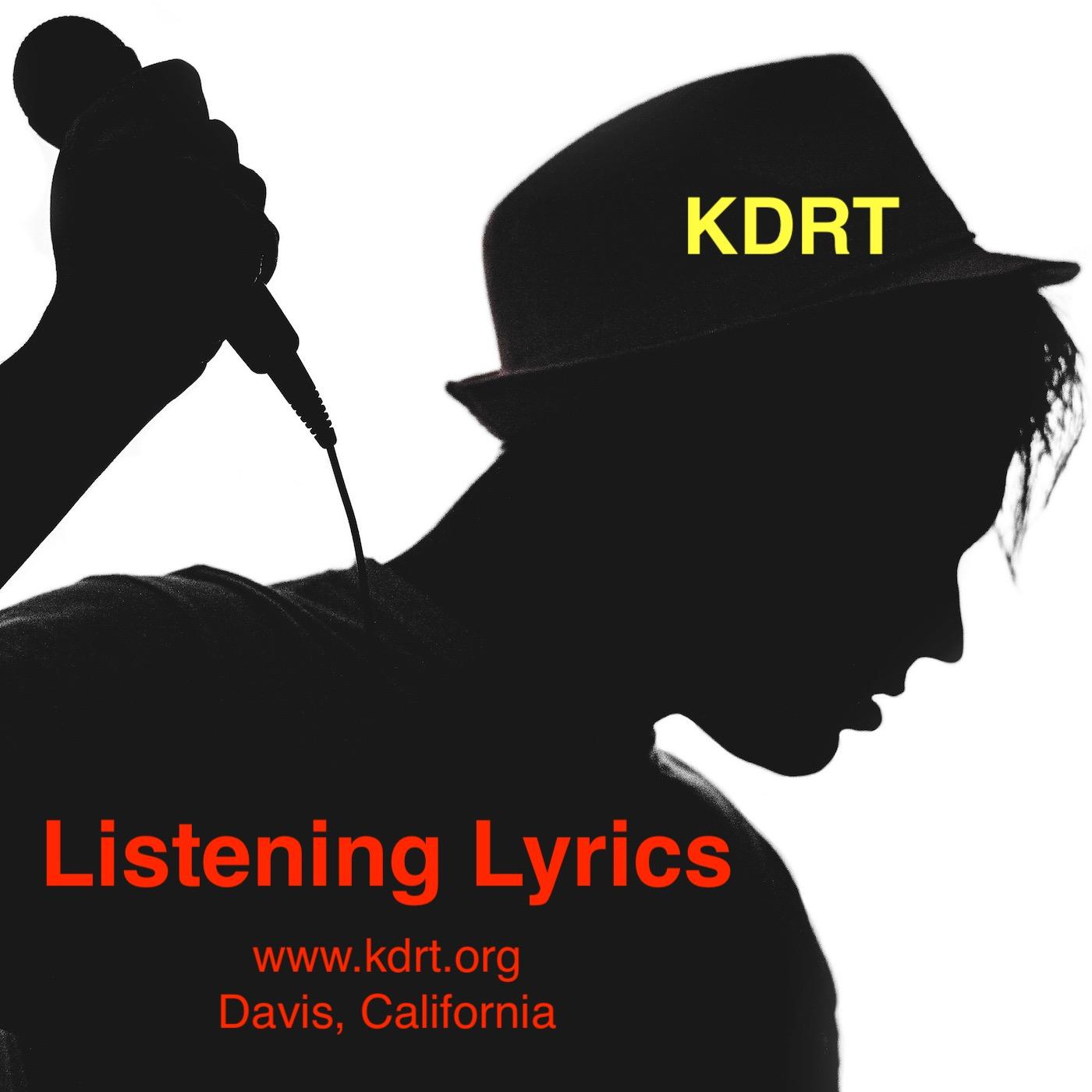 Welcome to an hour of LISTENING LYRICS. Right here on KDRT 95.7FM in Davis, California. Listening Lyrics is a genre free zone - we feature the artist. What makes them do their thing. Listen to the hope and satisfaction in their voices. Listen to what only commercial free community radio can bring you. Close your eyes - open your ears - relax your mind. Join host Pieter Pastoor and co-host Jeanne Pastoor. Now lets enter, the mother of all that is music and lyrics and the human capability of producing art.
Replays Monday 7-8am, Sunday 9-10pm
Live Friday 4-5pm

Podcast
Music programs are only online for two weeks after they are broadcast.
This show was recorded during our 2019 spring fund raising week. Please consider giving to one hell of a community radio station. DONATE HERE KDRT.org
With Patrick in the studio we talked about live music and played some local bands. Patrick also stressed the impotance of communty radio in the arts.
Patrick Van Dyke can be seen all over Northern California as he absorbs and appreciates live music. So he is my guest this week as we explore his love of music and how community radio helps so many budding artists find a voice and a platform.
We played songs from The Big Poppies, Boot Juice, The Midnight Dip, The Nickel Slots, The Polyorchids and Khruangbin.
Harry Greer (HG) is an artist/musician and the founder of the Davis rebel art and music collective known as BRAINMELTER.
BRAINMELTER (at brainmelter.net) is a group of Davis natives dedicated to making Davis/Yolo a haven for the arts and to changing the world through hip art and sick music. Each of the Brainmelters have a completely different style and genre, which means that there's definitely something for everyone. Hip hop, pop punk, folk rock, cringecore, hardcore, vaporwave, it's all of it. The whole collective adds up to some fun and colorful local counter culture.
Listen in now to the interview with Jesse Sizemore and Andy Dibben of The Outcome along with their recording producer Michael Phillip Taylor.
The Outcome's unique brand of genre-bending music combines grooving backbeats, melodic bass lines, textural atmospherics, and searing guitar leads to produce the challenging yet palatable songs that define the band's sound. This Sacramento quartet has made their mark by striking a balance between complexity and listenability. While exerting meticulous focus of their material, Jesse, Andy, Mike, and Quinn refuse to settle or compromise their standards for songwriting. Seeing their music as a catalyst for connection, The Outcome look for ways to bring imaginative new experiences to listeners that manifest emotions and provoke intrigue.
A great hour of banter and Americana with Didar Singh Khasla and his group "Karma Loading". Pure joy in this music.
Didar Singh Khasla - Guitar and vocals
Tobias Wehrhan - Percussion
Janr Thompson - Base
Listen now to the replay
"Husband and wife singer/songwriter duo Joshua and Amy Anne Kräge had been playing music in and around Sacramento for ten years before ever even meeting, let alone playing music together. Filling in for members of the same cover band for a private event in October 2013, their first meeting was their first practice together for their first gig together; their first date was just a few days later, and they've been playing together ever since.
Both members of too many bands to ever be able to list over the years, Amy and Joshua found common ground in versatility. Amy has sung and Josh has played everything from opera to Steely Dan to '90s grunge to folk pop to roadhouse blues to '50s doo-wop to Chaka Khan-approved funk and more. Currently also working together in chameleonic Sacramento pop/funk outfit The Pressure Lounge, they decided to make Love + Honey about the lighter side of the art of music, focusing on positive message and powerful melody in both their original songs and cover material choices.
Equipped with ears for harmonies and hearts for lifting the spirits of whoever's listening, Love + Honey strives to be the brightest spot on the speakers of the collective world."
What a great talent, listen in as Mikey LP along with Mike Stoner talk and play music on this wonderful hour of community radio.
Mikey LP of "Mikey LP & The Krooks", is a 6 piece line-up ( myself- acoustic guitar/keys/ lead vox, 2 female singers, bass, guitar, & drums) currently wrapping up a new album.

They have performed at many venues throughout the are
Mikey LP is the resident house musician at La Bonne Soupe Cafe in addition to - being a private music instructor (guitar, bass, drums, keys, vox) and is also the Musical Director of The Natomas Evolution ( a student ensemble that performs various tribute shows). As if that isn't enough Mikey LP is involved in a variety of other projects including working as the pit orchestra guitarist for Sacramento Theatre Company's upcoming production of "Disaster- The Musical."
He grew up in the bay area, college at Sac State in 2001 graduated with my BA in 2006.
A delightful inteview with a very gifted talent. Listen now to a replay.
For the last couple of years every Friday at Davis Media Access (and right next to the KDRT studio), teens have been participating in an animation class, in a self-organised group known as the Davis Teen Animators' Club. Their mentor is DMA's own Alex Silva-Sadder. Well, as you might have guessed, we got to know them a bit, and a few months ago I asked them to join me this Friday. So listen now to club president Zahra Baxi and Alex as they share about animation and play some of their favorite music.