Welcome to an hour of LISTENING LYRICS. Right here on KDRT 95.7FM in Davis, California. Listening Lyrics is a genre free zone - we feature the artist. What makes them do their thing. Listen to the hope and satisfaction in their voices. Listen to what only commercial free community radio can bring you. Close your eyes - open your ears - relax your mind. Join host Pieter Pastoor and co-host Jeanne Pastoor. Now lets enter, the mother of all that is music and lyrics and the human capability of producing art.
Replays Monday 9-10pm, Sunday 11am-12pm
Live Friday 4-5pm

Podcast
Xochitl (pronounced "so-chee") is a 22 year old singer-songwriter born & raised in Sacramento, CA. Her musical journey began in womb; her parents met in church playing music and would place headphones over her mothers pregnant belly blasting Mozar or Beatles. Growing up, Xochitl was surrounded by music and decided to take it seriously after attending college and deciding it was not the right path. At age 19, she took her first songs and started playing open mics and practicing every day. As of 2015, Xochitl has toured the east & west coast, held the cover of local music newspaper "Submerge" and preformed in hundreds of venues. Her new EP "Lion Heart" is available worldwide and she is currently touring the entire west coast.
Visit Listening Lyrics on facebook https://www.facebook.com/ListeningLyrics
Max spent an hour with us, his mission was to talk dirty with us, dirty blues that is. Max Van Dyke is a 22-year-old college student and musician. Born and raised in Winters, he began playing the drums at age 9. He picked up his first guitar when he was 13. From that early age he began playing in a rock bands including an all-ages band, The 220 Band in which he shared the stage with his father, a blues/rock band called A Beautiful Shade of Joe, and currently with Ryan Mcbride and Ari Schwartz. Max just began singing a couple of years ago and is continually working to improve his vocals, songwriting and guitar skills. He primarily plays dirty blues, and can be found several evenings a month at Open Mic Nights throughout Yolo and Solano counties. He was recently a finalist in the Vacaville Singer Songwriter contest. His Influences include Hozier, The Black Keys, Matt Corby and Vance Joy.
Tune in for some great banter and music, also learn what a "red diaper" baby means. A review in Midwest Records recently described Steve Kahn as "a singer/songwriter that knows well from whence he speaks, (who sings) easy rolling, back porch music with rough edges that play well without sanding."   An award-winning, singer/songwriter, Steve was a part of the Sonoma County folk renaissance in the 1970's and 80's.  He has shared the stage with performers ranging from Kate Wolf and Hoyt Axton to Dave Nachmanoff, David Maloney, Hugh Shacklett, Dick Holdstock and Allan MacLeod.  He performs throughout Northern California and the West.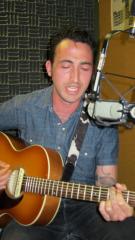 Wyatt Hesemeyer joined us in the studio this week along with Keith Cary. Wyatt brings with him a real knack for songwriting and we aim to showcase that. He has a way with his lyrics, voice and guitar to make you cry in your beer. Wyatt also is the glue of Miss Lonely Hearts. We will also discuss his other passion, since he is an awesome tattoo artist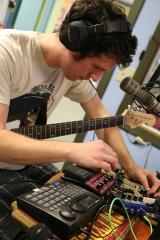 Drew Walker, a V E R Y multi talented guy visits KDRT and LISTENING LYRICS. Drew is a  experimental/avant-garde/sound-mixing artist, musician, photographer, DJ, artist, recording engineer, actor and so much more. Drew shares some of his recent experimental recordings with us.
Short clip of Drew in "SLOW MO :)" https://youtu.be/5ArFTxnR9es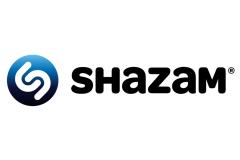 Here is an hour featuring songs I have Shazamed - Shazam uses a smartphone or Mac's built-in microphone to gather a brief sample of audio being played. It creates an acoustic fingerprint based on the sample, and compares it against a central database for a match. If it finds a match, it sends information such as the artist, song title, and album back to the user.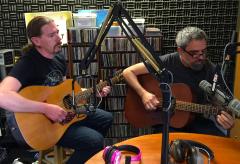 Ben Lewis and Brian Morgan are founding members of the Davis based six member folk, rock, funk and soul band Sometimes Warren. Tune in to hear about their new Davis music studio project and hear them play a couple of songs.
Here is a short GoPro clip of their performance https://www.youtube.com/watch?v=mHrnwh-yFD0&feature=youtu.be,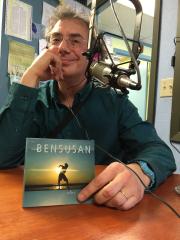 ....and now from France, one of the worlds most celebrated guitarist. -  - Described by the L.A. Times as "one of the most unique and brilliant acoustic guitar veterans in the world music scene today", Pierre Bensusan was voted "Best World Music Guitar Player in 2008" by Guitar Player Magazine Readers Choice. His name became synonymous with contemporary acoustic guitar genius, long before the terms New Age, New Acoustic Music or World Music were invented.