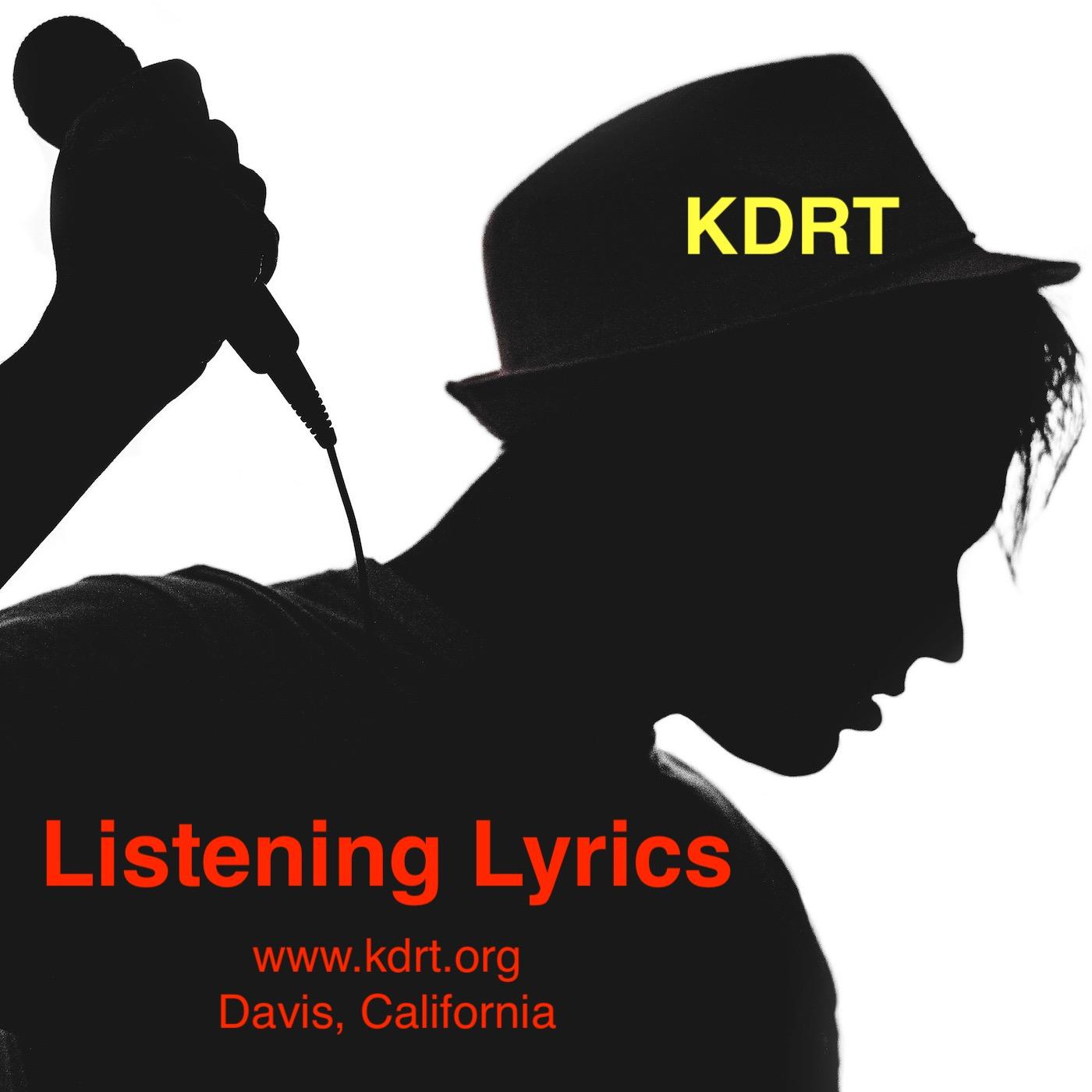 Welcome to an hour of LISTENING LYRICS. Right here on KDRT 95.7FM in Davis, California. Listening Lyrics is a genre free zone - we feature the artist. What makes them do their thing. Listen to the hope and satisfaction in their voices. Listen to what only commercial free community radio can bring you. Close your eyes - open your ears - relax your mind. Join host Pieter Pastoor and co-host Jeanne Pastoor. Now lets enter, the mother of all that is music and lyrics and the human capability of producing art.
Replays Monday 7-8am, Sunday 9-10pm
Live Friday 4-5pm

Podcast
Music programs are only online for two weeks after they are broadcast.
Elias Lucero is one gifted dude. Listening Lyrics was thrilled to have him on the show. Not only is he talented but a very articulate and all around great guy. Elias is a music student at Sacramento State. He plays in several bands including Papa Joe and The New deal. Elias is also very busy between schools and the many gigs he squeezes in. Genre you ask? Well better ask Elias himself he answers that during the show. Elias was my first guest that feeds his guitar directly into the studio board, which is new board as of a few weeks ago. So the hour does have some techinical hic ups.
Listening Lyrics is proud to have had Didar Singh Khalsa in the studio. Didar Singh Khalsa has played guitars for 52 years but only six years ago started writing songs, singing and recording them. Inspired by six consecutive trips to the guitar/songwriting camp taught by the amazing Richard Thompson. He claims the muse is relentless and not even very intermittent. Let's test that theory.
Vocalist Juniper Waller, percusionist Billy D. Thompson and bassist Jace Dorn of The Gold Souls in the studio. The Gold Souls are bringing the driving grooves of funk, the rich textures of soul, and the compelling storytelling of the blues to the Northern California scene. With the dynamic Juniper Waller at the helm, the band combines their many influences to create a unique sound that rings true to the idioms that inspire them. Their recent efforts include the release and tour of their self-recorded and produced, eponymous EP in May of 2017. This release, while remaining an honest representation, is only the beginning of the band's creative journey. Their full length record is set to release in Summer of 2018.
Listen now as this show is now archived here
Listen now. Siler Schneider is making quite a name for himself as one of the premier players of the UC Davis mens basketball team. He joined us in the studio to talk a little basketball but really we explorde the music of basketball. Siler hails from Lansing, Kansas. Attending UC Davis as a Junior Communication major. Siler says one of his favorite pastimes outside of basketball is playing 'Clue' the board game, the question is what music is he listening to while practicing Bball, motivation for the game or playing a board game.
This musicians Got Talent, make no bones about that. Austin James Hicks. Born in Berkeley, CA.he has been playing guitar since he was 8 and singing since 10.
Make No Bones (A.J. Hicks) is an eclectic blend of folk, jazz, indie, and blues from San Leandro, CA. To Make no bones means to be who you are without making a big deal. Who ever is watching, who ever is listening, be yourself and Make No Bones.
You can visit Austin at Make No Bones. Like what you hear - like what we do then - LIKE Listening Lyrics on facebook and receive weekly updates on our guests. https://www.facebook.com/ListeningLyrics/
The Mechula is a jazz trio out of Sacramento, California. They are always searching and experimenting as a post-bop jazz quartet for new ways to interpret the genre, and aim to create music that is interesting and meaningful.
Jackson Riley - Saxophone, Nick Bretz - Keyboards
Peter Bell - Drums, Andrew Mearns - Bass
Doug Kelly stood in for Pieter today to host Low Strung. Somehow all of these wonderful Yale students fit in our TV studio for a video recording and a live radio broadcast.
Listen above to hear the chaos- special thanks to Live Tracks host Jim Buchanan, Bryce Parker for the video, and our own Preacher for helping with camera. It takes a village sometimes!
Special thanks to KDRT operations memeber Diane Crumley for the photo and ushering the group through our space. And, yes, those are all Cello cases in our video editing area....