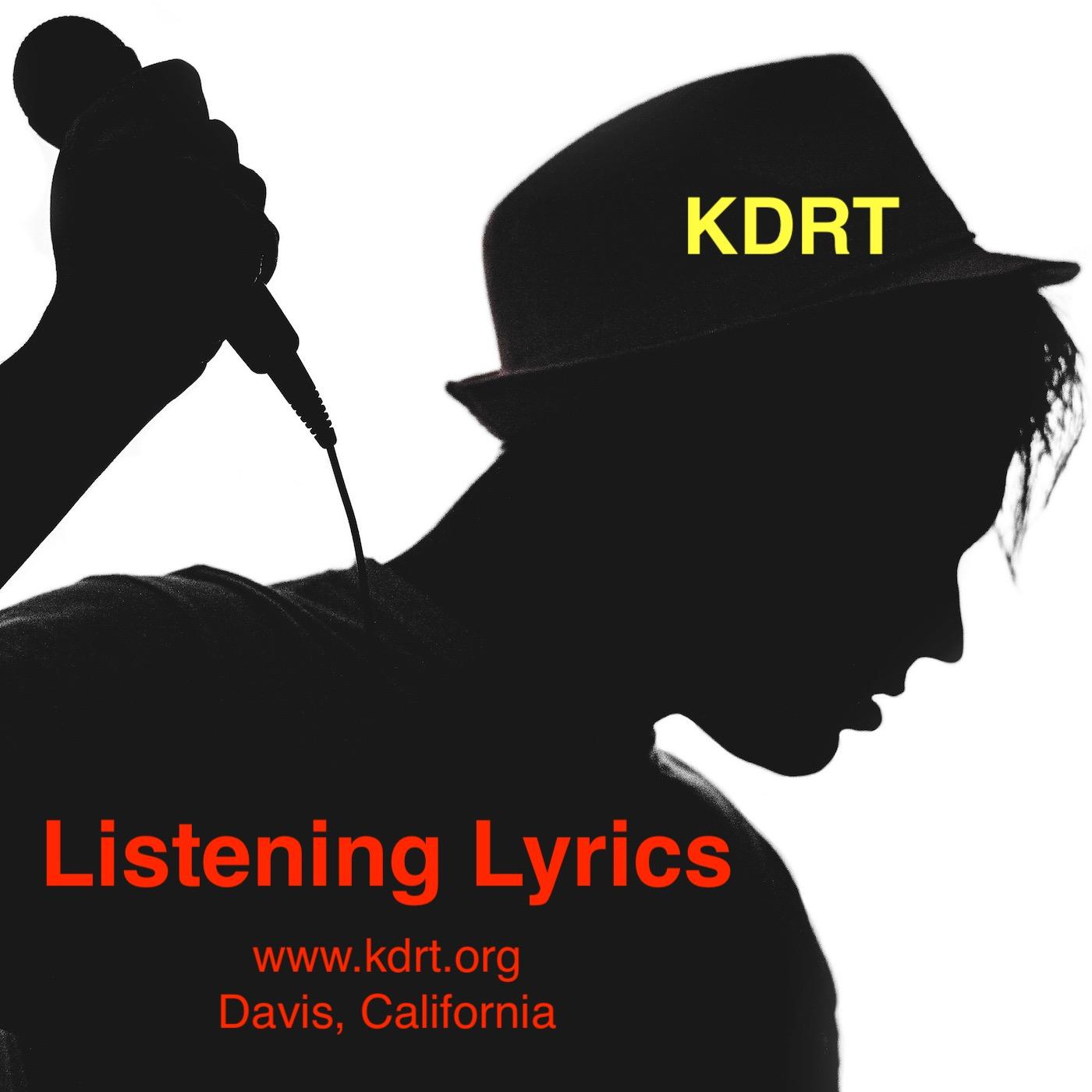 Welcome to an hour of LISTENING LYRICS. Right here on KDRT 95.7FM in Davis, California. Listening Lyrics is a genre free zone - we feature the artist. What makes them do their thing. Listen to the hope and satisfaction in their voices. Listen to what only commercial free community radio can bring you. Close your eyes - open your ears - relax your mind. Join host Pieter Pastoor and co-host Jeanne Pastoor. Now lets enter, the mother of all that is music and lyrics and the human capability of producing art.
Replays Monday 7-8am, Sunday 9-10pm
Live Friday 4-5pm

Podcast
Music programs are only online for two weeks after they are broadcast.
This week author Fallon O'Neill was in the studio to discuss his book, Geist Prelude. An incredible interview about this young man and his journey as an author. Of course we also played some tunes relevant to the conversation.
Playing selections from this years Acadamy Award Nominees .
Vocalist Juniper Waller, percusionist Billy D. Thompson and bass player Jace Dorn of The Gold Souls were in the studio. The Gold Souls bring the driving grooves of funk, the rich textures of soul, and the compelling storytelling of the blues to the Northern California scene. With the dynamic Juniper Waller at the helm, the band combines their many influences to create a unique sound that rings true to the idioms that inspire them. Their recent efforts include the release and tour of their self-recorded and produced, eponymous EP in May of 2017. This release, while remaining an honest representation, is only the beginning of the band's creative journey. A new single is scheduled for release Febuary 12, 2019.
Brotherly Mud is as if the 60's and 70's folk tradition continued into the modern day, taking influence from today's songwriters while respecting yesterday's honesty.
With members graduating from the Berklee College of Music and the Musician's Institute, Brotherly Mud respects the art of musical creation through both an educational and deeply human lens.
Constantly working to be true to their artistic spirits, Brotherly Mud is currently touring with their original material all over the West Coast, with shows, radio interviews and the occasional secret performance.
For those outside the listening area - fear not, this show will be streamed live (and archived) on www.kdrt.org
Neil Heaton discussed his new project called "Limits and Rituals". He can sing, he can play, he can compose. Neil Heaton is a pianist from Sacramento, California. As influenced by jazz virtuosos as he is alternative auteurs, his music attempts to find the common ground between rock, jazz, pop, and hip-hop. That description is exactly why his compositions are a delight. Listen in as we talk with and listen to Neil. Vist and listen to Neil https://neilheaton.bandcamp.com.
We interviewed Jessica Malone about her new album "Jessica Malone Live" playing some songs from the CD and also she performed a few live for us. Jessica Malone is an award winning singer/ songwriter who was raised in the tall mountains of far northern California. Her original music evokes a sense of wanderlust, self-discovery, positivity and moving forward. On Jessica's latest release, "The Waiting Hours" EP, drums, upright bass, violin, acoustic & electric guitar accompany her powerful and soothing vocals. Her raw and unfiltered approach to folk/ Americana songwriting creates music that will take you back in time, while her heartfelt lyrics will keep you rooted in the present.
Adam Block been involved with the local Sacramento music scene for 20+ years. he graduated from Berklee College of Music. He has played throughout the East and West coasts with various bands, and briefly toured the South. His music is a blend of electric and acoustic exploration inspired by various musical styles such as blues, jazz, country, classical music, and flamenco. Today with Adam we discused his latest CD "LIGHT".