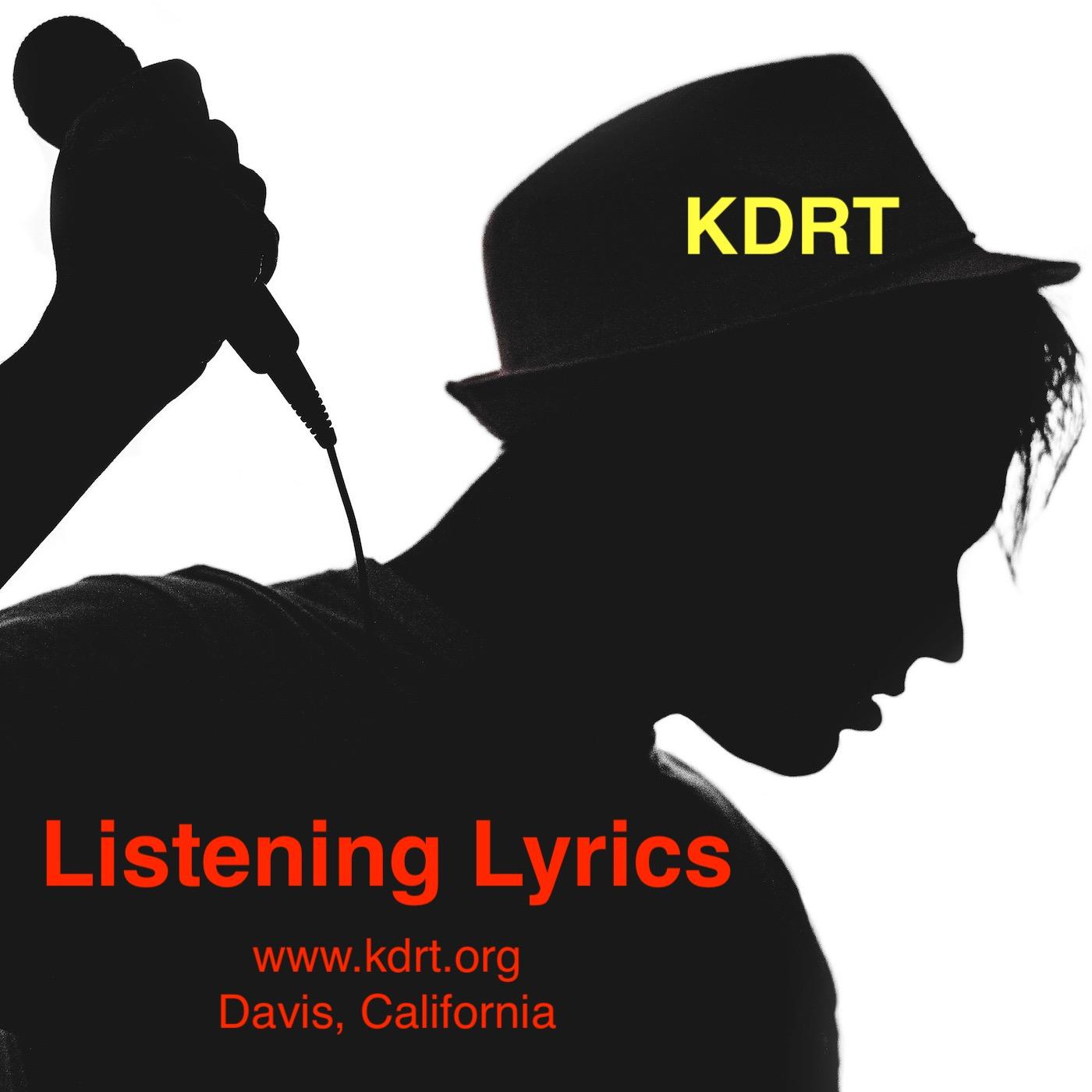 Welcome to an hour of LISTENING LYRICS. Right here on KDRT 95.7FM in Davis, California. Listening Lyrics is a genre free zone - we feature the artist. What makes them do their thing. Listen to the hope and satisfaction in their voices. Listen to what only commercial free community radio can bring you. Close your eyes - open your ears - relax your mind. Join host Pieter Pastoor and co-host Jeanne Pastoor. Now lets enter, the mother of all that is music and lyrics and the human capability of producing art.
Replays Monday 7-8am, Sunday 9-10pm
Live Friday 4-5pm

Podcast
Music programs are only online for two weeks after they are broadcast.
Check out that picture: The Loose Threads hard at work and in total concentration.
The band blends the raw energy of American rock from years gone by with acoustic blues, country, and soul. The members are:
Joanne Adams - vocals and percussion
John Bologni - vocals and rhythm guitar
Arash Ansari - lead guitar
Gabriel Gee - bass
A song/writers song writer Jesse Harris. This program explores the music of Jesse Harris
Originally from New York City, Jesse Harris is a Grammy Award winning songwriter, singer, guitarist and producer of artists from all over the world. He began making records in the mid 90s with Once Blue (EMI Records), his first group and first experience writing for another singer. Since then he has worked with dozens of artists and released 14 albums under his own name. His latest album, Aquarelle, recorded in Lisbon, was released in 2018.
In 2003 Harris received the Grammy Award for Song Of The Year for Norah Jones' breakout hit "Don't Know Why," from her debut album, Come Away With Me, which has sold over 20 million copies worldwide. It includes four other of his compositions: "Shoot The Moon," "One Flight Down," "I've Got To See You Again," and "The Long Day Is Over." He plays guitar throughout the recording.
Visit (and like) Listening Lyrics on facebook
The Hip Hop group StnrKrew showed up a little late, but arrived at the 14:30 minute mark. It was a great hour and includes an original rap song performed live.
StnrKrew Music is four artists who love hip hop and a variety of old rock 'n' roll type music, growing up in Las Vegas and different parts of California. DocSinister, JetLagg, MoonChild, and DaVinciiHendriXX have come together accompanied by good friend Dj Morfintime to recreate and reignite the fire in lyrical, punchline, battle rap-style BARs, putting rhythm and raw words together as one to exceed the level set by previous rap legends. With idols such as MacMiller, Tupac, Biggie, Eminem, and so sooooo much more, the bar is set very high!
What a fascinating hour. Songwriter Greg Johnson displays his art and explains his tools. Song writing is knowing music and having a knack for lyrics. Greg explains his best songs are authentic and real. One of his "instruments" he uses is a software program called "Band In A Box", and boy does he know how to use this. Greg has been in song writing workshops with renowned song writer Steve Seskin and is active in the songwriting scene both locally and nationally. Listen in to some of Steve's songs soundcloud
Sam Sancho Nelson has a hobby that is flourishing into a profession. His singing and songwriting shows a depth that leaves you in awe. Lyrics and composition grabs the listener. The diversity of his material keeps the your ear wanting more. This was one fine hour of time spent with a wonderful human being.
In addion we spun some tunes from Adrian West, Jesse Harris and The Polyorchids. See playlist below for details.
This week, guest host Doug Deep, will be in control. (thank you Doug)
Dorothy Lane is a Rock & Roll band from Martinez, CA. Here's the catch, they are so much more. Family oriented, fun loving and super involved in their greater community plus oh that talent makes this rock group a powerfull force.
Listen now as David Jacobin shares with us through his lyrics, music and conversation. David writes music to reflect the times, searching for beauty, joy, sadness and truth. He hopes that the songs he writes will help inspire people to create a better world for all it's inhabitants. Visit David at davidjacobin
Ben Huseby is a singer, multi-instrumentalist, and entertainer, performing in genres that span country, blues, folk, traditional jazz, and modern pop. He performs as a solo loop artist under the moniker Big Ben, fronts the cover band Big Ben and the Brians on vocals and guitar, and fronts the traditional Dixieland band Big Ben and the Bay Area Ramblers on vocals and trombone.
Ben, a trombonist with the U.S. Air Force Band since 2011, has been stationed with the Band of the Golden West at Travis AFB since 2018. He has performed extensively throughout the United States, Europe and Africa as an active-duty musician, and has performed countless times for ambassadors, international dignitaries, and civic and military leaders, including the president of Estonia and former President Obama.
He holds a bachelor's degree in music education from Minot State University in North Dakota, and a master's in music education from the prestigious Indiana University, Jacobs School of Music. Find him on Facebook @BigBenMusic, on Instagram @big.ben.music, or at www.bigbenmusic.net
Joel Daniel - listen in now
Joel is a longtime resident of Davis, California. In his twenties he started a band with his closest friends called Shayna and the Bulldog ("SatB") (https://shayna.bandcamp.com/), an Americana / Indie Rock band. They made two albums together and played hundreds of shows throughout the Western and Southwestern US.
Somewhere along the way, Joel started a children's band called, The Hoots, (www.hootquarters.com). For this project, he's written four albums of material, won countless awards - including: a Parent's Choice Award - sold many records, and played hundreds of shows. Joel started producing an educational children's video series called, Hoot Quarters, starring an owl, who thinks he knows everything, but doesn't, and the The Hoots, who help said owl, Oliver, along the right path.
Recently Joel started writing some new "grown up" music. In the summer of 2019 he started to play these songs out in public. They are the first songs he would consider to be solo songs - outside of The Hoots -that he has written and performed. He hopes to record them in the coming months and play them out in a more band oriented context in the near future.
Social Links: https://www.facebook.com/joeldanielmusic
Cedar Cady spent the hour with us. Cedar is a Davis native and at a young age fell in love with the violin. Cedar talks about his life with music and his passion for playing. Currently he plays in and around the Sacramento area either by himself or with several groups that he adds his musical touch to. Listen in as he explains the difference between a violin and a fiddle. Cedar also played two live numbers for us. The playlist below lists the selections we played. Music that Cedar enjoys and inspired him.