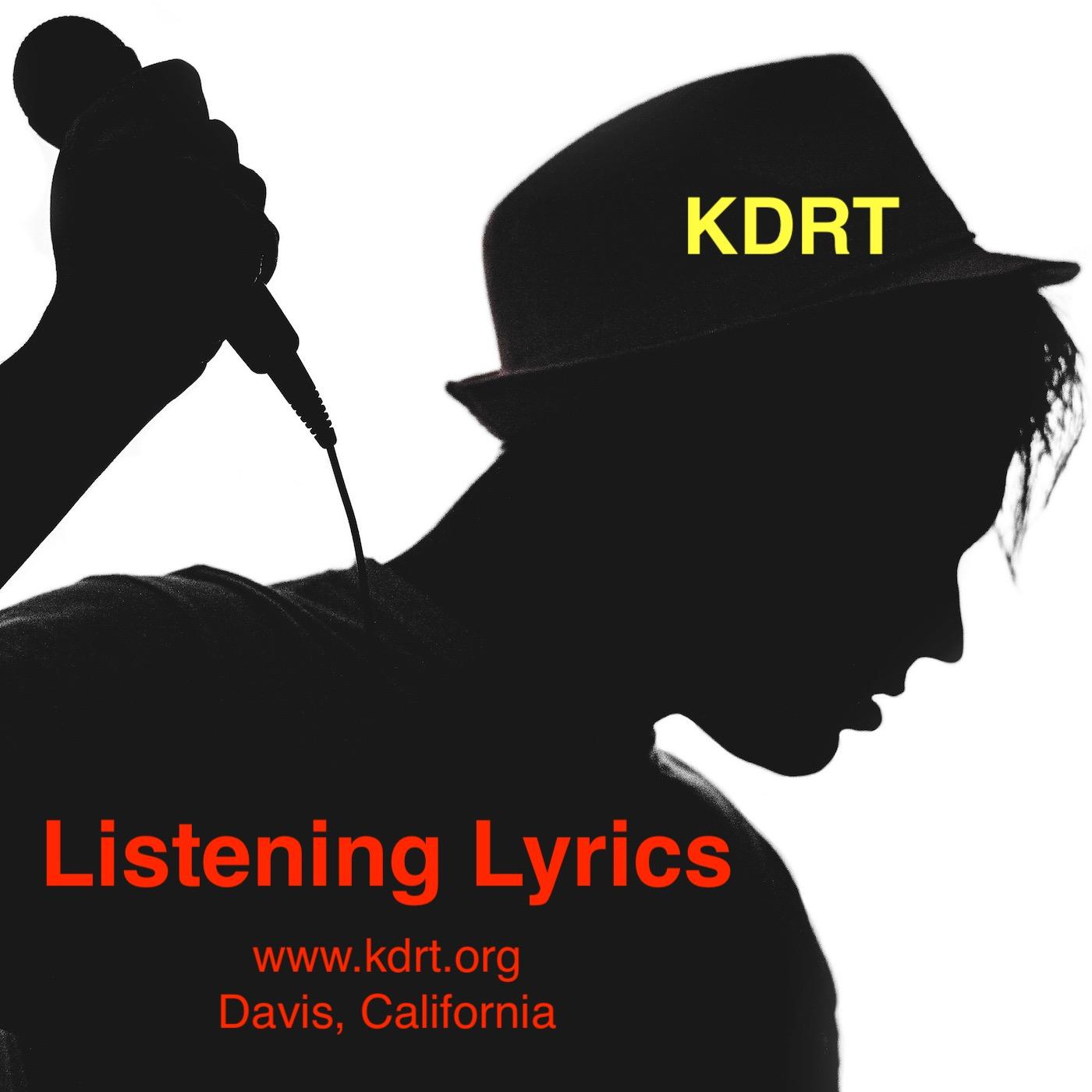 Welcome to an hour of LISTENING LYRICS. Right here on KDRT 95.7FM in Davis, California. Listening Lyrics is a genre free zone - we feature the artist. What makes them do their thing. Listen to the hope and satisfaction in their voices. Listen to what only commercial free community radio can bring you. Close your eyes - open your ears - relax your mind. Join host Pieter Pastoor and co-host Jeanne Pastoor. Now lets enter, the mother of all that is music and lyrics and the human capability of producing art.
Replays Monday 7-8am, Sunday 9-10pm
Live Friday 4-5pm

Podcast
Music programs are only online for two weeks after they are broadcast.
Jeanne Pastoor, longtime co-host of Listening Lyrics, shares her story. The experience of growing up in New Jersey, listening to The Great American Songbook tunes, and visiting Broadway musicals, has stayed with her throughout her life. Listen to a remarkable selection of songs. See playlist below.
Listening Lyrics is also available as a podcast on most podcast apps. ENJOY.
Born on a mountain top , no no Brooklyn Brownsville East NY, raised on Jewish , African American and Latin music from the moment my ears were aware. Founder and vocal arranger for Frankie and The Fabletones, , acappella ensembles AKA, Spirit Feel, Full House, Doo Wop after Dark. Back in the 20th, hit recordings of Unchained Melody and Gloria and novelty versions of Hello Dolly and High Noon, with Vito and The Salutations. Been singing ever since i can recall, love to sing everything but especially the blues. Singing harmony instructor since 1956- in Davis since 1983, classes at Learning Exchange Experimental College Davis Art Center, currently pursuing a new career as a KDRT DJ.
We are back - enough of the reruns as Jeanne and I were on vacation.
We came back a couple of days early and had a rerun scheduled but coundn't resist going into the studio. It felt good.
So we played some music from acts we missed - stuff we saw on the road - and some extra tidbits - check out the playlist.
This week we present a review of the 2019 Davis Music Fest, playing songs from a variety of the bands that performed. Unfortunately, we cannot come close to touching all of the bands in a one-hour show. This hour of Listening Lyrics presents selections from the following acts:
The Big Poppies, King Dream, Ideateam, Jessica Malone, The Midnight Dip, The Philharmonic, Emily Day and the Knights, Boca do Rio, Topograf, Run River Cult, Ten Foot Tiger, Boot Juice. Pictured is Max Van Dyke of The Big Poppies.
Keep an eye out for these guys, even better, treat your ears to BAD MOTHER NATURE. Listen in as we talk with all four of the band members
Bad Mother Nature, an original band formed in 2016, consists of guitarist/bassist duo Axel Ahrens and Corey Allred, pianist Ryan Allred, and drummer Jon McCann. Inspired by the classic rock titans of the 1960s and '70s, they balance driving guitar-riff work with the nuanced, progressive piano that allows their music to range from soft to rocking - often within the same song.
Their debut EP "Strange Weather," featuring Colin Curtin on drums, presented a range of styles from the upbeat blues-rock Honey Rider, to the instrumental guitar piece Persephone, to the anthemic ballad I'll Make You a Thief. UK rock magazine Fireworks profiled the album and the band.
This musicians Got Talent, make no bones about that. "Make No Bones", born in Berkeley, CA.he has been playing guitar since he was 8 and singing since 10.
Make No Bones (A.J. Hicks) is an eclectic blend of folk, jazz, indie, and blues from Oakland, CA. Make no bones means to be who you are without making a big deal. Who ever is watching, who ever is listening, be yourself and Make No Bones.
You can visit Make No Bones here.
"Painted Wind" with Nancy Northrup and Mel Bearns visits us with their musical gifts they love to share.
They are an Americana duo that is steeped in traditional folk, bluegrass, country and blues, with a passion for artfully crafted songs and vocal harmonies.=
Painted Wind was formed out of a trio formerly known as Hickory Hollar. Nancy and Mel found common ground across a panorama featuring many distinct artists and genres and came together with the shared passion of crafting new music, and deftly interpreting classic covers.