Live Friday 4-5pm
Replays Monday 7-8pm, Tuesday 12-1pm, Saturday 4-5pm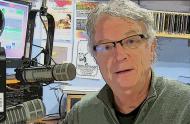 Each one-hour show centers around a theme and plays music to contribute to the theme, or features interviews with local artists to hear their music and/or listen to music that might have inspired them. Do not let the name fool you, this show is all about music--Listening Lyrics plays the tunes that have creative and outstanding lyrics, mostly in the jazz and singer/songwriter genre. The show is hosted by Pieter Pastoor, who as a poet has a good ear for meaningful lyrics. Pieter's co-host is Jeanne Pastoor, who is known to ask those insightful questions that keeps this show in fine-tune mode.

Podcast
Listening Lyrics Jul 25th, 2014 with Steve Kotarek & Naomi Rogers-Hefley
What a treat to have Steve Kotarek back in the studio. This time Steve will be accompinied by one of his bandmates, Naomi Rogers-Hefley.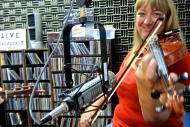 Steve has worked his way into the local music scene with his talent as a songwriter and uses his voice to convey a message in song. Steve lives in Woodland and his music is heard around northern California. Once you hear Steve perform you will be VERY tempted to pick up one of his CDs.
Naomi hails from the UK, recently moved to California. With her classical background, she brings a unique appoach to fiddle playing that complements Steve's music.
Visit Steve at https://www.facebook.com/SteveKotarekBand
View PLAYLIST below for song information
Listening Lyrics Jul 18th, 2014 with RED UNION BLUE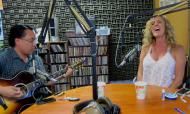 Many months in the making and now its in the can. - RED UNION BLUE in the studio for the whole hour. Red Union Blue from Sacramento, CA brings together the musical talents of Trena Thompson and Chris Lee into an exciting new blend of country, rock, pop, and folk. Since 2012, the band has grown into one of the area's most promising up-and-coming artists, combining thoughtful and insightful lyrics with powerful vocals and dynamic musicianship.

The band's first album "Learning To Fall" was released in June 2013. Featuring 10 original songs, the album ranges in styles from the pop choruses of "I Don't Want To Need You" and "Without You & Me" to the introspective folk-rock reflection of "Ghost Town" and "Let It Rain". Recorded by J.K. Northrup (King Kobra, Montrose, Foreigner, Toto) at Alien Productions & Recordings, the album was voted by Twirl Radio as one of the best debuts of 2013.

Signed with Sunny Dragon Records, the band is currently recording its second album scheduled for release later this year. The band also recently partnered with A&R firm Big Noise Productions for artist development and industry outreach.
Visit RED UNION BLUE at http://www.redunionblue.com
Short video clip of RED UNION BLUE in the studio https://www.youtube.com/watch?v=h9XK5WgXrqc&feature=youtu.be
If you like this type of programming click like on the LISTENING LYRICS Facebook page for weekly updates on our guests. https://www.facebook.com/ListeningLyrics
Listening Lyrics July 11th, 2014 with Michael Leahy of Crossbill Records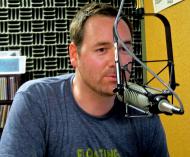 We spend an hour with MICHAEL LEAHY of CROSSBILL RECORDS. Listen in to some of the artists on this label and discuss how a label select artists. Plus much more. Crossbill Records has been releasing a steady stream of songwriter-based indie folk, rock, americana, and bluegrass albums from its Davis, CA home-base since 2005. Headed by longtime KDVS DJ and "Cool as Folk" concert

presenter Michael Leahy, the label thrives as a cooperative effort with releases from friends Tom Brosseau, Brass Bed, Matt Bauer, Appetite, The Loom, Sea of Bees, Garrett Pierce, and Jake Mann making the team push (Leahy is also a basketball coach) for recordings,
See PLAYLIST BELOW for details
Listening Lyrics Jun 27th, 2014 with FIVE THREE OH !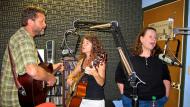 Five Three Oh!, (and OH what a show this is) -an acoustic trio that plays music from many genres and generations, is the featured act (live in the studio) this week on Listening Lyrics The band's wide ranging mix of music, including folk, blues and original tunes, is enhanced by original arrangements and unique three-part harmonies. To learn more visit them on Facebookhttps://www.facebook.com/FiveThreeOh. You can also hear some of their music on SoundCloud at https://soundcloud.com/five-three-oh
See a short clip of their live performance on YouTube here https://www.youtube.com/watch?v=YguyfpuBOV4&feature=youtu.be
Listening Lyrics is on facebook - for updates on the music news in the Davis, Sacramento area please like us. https://www.facebook.com/ListeningLyrics?ref_type=bookmark
Listening Lyrics Jun 20th, 2014 with TAJLYN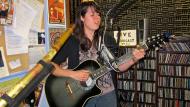 Listen is NOW to a multi talented, multi instrumentalist (10 and counting) all packaged in a young lady named TAJLYN. Originally from the Cincinnati, Ohio area she is now shaking things up musically in central California. Tajlyn discovered music with the help of Mr. Rogers and wrote her first jingle in a funeral home. She describes her self as living a normadic life of music, travel and good times.
I know that KDRT and LISTENING LYRICS will be in for one great show with Tajlyn.
visit TAJLYN at http://www.tajlyn.com
Short video of TAJLYN in the studio https://www.youtube.com/watch?v=fTEOLelFcqc&feature=youtu.be
Listening Lyrics Jun 13th, 2014 Davis Music Fest Review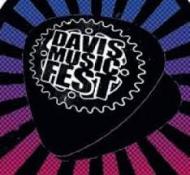 Listen now as Listening Lyrics played some of the artists that are performing at the DAVIS MUSIC FEST http://davismusicfest.com . Special Co host this week was Ed Branam to help me wade through the music
We will spin and introduce a variety of music for all to get the feel of this event which kicks off JUNE 20, 2014.
OVER 50 music events at 12 different location through out Davis.
Listen in and we can help you decide where and when and who to see.
Check out the playlist for this awesome selection of music.
All bands in this show have their music on SOUNDCLOUD.
Listening Lyrics Jun 6th, 2014 with TWO TRACK MIND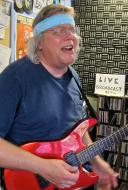 When I saw TWO TRACK MIND perform I knew I had to have them on the show - Six months later the dream comes true. Listen now to two very talented musicians.
Two Track Mind is the new musical duo featuring the amazing Matt Rowley and the incomparable Brian Souders.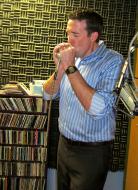 Matt Rowley is a guitarist, vocalist, songwriter, composer and teacher who lives in the Sacramento area. His solo performances include electronic augmentation and improvisation creating a dynamic and exciting performance that includes material spanning 5 decades and many different styles and influences including his own compositions and interpretations of well-known and not-so-well-known songs.
Brian Souders is a harmonica player, vocalist, and percussionist with a love for raw blues and sounds from the streets. His solo performance includes a loop-station and several octaves of harmonicas along with hand shakers and stomp boxes to create a fusion of funk blues and beats referred to as harp-boxing. Brian's combination of these elements with improvisation and precision playing is truly exiting.
Together "Two Track Mind" perform a very well rounded and engaging package of Rock, blues, folk, gospel and jazz that keeps their audience well entertained and waiting to see what happens next!.
Click to view a short GoPro clip of TWO TRACK MIND in the KDRT studio
Thank you JUSTIN COX for helping out as my cohost this week
Listening Lyrics May 30th, 2014 The LA Music Scene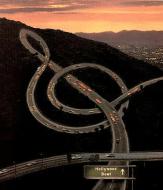 This week Listening Lyrics went to Los Angeles to check out the LA Music scene. We have a remote interview with Will Carpenter and Dan Hange of SHIPS HAVE SAILED. That set the tone for the show. Other selections from LA bands currently creating a buzz are Fitz and the Tantrums "The walker", Bad Suns "Cardiac Arrest", Incan Abraham "Tuolumne", Moses Sumney "Lindisfarne", Holychild "Happy With Me", Papa "Put Me To Work", Holy Folk "At A Moment Here", Mystic Braves "Please Let Me Know"
(http://www.shipshavesailed.com). Pictured are Dan & Will of SHIPS HAVE SAILED
Want to keep in the know with the latest in band updates check out http://www.buzzbands.la
Venues for live music in LA http://www.buzzbands.la/venues/
Check out the playlist below
Listening Lyrics for May 23rd, 2014 with THE LURK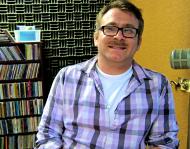 The LURK (AKA Nick Carvajal) joined us this week. Literally a one man band, he plays the drums, guitar, harmonica, and sings - many times most of those at the same time. Nick has and does perform in several band. This show he shares some of those bands and also we will listen to some of the music that has influenced his musical journey. The big surprise for me this show is the diversity of his music tastes. A refreshing journey into one mans music brain.
and her website:
http://www.jeanniecheatham.com/
CHECK OUT THE PLAYLIST - not in the order played
Listening Lyrics for May 9th, 2014, CD vs VINYL with Jesse Deere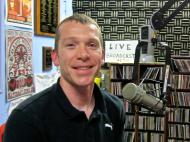 Jesse Deere joined me in the studio for a lively discussion about the benifits of vinyl vs.Compact Discs. As a treat Jesse played some of his favorite vinyl. View the playlist below for details. Listen in for some great discussion.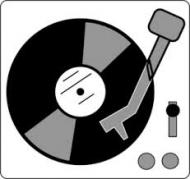 LISTENING LYRICS is on facebook https://www.facebook.com/ListeningLyrics 
Pages