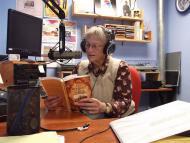 Ruth Chambers Creates Radio Show of Old on 95.7 FM KDRT Davis, CA
by: Candi Zizek
A decade ago, Ruth Chambers' love of street performing brought her to audition in historical attire and be invited to reenact with Old Sacramento Living History (OSLH). The Old Sacramento Business Association had a goal to liven up the streets of Old Sacramento Gold Rush style for the tourists and shoppers who visited.
Ruth created a historical puppet show to enchant the tourists and especially the kids. Her paper characters pasted on sticks act in stories like they would have been seen in the 1850s. Ruth used old characters and created her own newer characters to tell her stories.
Another part of Ruth's reenacting took place at the Sacramento Convention & Visitors Bureau, where, dressed in her historical attire, she rocked quietly as visitors were greeted. Many were surprised to discover Ruth was a living person, and not automated. Soon the Bureau asked her to work for them part time. If you haven't seen Ruth and her 1850s puppet shows, that job might be why.
Also a published author, Ruth wrote The Weight of Gold, a book all about the 1849 Gold Rush in California. Ruth feels it was this Gold Rush that gave hope to people all over the world, and money too, and free land. The excitement of the Gold Rush
inspired writers to expand their talents and offer people many possible dreams. Mark Twain was the big talent of the West, but Jules Verne in France was also part of this explosion of talent. So was Baum of Wizard of Oz fame.
With Ruth's love of history, it is no surprise that she soon availed herself of the live radio broadcasting opportunity offered by Davis' KDRT, "where the grassroots grow." Sponsorship is by the University Retirement Community. In her new half- hour radio show, Chambers Street Theatre, just like the radio shows of the 1950's, Ruth reads all these authors as well as her own stories.
Ruth explained people can listen to her shows live or enjoy them streamed via Internet at http://kdrt.org/station/archives/8481/feed, where the podcasts are listed. In February, Ruth read Bret Harte's The Outcasts of Poker Flat and Chapter 8, "The French Duel" in A Tramp Abroad by Mark Twain.
Last December Ruth read "The Christmas Pudding" from her book The Weight of Gold. The story takes place in a mining camp up in the gold hills of California. Some snow bound, rain soaked miners are preparing a Christmas pudding for memories of home.
To listen to the broadcast of February 20th, 2014 click here: 1392922800.mp3