Live Thursday 7-9pm
Replays Monday 1-3pm, Sunday 9-11pm
This show highlights live musical performances ranging widely, from early 60s rock to rock-a-billy, and from blues to bluegrass. Live Tracks frequently features performances from local musicians recorded and mixed by the show's host, Jim Buchanan.
About the Local Music
Jim started with KDRT at the official Launch Party in September 2004, where he recorded the musical performances and ran the sound board for KDRT's maiden broadcast. Since then, Jim has regularly aired recordings from venues around Davis, such as the Odd Fellows Hall Thursday Live! monthly free concert series, the E Street Plaza Friday Night Concert Series, and special events like the annual Davis Music Fest.
Jim had the chance to record some of the ol' Davis favorites, like The Essentials, Barry "The Fish" Melton, !Akimbo, Mejor Que Nada, the Nickel Slots, the West Nile Ramblers, the Rita Hosking Trio, Me & Him, Biscuits 'n Honey, Misner and Smith, Calvin Handy and the Jazz Patrol, Hardwater, UrbanFire, and Davis Joint Unified. These live concerts were then mixed and engineered by Jim, for later play on his weekly Live Tracks show.
Thanks go out to Barry Melton and the Bill Scholer Blues Band for KDRT's first benefit concert on January 26, 2008, for assisting our station during the threat of commercial radio encroachment on our signal.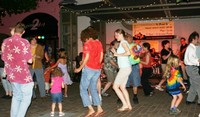 Podcast