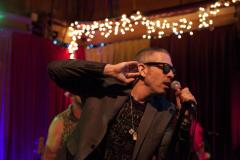 Live In The Loam and Listening Lyrics is excited to have HANS EBERBACH visit the KDRT studio. This show will be broadcast at 4:00PM on 12/12/14. The show will also be video tapped for airing on Davis Media and youtube at a later date.
Hans Eberbach is an award winning vocalist and songwriter who was born on the west coast and raised in the northeast wilds of Maine, returning to the California sunshine after highschool to launch his career in the mid '90's as the singer for Sacramento based roots rock band Sweet Vine. Guided by industry contact/friend Geoff Bywater (Glee) - a music supervisor at FOX, the band was barely playing live shows locally when they were signed to a publishing deal with Warner-Chappell and then to a lucrative, long-term record deal with Sony/Columbia.
The band toured and released one self-titled album that was a fresh take on the warm, fluid songs inspired by Jim Croce, The Allman Bros, The Black Crowes, and many other classic rock bands and songwriters of the 70's. When the group eventually disbanded, Hans Eberbach moved to Los Angeles, spending his time submitting music for TV and film eventually returning to Sacramento in the 2000's
He has since released a solo album, Up Is The Only Way Out (2010)
He has toured and released an album, "So Much Trouble" (2011) with The Nibblers, a soul soaked Sacramento based funk and R&B band
He now sings for Joy&Madness, an evolution of that vintage soul sound. The band has released a four song EP-Joy&Madness
Eberbach performs also with his band HANS! and the HOT MESS, a sometimes 4 piece, sometimes trio, sometimes two piece that represents his "solo" material, an eclectic blend of singer-songwriter funk and soul with a sometimes electronic bent for live-looping. Eberbach will be releasing new material with both bands in June 2013 and playing select cities across America through out the rest of the year.
More news and email list at: www.hansrocks.com