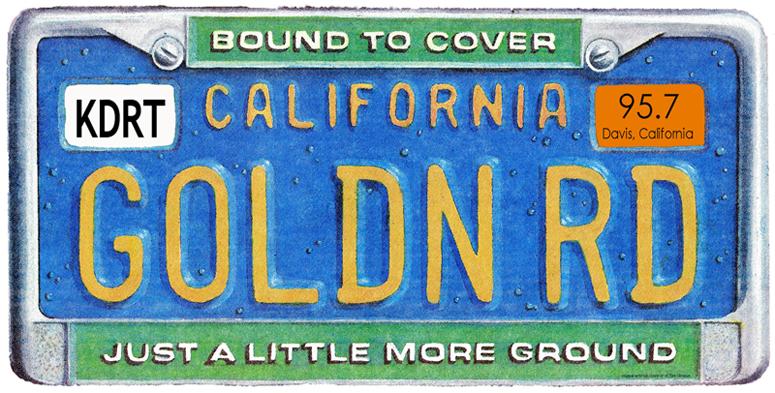 ​Join Alligator and take a musical journey down the Golden Road and explore the music of the Grateful Dead, its roots and its many offshoots.
Replays Friday 7-9pm
Live Sunday 4-6pm

Podcast
Music programs are only online for two weeks after they are broadcast.
This week on the Golden Road, DJ Rodriguez joins us as we celebrate bass player extraordinaire Phil Lesh's seventy-eighth birthday. Phil's birthday was yesterday, March 15th, (Beware the Ides of March!), and DJ Rodriguez thought what better way to salute his special day than by spinning the glorious 1997 Grateful Dead release: Terrapin Station (Limited Edition) recorded live at the Capital Centre in Landover, Maryland on March 15th, 1990. Rodriguez sez we are "Gonna honor Phil and I got my multitrack beauty ready to rock." So get ready to rock and take a your hands out of your pockets and tune in DJ's Lee and Rodriguez!
Wayne gets the steering wheel on the Golden Road tonight at the special time of 7:30 PM on KDRT 95.7 FM in Davis and KDRT.org whenever and wherever you may be. Where's he gonna take us? Let's drive deep into the 60's for this awesome example of the "raw power of primal live Dead" 11/10/67 Shrine Exposition Hall, LA. And it's on vinyl!! Our 90 minutes can't contain all of it (maybe your head can't either) but we're gonna let rip!!! Join in the fun!!
March 8th, 2018 marks the 45th anniversary of Ron "Pigpen" McKernan's death at age 27. Like so many of his 1960s peers, Pigpen was only here briefly and then he was gone. Gone but never forgotten. So this week on the Golden Road we are celebrating the Grateful Dead's original front man's oh so brief life and musical career with hand-selected tunes spanning Pig's performing years from Mother McCree's to the Grateful Dead. "Pigpen was and is now forever one of the Grateful Dead"
My first show with the brand new audio board, so some of the levels may be a touch hot.
"High green chilly winds and windy vines in loops around the twining shafts of lavender, they're crawling to the sun….William Tell has stretched his bow till won't stretch no furthermore and/or it may require a change that hasn't come before"
This week on the Golden Road, we have lightning captured in a bottle or more specifically on sixteen track tape. This could only mean one thing; that we have Grateful Dead music from their legendary Fillmore West shows played February 27&28 and March 1&2, 1969. All four nights were recorded and the tapes were used to make the record LiveDead. These shows are High Holy Days for many Deadheads, yours truly included. This music is mind blowing and from beyond the pale.