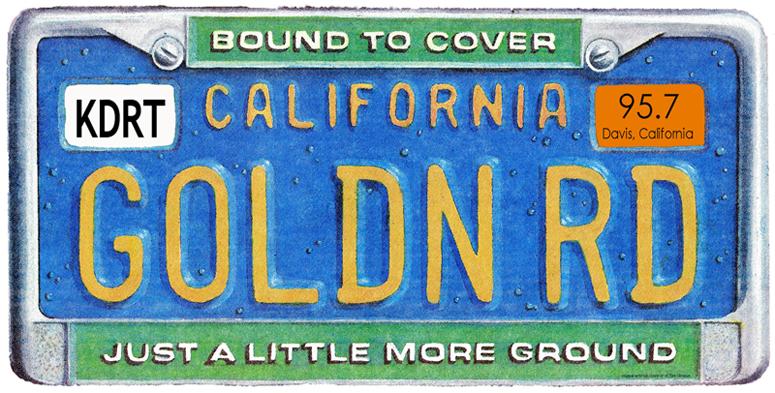 ​Join Alligator and take a musical journey down the Golden Road and explore the music of the Grateful Dead, its roots and its many offshoots.
Replays Friday 7-9pm
Live Sunday 4-6pm

Podcast
Music programs are only online for two weeks after they are broadcast.
Well folks this is it! El Ultimo! The Last One! Rumors of my pending return to West Virginia are true, and this week is my final show as host of the Golden Road! Like the Grateful Dead, the Band Beyond Description, my experience here at KDRT has been an experience beyond description, but all things must pass and I must say fare-thee-well to you all in radioland and all the awesome volunteers and the staff at the DRT. But fear not we have dandy of show this week on the Golden Road with cherry picked Grateful Dead tunes and a sit in by Rodriquez.
With New Year's Eve 2018 just around the corner, we thought it would be fun to feature music from Grateful Dead New Year's Eve shows past. Thusly, this week on the Golden Road, we have a mixture of tunes from the Cow Palace, December 31, 1976 and Oakland-Alameda Coliseum, December 31, 1990. These two shows cover a lot Grateful Dead musical territory.
We here at the Golden Road think that nothing says Seasons Greetings like Jerry "Spud Boy" Garcia and David "Dawg" Grisman playing music together. Thusly this week on the Golden Road, we have Spud Boy and Dawg recorded live at the Warfield Theater on December 8th, 1991. This is the middle night of a three-night stand and Jerry and David are in very fine form and spirits and deliver a stellar performance (including their incredible version of God Rest Ye Merry Gentlemen!). Fortunately, this mighty fine show was captured in all its glory by soundman John Cutler and we present his recording to you here this week.
This week the Golden Road takes us back to Alpine Valley in East Troy, Wisconsin for the Grateful Dead and their second set from July 7th, 1984. This is a very fine second set from the very fine 1984 Summer Tour, and the Not Fade Away>Turn On Your Love Light>Not Fade Away is not to be missed!
This week on the Golden Road, we have a little Miles Davis & John Coltrane from their last tour in 1960, a big dose the Grateful Dead from Seattle May 21, 1974 (a forty-seven-minute Playing In The Band in fact!) and the Great American Music Hall, and a taste of Santana's Borboletta.
This week the Golden Road takes us back to the Pittsburgh, Pa, the Steel City, for Grateful Dead music recorded live at the celebrated Stanley Theatre on Friday November 30, 1979. Brent Mydland was the new guy and the new energy he brought to the Grateful Dead was immediate and abounds at this show. Friday night with the Dead, it doesn't get any better than that! Oh yeah did I mention the killer Scarlet>Fire?
This week on the Golden Road, with a nod to Thanksgiving, we have a little of this and a little of that, kind of like diving into leftovers on Friday. We have a nice chunk of the new Dave's Picks 28 from June 17, 1976, Willie Nelson, Lukas Nelson, Marty Robbins, Tim O'Brien, Dave Alvin and Jimmie Dale Gilmore, the Band and track or two from the LP Skakedown Street released forty years ago last week.