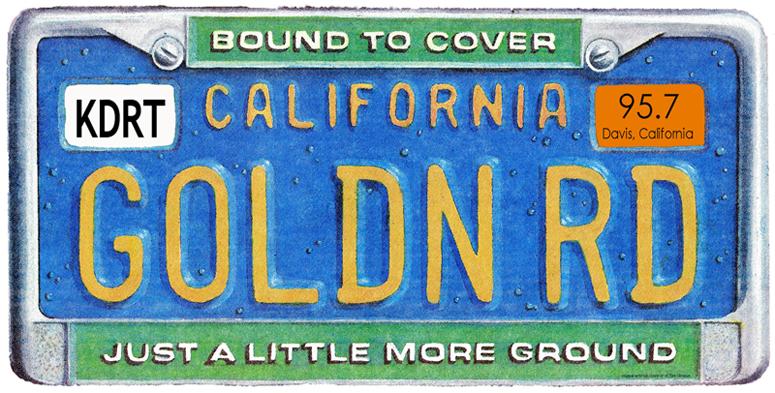 ​Join Alligator and take a musical journey down the Golden Road and explore the music of the Grateful Dead, its roots and its many offshoots.
Replays Friday 7-9pm
Live Sunday 4-6pm

Podcast
Music programs are only online for two weeks after they are broadcast.
Because last week's show was such a blast, we thought it would be really cool to continue in the 1970 vibe on this week's Golden Road with the New Riders of the Purple Sage. This week we have the NRPS's set from the Grateful Dead's infamous May 2nd, 1970 Harpur College show (the best GD concert ever!) with additional NRPS music from their September 18th, 1970 performance at the Fillmore East. Finishing out the show is some live acoustic Pigpen from April 18th, 1970 at the Family Dog at the Great Highway. And there will be a little Acoustic Dead thrown in for good measure!
Oops! Bill Browning not Bill Brown wrote Dark Hallow. My bad!
This week on the Golden Road we have some good old Primal Grateful Dead with music recorded live January 16th, 1970 at Springer's Inn in Gresham, Oregon. If you like Pigpen (and DJ Lee does), then you'll love this week's show! And remember: Pass the word, the monitors are coming….
This week on the Golden Road, we are going for the trifecta of Grateful Dead New Years shows with a trip to Daly City, California and its famed Cow Palace for Grateful Dead music recorded live on New Year's Eve 1976. After hitting their stride in the fall, December 31st, 1976 found the band in fine form, having fun on stage, and setting the table for 1977, one of the most memorable Grateful Dead years, ever. This was a very good show with many highlights as you shall hear.
Replay of July 28th, 2017
This week, the Golden Road takes us to Oakland, California and the Oakland Coliseum Arena for a Grateful Dead New Year's Eve with music recorded live December 31st, 1990 (well actually January 1st, 1991). Up this week is the second set from this very fine show. The set starting and ending Not Fade Away is a NFA sandwich filled with musical treats with a side of Branford Marsalis, who sits in on saxophone. There is some mighty fine music in the offing this week and is the last live broadcast of 2017.
Encore presentation the Wall of Sound Summer 1974, with music from Des Moines, IA from July 16th, 1974 and from Louisville, KY July 18th, 1974. Please note program does not begin until the 30 minute mark on playback bar.
This week on the Golden Road, DJ Lee is featuring what he calls "IA Tunes." What are IA Tunes you may ask? Well the short answer is songs about railroads, coal mining, steel mills, and labor. These songs will run the gamut from the romance of the railroad to life in the mines to the loss and despair caused by deindustrialization. DJ Lee has been thinking about this show's content for some time, and the inspiration for this show dates back to the early 1990s as an idea for a mix tape that was never completed, until now!
This week the Golden Road takes us to Oakland, California and the Oakland Auditorium for a mix of Grateful Dead music recorded live December 28th and 30th, 1979. When Brent Mydland joined the band in April 1979, he immediately injected new energy into the music and after six months of touring, the band was firing on all cylinders at these New Years shows!
This week on the Golden Road, with a nod to Thanksgiving and all its good eats, we have a little of this and that, kind of like diving into leftovers on Friday. We will be Scaring the Children with Bob and Rob and then some good old Grateful Dead music from the Great American Music Hall but first a few tasty musical treats.