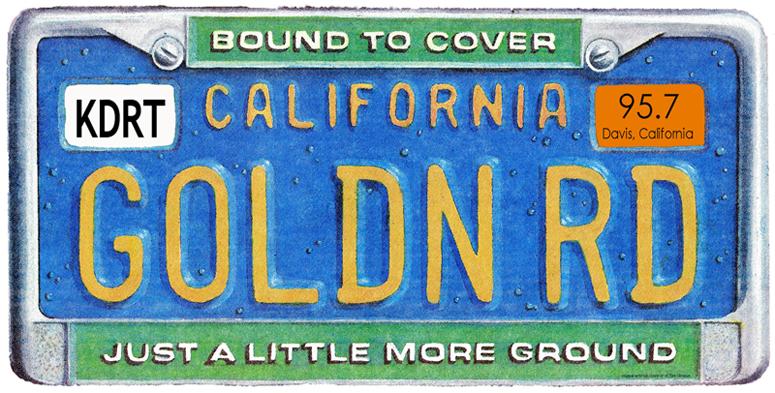 ​Join Alligator and take a musical journey down the Golden Road and explore the music of the Grateful Dead, its roots and its many offshoots.
Replays Friday 7-9pm
Live Sunday 4-6pm

Podcast
Music programs are only online for two weeks after they are broadcast.
We like anniversaries here at the Golden Road and this week we have a big one! This week marks the 40th Anniversary of the Grateful Dead's October 1978 five-night stand at Winterland. Billed as the From Egypt With Love shows, these concerts (October 17th,18th & 20th- 22nd) were played just a month after their Egyptian fieldtrip. If their Egyptian shows were subpar, the band made up for it over the five night as every one of these shows was extraordinary! And guess what? Our esteemed Golden Road founder and Silver Nine Volt Heart host, Rodriquez went to all five nights and has kindly agreed to sit in with us this week and play cherry-picked highlights from these stellar shows! Thank You Rodriquez!
This week we have a very special edition of the Golden Road featuring the mighty fine music of the David Grisman Quintet! Over the last forty years or so, David Grisman (aka Dawg) has carved out a unique musical space called Dawg music, which is a blend of jazz, bluegrass, gypsy jazz and folk. Backing the Dawg was a great band with great players that included Tony Rice, Todd Philips and Darol Anger (and later Stephane Grappelli). Featured tonight is Dawg music from 1977 to 1979. Amazing music in our humble opinion. And rounding out this week's broadcast are a couple tunes by Jerry Garcia and Dawg from their release So What. Now get comfy because there is lots of great picking and playing this week!
This week the Golden Road takes us back to October 4th, 1970 and the fabled Winterland for music by the Grateful Dead, the Jefferson Airplane, the Quicksilver Messenger Service, Hot Tuna, and the New Riders of the Purple Sage (October 4th, 1970 was of course the day that Janis Joplin died, so what was to be a festive show turned into a somber event). We will have the entire Dead set this week and a taste of the other bands on the bill plus Janis too. And a shout out to Chuckles from the Dead Net Central days for his hand getting out this recording!
Attention all '76 Weenies! This week the Golden Road takes us back to Fall 1976 for Grateful Dead music recorded live at the Capital Centre in Washington, DC on September 25th and the Onondaga County War Memorial in Syracuse on September 28th. These shows were released as Dick's Picks Volume Twenty and it makes up this week's music, which will include a few tracts from the Cap Centre and the second set from Syracuse.
Btw: Back in the olden days of DeadNetCentral (DNC), those of us who liked 1976 Grateful Dead were deemed '76 Weenies. Then, I am a very proud '76 Weenie!
This week the Golden Road takes us to the Big Apple, New York City, for the Grateful Dead recorded live at Madison Square Garden on September 18, 1987. MSG hosted fifty-two Grateful Dead concerts and this week's offering was one of the best all time MSG shows and is certainly a candidate for the best show of 1987, Garcia's comeback year! This is a terrific show with loads of great playing, that is capped off by a massive Morning Dew!
This week the Golden Road takes us to the Great Pyramid of Giza. That's right we're crossing the Great Pond with the Grateful Dead for their September 1978 Egyptian concerts. We find it hard to believe, but these famed gigs were played forty years ago this weekend. While hardly stellar performances by the band, the expedition to Egypt was a trip of a lifetime for the Dead and the many fans who made the journey. And did we mention the September 16th show (tonight's show), was played under a full moon and a lunar eclipse! We also have music from Mickey Hart's way cool release The Music of Upper and Lower Egypt to round out this edition of the Golden Road.
This week on the Golden Road, we have Grateful Dead music from the brand-new Dave's Picks 27, recorded live on September 2nd, 1983 at Boise State University in Boise, Idaho. Featured this week is the better part of the shows very fine second set. And as Phil Lesh said: "Citizens of Boise. Submit or perish. You're a conquered people!"
We here at the Golden Road have dedicated most of August 2018 to celebrating Jerry Garcia and his musical legacy. These past few weeks have been a great ride for us! And guess what? We have room for one more Garcia show this month. And since it is Labor Day Weekend (already? where did summer go?), we thought it a no-brainer that the Golden Road take us to the Merriweather Post Pavilion for music from the Jerry Garcia Band's 1989 Labor Day concerts. These shows- September 1st & 2nd, 1989- were JGB's only foray into this legendary amphitheater. Yours truly was at these shows and I can attest they were amazing and that tonight's recordings captured Jerry at his best! Collectively these very fine JGB shows are known as "Jerryweather."
Robert Hunter and Jerry Garcia began their long musical partnership in 1961 as the duo Bob & Jerry. Known mostly as the Grateful Dead's primary songwriter, Hunter also had a solo career and Hunter was often joined by Garcia in the studio on these various solo projects, where they recorded some very fine music together. We here at the Golden Road thinks it's about time to dig into to these wonderful musical collaborations by our musical heroes. Accordingly, this week we are highlighting music recorded together by Bob & Jerry with songs selections that runs the gamut from Bob & Jerry in May 1961 to Hunter's 1970s albums Tales of the Great Rum Runners and Tiger Rose to Hunter's 1980 LP Jack O' Roses to the Jerry Garcia Band backing up Robert Hunter to a taste of acoustic Jerry from the February 1986 Marin Vet show. Lots of good tunes this week folk!