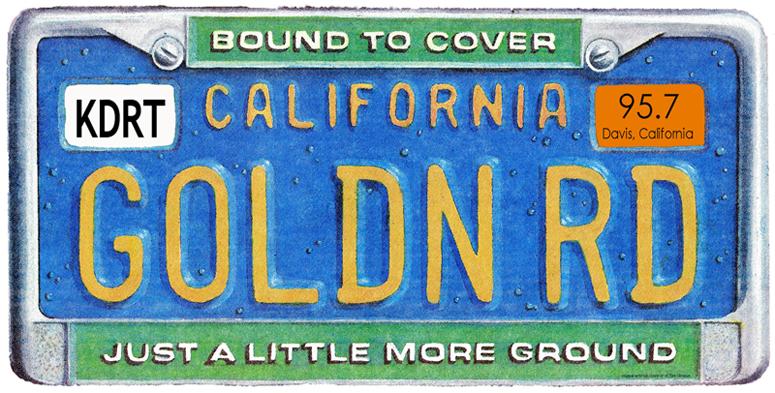 ​Join Alligator and take a musical journey down the Golden Road and explore the music of the Grateful Dead, its roots and its many offshoots.
Replays Friday 7-9pm
Live Sunday 4-6pm

Podcast
Music programs are only online for two weeks after they are broadcast.
This week on the Golden Road, we set the way-back machine for the week of April 25-29, 1971 and the Fillmore East for the Grateful Dead's final run at that storied New York City venue. It is impossible to adequately visit all five nights of music in this two hour program, but we're gonna try! Central to this week's show is the amazing Alligator->Drums->Jam->Goin' Down the Road Feeling Bad jamfest, but fear not there will be a whole bunch other great Grateful Dead music this week too!
This week the Golden Road takes us back to Pittsburgh, Pa and the venerable Civic Arena for Grateful Dead music recorded live April 18th, 1978. The Civic Arena was home turf for DJ Lee and he saw many a great Dead show there. This show is no exception and finds the band in fine fettle (check out the Scarlet>Dancing)!
This week the Golden Road takes us to Morgantown, West Virginia and West Virginia University (DJ Lee's alma mater), for Grateful Dead music recorded live at the WVU Coliseum on April 10th, 1983. This was the Dead's second and last musical foray into the Mountain State and everyone there that night had a fine time (except one or two folks) and without a doubt, Morgantown looked and felt a little different the next day!
This week the Golden Road returns to Philadelphia, Pa, the City of Brotherly Love, for Grateful Dead music recorded live at the Spectrum on April 6th, 1982. This legendary show (from the equally legendary 1982 Spring Tour) has hands-down one of the best Shakedown Street's, ever! You decide!
This week on the Golden Road, we have our second mix tape show! Back in December 2017, we had the first mix tape show with train and coal mining songs, but this week it is music from the Allman Brothers Band, Jimi Hendrix, Genesis and Pink Floyd. These are all bands that DJ Lee dug way back in the early 1970s, and that he still digs today.
On March 19th, 1978, the Jerry Garcia Band rolled into Pittsburgh for a show at the old Stanley Theatre in support of his forth coming album, Cats Under the Stars and the band served up a spectacular concert that evening. So it only seems natural, here on the fortieth anniversary of this very memorable concert, that we feature hand-selected music from this show on the Golden Road this week. And last but not least, this is DJ Lee's one-hundredth Golden Road broadcast!
This week on the Golden Road, DJ Rodriguez joins us as we celebrate bass player extraordinaire Phil Lesh's seventy-eighth birthday. Phil's birthday was yesterday, March 15th, (Beware the Ides of March!), and DJ Rodriguez thought what better way to salute his special day than by spinning the glorious 1997 Grateful Dead release: Terrapin Station (Limited Edition) recorded live at the Capital Centre in Landover, Maryland on March 15th, 1990. Rodriguez sez we are "Gonna honor Phil and I got my multitrack beauty ready to rock." So get ready to rock and take a your hands out of your pockets and tune in DJ's Lee and Rodriguez!