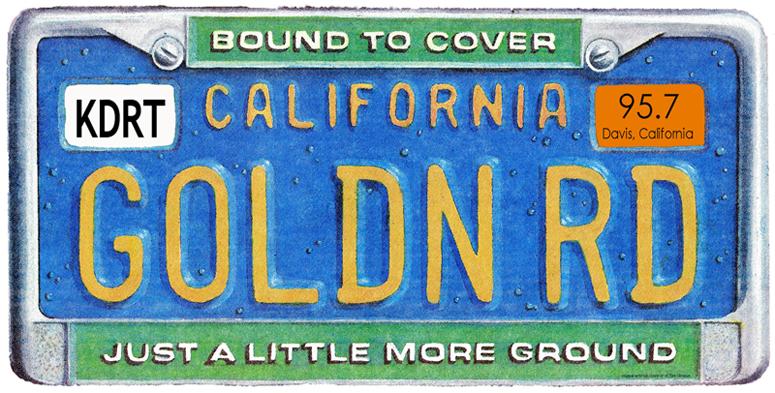 ​Join Alligator and take a musical journey down the Golden Road and explore the music of the Grateful Dead, its roots and its many offshoots.
Replays Friday 7-9pm
Live Sunday 4-6pm

Podcast
Music programs are only online for two weeks after they are broadcast.
We here at the Golden Road have dedicated most of August 2018 to celebrating Jerry Garcia and his musical legacy. These past few weeks have been a great ride for us! And guess what? We have room for one more Garcia show this month. And since it is Labor Day Weekend (already? where did summer go?), we thought it a no-brainer that the Golden Road take us to the Merriweather Post Pavilion for music from the Jerry Garcia Band's 1989 Labor Day concerts. These shows- September 1st & 2nd, 1989- were JGB's only foray into this legendary amphitheater. Yours truly was at these shows and I can attest they were amazing and that tonight's recordings captured Jerry at his best! Collectively these very fine JGB shows are known as "Jerryweather."
Robert Hunter and Jerry Garcia began their long musical partnership in 1961 as the duo Bob & Jerry. Known mostly as the Grateful Dead's primary songwriter, Hunter also had a solo career and Hunter was often joined by Garcia in the studio on these various solo projects, where they recorded some very fine music together. We here at the Golden Road thinks it's about time to dig into to these wonderful musical collaborations by our musical heroes. Accordingly, this week we are highlighting music recorded together by Bob & Jerry with songs selections that runs the gamut from Bob & Jerry in May 1961 to Hunter's 1970s albums Tales of the Great Rum Runners and Tiger Rose to Hunter's 1980 LP Jack O' Roses to the Jerry Garcia Band backing up Robert Hunter to a taste of acoustic Jerry from the February 1986 Marin Vet show. Lots of good tunes this week folk!
This week on the Golden Road, we have a special show featuring the music of legendary blues-rock guitarist Roy Buchanan. Roy was known as the "The Best Unknown Guitarist in the World," and he left his mortal coil thirty years ago this week. Sadly, Roy's music is now largely forgotten. However, we here at the Golden Road are trying to remedy this dire situation this week by serving you all up a big healthy portion of some of his finest sounds for your musical enjoyment and edification!
This show was for me and the people of Pittsburgh, Pa who loved their adopted son Roy Buchanan!
This week on the Golden Road, we havethe second part of our annual Jerry Garcia Birthday Extravaganza! Last week, we featured all Jerry Garcia Band music, and this week we have all Garcia sung Grateful Dead songs. We delivered some pretty epic JGB songs last week, and we promise to serve up some more epic Dead jams this week with tunes spanning Garcia's long career with the band.
August 1st 2018 would have been Jerry Garcia's 76th birthday. Yep 76! So, this week on the Golden Road we have our annual Jerry Garcia Birthday Extravaganza broadcast with a little twist that this year's show is all Jerry Garcia Band music! No Grateful Dead this week you say? Fear not next week's Golden Road is all Grateful Dead music! Anyhoo we have some epic Jerry Garcia Band music planned for this week's show!
This week the Golden Road takes us to the Red Rock Amphitheater in Colorado for the Grateful Dead recorded live on September 7th, 1985. Red Rocks was, of course one, of those magical venues that the Dead played and always played great shows. This show is no exception and it has one of those crazy set lists that made 1985 so much fun.
We are serious about milestones here at the Golden Road. So, this week, we are celebrating the 50th anniversary of the release of the Grateful Dead's second album: Anthem of the Sun, by playing it in its entirety! Anthem was released on July 18th, 1968 and was hyped by Warner Brother as: "An album one year in the making…and sonically advanced to the point of making you rediscover your body." Trippy as Anthem is, we here at the Golden Road are not sure if listening to this album will make you rediscover your body but tune in this week's Golden Road and find out!
This week on the Golden Road, we are trucking up to Buffalo for the Grateful Dead recorded live at the Buffalo Memorial Auditorium (or just the "Aud"), on May 9th, 1977. The April-May 1977 Dead tour is legendary and among their all-time best tours. And we here at the Golden Road think the Aud show is arguably the finest show of the spring 1977 tour! So, you be the judge!
This week the Golden Road takes us to Philadelphia, Pa and up I-95 to East Rutherford, NJ for Grateful Dead music recorded live at JFK on July 7th, 1989 and Giants Stadium on July 9th & 10th, 1989. The band was on fire the Summer of 1989 and the music was blistering hot!