Live Monday 5:30-6pm
Replays Wednesday 8:30-9am, Saturday 7:30-8am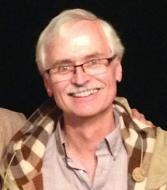 Short answer: An interview show about people, issues, subjects, and events involving Davis, California. Detailed answer: Davis is full of interesting and often important stories, and I try to do more than present the obvious. Guests so far include a former Alcatraz convict who spoke to the UC Davis entomology club, Joe Krovoza explaining the city's water rates, the story behind a young woman's poster seeking members for her band, the experience of being a Republican in Davis, the plastic-bag ban, compassion advocate David Breaux, live theater in Davis, the problems of Picnic Day, why Davis has so many Thai restaurants, the creator of the DavisWiki ... I started the program in the fall of 2008, and produce a new show every two weeks.

Podcast
Davisville, 3/23/15: One of the kids who sang on 'A Charlie Brown Christmas'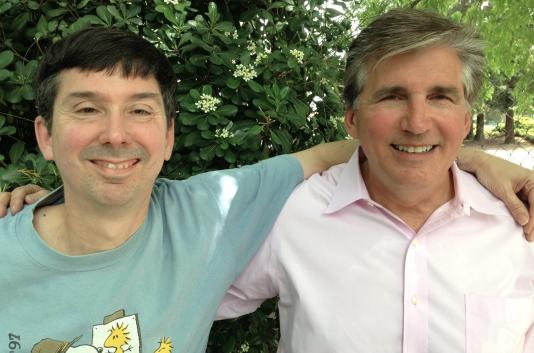 Fifty years ago, David Willat (on the right, with Davis writer Derrick Bang) was one of the half-dozen children who sang in the chorus on Vince Guaraldi's classic "A Charlie Brown Christmas." He was 11. Willat also sang in the choir on another of Guaraldi's big projects that year, the Grace Cathedral Jazz Mass. On today's Davisville, which notes the 50th anniversary of the recordings, Willat talks about both with host Bill Buchanan and Peanuts/Guaraldi expert Bang, author of the 2012 book Vince Guaraldi at the Piano.
Davisville, 3/9/15: Drawing people to Yolo County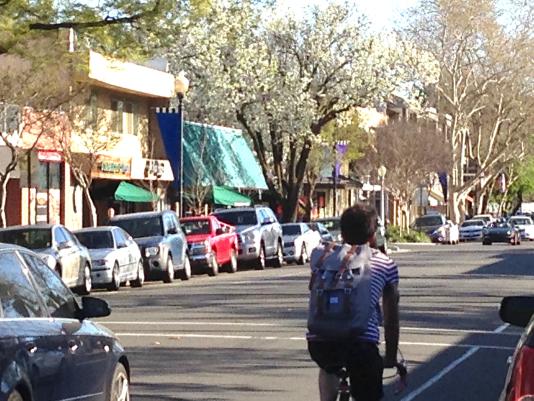 Who visits Yolo County, and what brings them here? Today's interview with Alan Humason and Tiffany Dozier of the Yolo County Visitors Bureau provides some answers.
Davisville, 2/23/15: Seeking a fast, public broadband network for Davis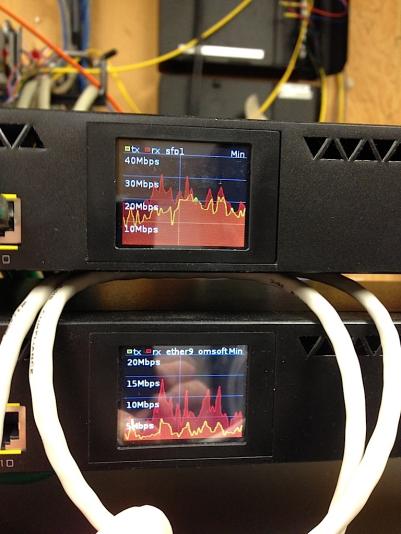 Davis has commercial, high-speed Internet connections provided by Comcast and AT&T. What would it mean for the town if Davis had a third line, publicly owned, and very, very fast? Several people with deep interest and experience with the Internet are beginning to advance that idea, and on today's Davisville we talk with two of them: Rob Nickerson, president and part owner of the Davis Internet company Omsoft Technologies, and Doug Walter. Each is part of a new, casual group, Davis Gigabit.
Davisville, 2/9/15: Veteran Ernie Head recalls fighting in World War II, 70 years later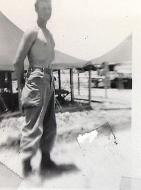 World War II ended seven decades ago this summer, but Ernie Head, 94, remembers it clearly, having fought in the U.S. Army in the Pacific (this photo shows him in 1945, at the camp that had previously been the final destination of the Bataan Death March). On Feb. 14, Post 6949 of the Veterans of Foreign Wars will honor Head as Davis' veteran of the year. On today's program he talks about coming under fire in the Philippines, as well his life in Davis after he moved here in 1953, including a sample of the community projects he has contributed to.
Davisville for 5pm on Feb 2nd, 2015
Davisville, 1/19/15: The Bee's Jack Ohman
On today's show, Sacramento Bee editorial cartoonist and writer Jack Ohman talks engagingly about a wide range of subjects, from this month's killings at the Charlie Hebdo satirical magazine in Paris, to his work, the role of a cartoonist, leaving Oregon for California, drawing Gov. Brown, his sense of Davis, and the humor in fly-fishing. Ohman, whose work appears nationally, was a finalist for the Pulitzer Prize in 2012. He joined the Bee that fall after nearly 30 years at the Portland Oregonian.
Davisville, 1/5/15: This concert venue is Bill Wagman's living room
Picture a large concert with 30,000 fans packed into a stadium. Since 1987, Bill Wagman has worked at the other end of the spectrum—he hosts house concerts in his Davis living room, which gets crowded when 50 people show up (this photo shows Dave Stamey performing in Bill's home in 2010). On today's Davisville Bill talks about how and why it all works, including the audiences, musicians, and the thrill of watching a talented musician perform up close. He presents one concert per month, and has already booked shows into 2016.
Davisville, 12/22/14: Gary Lee Yoder, of Oxford Circle, Kak and Blue Cheer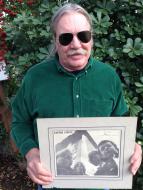 Guitarist/songwriter Gary Lee Yoder and three classmates at Davis High School formed Oxford Circle in the 1960s (in the photo he's holding, he's second from left). They went on to play some of the most storied concert venues in the Bay Area during the San Francisco Sound of the late 1960s. After the band broke up, Yoder co-founded Kak and then joined Blue Cheer. Eventually he moved back to Davis, where he lives now, and on today's show he tells stories from 40 years in music--including the summer day he was walking on F Street after Oxford Circle dissolved, and he was offered a record deal with CBS. For real.
Davisville, 12/8/14: Creating a more entrepreneurial city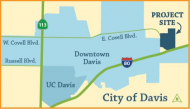 On today's program we talk about the efforts to make Davis a more entrepreneurial city with guests Matt Yancey, new CEO of the Davis Chamber of Commerce, and Rob White, the city's chief innovation officer. The topics include an update on the innovation park proposals (this image shows the location of the Mace Ranch project), Yancey's goal to add 6,000 jobs to Davis by 2020, investor interest in Davis startups, the impact on housing, and what all this might mean to the average person in town.
Davisville, 11/24/14: Movies to see (or skip) this December
Continuing a KDRT autumn tradition, today we interview Davis film critic Derrick Bang about films to look for, and avoid, as the holiday movie season begins. Bang also discusses hits and misses from the rest of 2014, which he calls an average year.
Pages