Davis is a wonderful and diverse community, full of interesting people, ideas, and happenings. On Davisville, host Bill Buchanan presents unique stories from in and around town that are relevant to the Davis community.
Replays Wednesday 8:30-9am, Friday 12:30-1pm, Saturday 8:30-9am
Live Monday 5:30-6pm

Podcast
The green bike boxes and bigger bike lanes you've seen downtown? Dave Kemp helped bring them here. The city of Davis hired him to champion active transportation in early 2012, but now DK is leaving for a promotion to a similar role in Boulder, Colo. Before he left, he returned to Davisville to talk about his nearly 3 years in Davis; balancing the needs of bicyclists, drivers and pedestrians; the initial results of the Fifth Street redesign (aka the euphemistically named "road diet"), and more. He first appeared on the show on Feb. 27, 2012.
Davis movie reviewer Derrick Bang (the Davis Enterprise, Derrick Bang on Film) returns to the show this week to list some good movies to watch for Halloween. He offers suggestions in three categories—classics that aren't widely known, horror, and "vicarious glop." We also learn that the holiday when the original Dracula debuted wasn't Halloween, like you might expect—it was Valentine's Day. Douse the lights and tune in.
Professional dancer Pamela Trokanski, who started her Davis dance studio in 1985, is working on an interesting multi-part project on land she owns in east Davis. She calls it Life in 11 Dimensions, and it encompasses elements as varied as food, dance, massage, and a black-box theater. Today on Davisville she describes the venture, who's participating, and how she's funding it. She hopes to break ground in spring 2015.
In "round-robin storytelling," a group of people make up a story on the spot. Sally Parker says it's a good way to bust through writer's block, and just a lot of fun, whether you're a writer or not. Parker presented a session on round-robin storytelling this month in Central Park as part of her Square Tomatoes crafts fair, and will again in October. On today's show, she and Davisville host Bill Buchanan use the technique to make up a story on air … or at least the first part of a story. The rest of the show goes into what this kind of storytelling is all about. Come listen to the result.
Wendy Weitzel has reported the arrivals and exits of Davis businesses in her "Comings & Goings" column in the Davis Enterprise since 2001. It's one of the paper's most-read items, and a good place to track the retail enthusiasms that wax and wane in town, from pizza to frozen yogurt. Sometimes she also gets to break a story that isn't a story -- like this past spring, when she helped debunk an online prank that claimed a dance club was going to open on G Street. On today's show, she discusses how she works.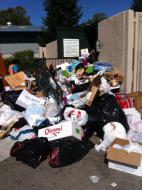 Late each August, thousands of college students move in and out of apartments all over town. The mass move generates piles of cast-offs that students no longer want—furniture, clothes and housewares, but also unexpected stuff like anime, Ikea furniture and gift cards—and could turn the city into one big sloppy flea market if the volume got out of control. For 15 years, the city has organized the Apartment Move-Out Waste Reduction Program to tame the tide. Today Jennifer Gilbert, the city's conservation coordinator, and Marisa Schafer, one of the volunteers who make it work, discuss how it all comes together, the need for semi-secrecy ... and the things people leave behind. 
Author Julia Scheeres, right, and Thom Bogue recently spoke at the Avid Reader about her book, "A Thousand Lives: The Untold Story of Jonestown," and his memories of the remote South American camp of the Peoples Temple where 918 people were killed or committed suicide one day in November 1978. Bogue, then a teenager and now vice mayor of Dixon, was one of the relatively few survivors. Scheeres' critically praised book draws on previously unavailable recordings and records from the temple, which once had a major presence in San Francisco. They talk about it today on Davisville.
Davis doesn't have a lot of natural beauty—we have great trees, but no dramatic mountains or river—so buildings are maybe more important here than they would be elsewhere, in terms of defining the look of the town. So, what makes good architectural design in Davis? What does Davis need more of, or less of? We talk about this today with Davis architect Robert Lindley, who over a 30-year career has designed many buildings in Davis and elsewhere (including Mishka's Café, behind him in this photo).
UC Davis' top undergrad for 2013-14 didn't have a Facebook page at college. She does have a brother who sometimes made her dinner. She scheduled fun into her routine, played in the Cal Aggie Band-uh, was mentored by a retired astronaut, graduated with a 4.0 grade-point average, and is working this summer for NASA in Texas. And she loves Davis. Today we talk with Ashley Coates (photo by Karin Higgins/UC Davis) about everything from how she got it all done, to whether she thinks humanity will ever achieve the kind of space travel presented in Star Trek.
Davis voters elected Robb Davis to the City Council in June. On today's program we talk about financial problems facing the city, as well as what he's doing to get ready to take his seat on the council.