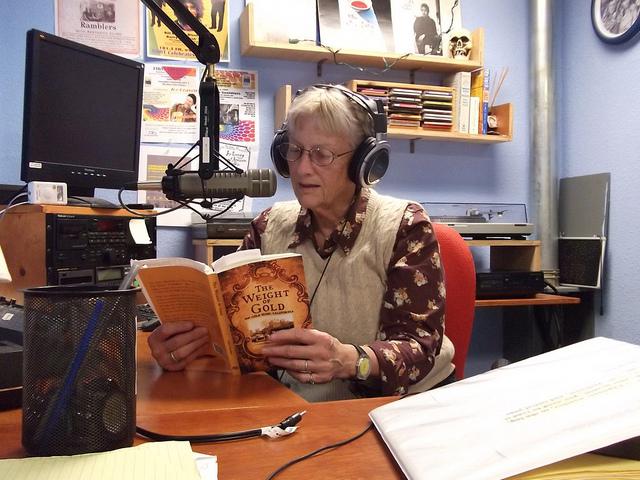 Join host Ruth Chambers as she shares stories from 1800 to 1920 in the dialogue and dialects of the time as written by the authors. You'll hear Gold Rush and Wild West Stories, Tall Tales, and plenty of Mark Twain. Some of the stories were written by the reader herself! Tune in, sit back, and enjoy a taste of simpler times.
Replays Friday 2:30-3pm, Saturday 11:30pm-Sunday 12am
Live Thursday 11-11:30am

Podcast
Music programs are only online for two weeks after they are broadcast.
"The Tale of Johnny Town Mouse" by Beatrix Potter is the first story read today, then on to "The Night Before Christmas" by Clement C. Moore. Burl Ives comes on with the song "foggy, Foggy Dew." It's a fun show for the season.
What happeded to the month. This is November 30 and we are in the Yukon this week with writer Robert W. Service. Opening the show is his poem "The Spell of the Yukon." We close the show with "The Gramophone at Fond Du Lac." Hope you like the rustic humor. We're in the Yukon for the 1894 Gold Rush.
It's Thanksgiving time and the station is closed so we are playing old shows. Enjoy the day with family and friends and a stuffed turkey. Yum.
See last week's show 'cause it's the same date. Just a little oops to prove we are human.
Ruth is feeling funny and not laughing so this is a Surprise Repeat Show kindly selected by Jeff Shaw who is always on the job at KDRT. Thank you Jeff for selecting one of the better shows.
Here we go with another story written by me. This is "Tom and Sam." You will hear about slavery in California and some humorous twists and turns of real life from the Gold Rush time.
Well, here we are again with my stories from the book I wrote...it was a whole lot of typing. This week we cover real facts about Old Sacarmento, back then Sacramento City, and use the Widow Chambers (fictional) to tell the human story. This story is about the theatre in the 1849-51 Gold Rush time in the rough.
And now just days before Halloween, Edgar Allan Poe's most well known poem: "The Raven." Happy Booooo Day.
Offen called the greatest American novel, "Moby Dick" is this week's selection. It is a study of an obsessed leader and the men who follow him.
And now for the second week of October and the Edgar Allan Poe story "Mask of the Red Death."