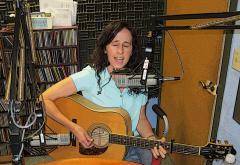 Rita Hosking sings about forest fires but it is her that is setting the folk music scene on blaze.This hour Rita shares some stories with us and sings some of her songs. Her new CD "Little Boat" debut as #7 on the folk music charts and her single "Parting Glass" as #3.
LITTLE BOAT is a jewel of a CD. Stripped down to only the essentials gives her voice an extraordinary platform to shine. Elegant and sophisticated with a inspirational message.
You can visit visit Rita at www.ritahosking.com
If you like this program and show, keep in touch with LISTENING LYRICS by clicking the like button on the LISTENING LYRICS Facebook page.
Thank you