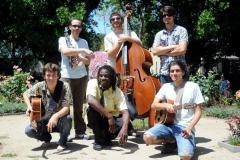 This weeks Listening Lyrics we talk with Marque Cass of "Tha Dirt Feelin".
To describe the band I will use Marque's own words: "Our music is, in my opinion, a very original and eclectic amalgamation of hip-hop, soul, and rock & roll. It is always upbeat, positive, and danceable. Our lyrical styles range from rapid-fire raps that may remind you of Bone Thugs 'n Harmony or Three Six Mafia to soulful crooning that evokes Sam Cooke or Bill Withers."
I have heard Marque at the Dr. Andy poetry reading series and frankly Marque blew me away with his presentation and passion.
Soooo - to catch this very special event tune in on Friday at 4:00PM on 95.7FM or online at www.kdrt.org.