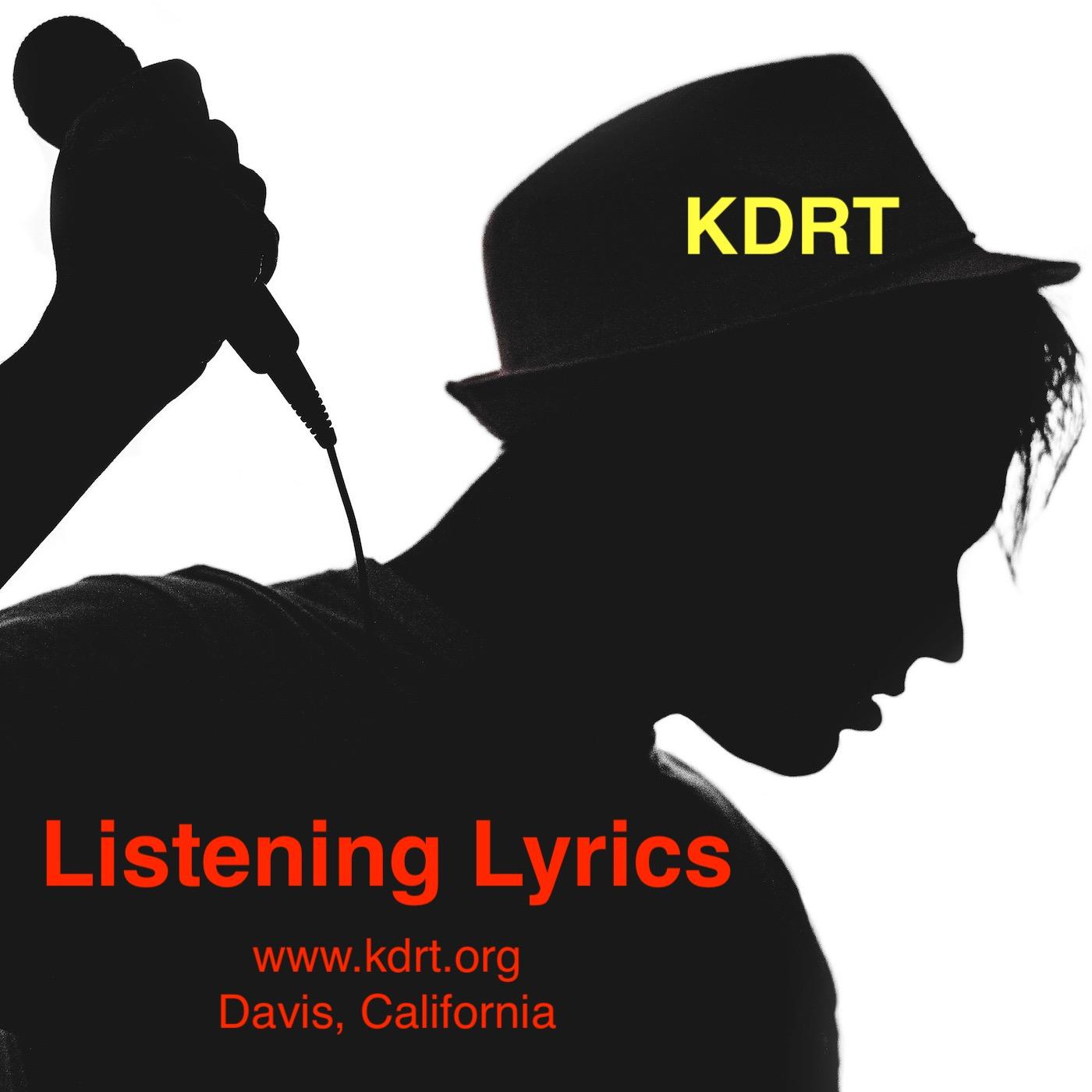 Welcome to an hour of LISTENING LYRICS. Right here on KDRT 95.7FM in Davis, California. Listening Lyrics is a genre free zone - we feature the artist. What makes them do their thing. Listen to the hope and satisfaction in their voices. Listen to what only commercial free community radio can bring you. Close your eyes - open your ears - relax your mind. Join host Pieter Pastoor and co-host Jeanne Pastoor. Now lets enter, the mother of all that is music and lyrics and the human capability of producing art.
Replays Monday 7-8am, Sunday 9-10pm
Live Friday 4-5pm

Podcast
Music programs are only online for two weeks after they are broadcast.
We spend an hour with MICHAEL LEAHY of CROSSBILL RECORDS. Listen in to some of the artists on this label and discuss how a label select artists. Plus much more. Crossbill Records has been releasing a steady stream of songwriter-based indie folk, rock, americana, and bluegrass albums from its Davis, CA home-base since 2005. Headed by longtime KDVS DJ and "Cool as Folk" concert presenter Michael Leahy, the label thrives as a cooperative effort with releases from friends Tom Brosseau, Brass Bed, Matt Bauer, Appetite, The Loom, Sea of Bees, Garrett Pierce, and Jake Mann making the team push (Leahy is also a basketball coach) for recordings,
See PLAYLIST BELOW for details
Listen is NOW to a multi talented, multi instrumentalist (10 and counting) all packaged in a young lady named TAJLYN. Originally from the Cincinnati, Ohio area she is now shaking things up musically in central California. Tajlyn discovered music with the help of Mr. Rogers and wrote her first jingle in a funeral home. She describes her self as living a normadic life of music, travel and good times.
I know that KDRT and LISTENING LYRICS will be in for one great show with Tajlyn.
visit TAJLYN at http://www.tajlyn.com
Short video of TAJLYN in the studio https://www.youtube.com/watch?v=fTEOLelFcqc&feature=youtu.be
Listen now as Listening Lyrics played some of the artists that are performing at the DAVIS MUSIC FEST http://davismusicfest.com . Special Co host this week was Ed Branam to help me wade through the music
We will spin and introduce a variety of music for all to get the feel of this event which kicks off JUNE 20, 2014.
OVER 50 music events at 12 different location through out Davis.
Listen in and we can help you decide where and when and who to see.
Check out the playlist for this awesome selection of music.
All bands in this show have their music on SOUNDCLOUD.
When I saw TWO TRACK MIND perform I knew I had to have them on the show - Six months later the dream comes true. Listen now to two very talented musicians.
Two Track Mind is the new musical duo featuring the amazing Matt Rowley and the incomparable Brian Souders.
Matt Rowley is a guitarist, vocalist, songwriter, composer and teacher who lives in the Sacramento area. His solo performances include electronic augmentation and improvisation creating a dynamic and exciting performance that includes material spanning 5 decades and many different styles and influences including his own compositions and interpretations of well-known and not-so-well-known songs.
This week Listening Lyrics went to Los Angeles to check out the LA Music scene. We have a remote interview with Will Carpenter and Dan Hange of SHIPS HAVE SAILED. That set the tone for the show. Other selections from LA bands currently creating a buzz are Fitz and the Tantrums "The walker", Bad Suns "Cardiac Arrest", Incan Abraham "Tuolumne", Moses Sumney "Lindisfarne", Holychild "Happy With Me", Papa "Put Me To Work", Holy Folk "At A Moment Here", Mystic Braves "Please Let Me Know"
(http://www.shipshavesailed.com).  Pictured are Dan & Will of SHIPS HAVE SAILED
Want to keep in the know with the latest in band updates  check out http://www.buzzbands.la
The LURK (AKA Nick Carvajal) joined us this week. Literally a one man band, he plays the drums, guitar, harmonica, and sings - many times most of those at the same time. Nick has and does perform in several band. This show he shares some of those bands and also we will listen to some of the music that has influenced his musical journey. The big surprise for me this show is the diversity of his music tastes. A refreshing journey into one mans music brain.
and her website:
http://www.jeanniecheatham.com/
CHECK OUT THE PLAYLIST - not in the order played
Jesse Deere joined me in the studio for a lively discussion about the benifits of vinyl vs.Compact Discs. As a treat Jesse played some of his favorite vinyl. View the playlist below for details. Listen in for some great discussion.
LISTENING LYRICS is on facebook https://www.facebook.com/ListeningLyrics 
Spend an hour with GREG GLAZNER and learn about his up and coming project (book/music concept) titled Professor Len and the Big Night
Featherweight is an American "rock" band based in Sacramento, CA. I put the word rock in quotes because these young musicians are more than rock. They have a unique capacity to create a rich sound around their writing capabilities. The vocals in their music are a rare gift that grab your ears. A fusion of sound that has earned them the respect in the music scene in Northern California.
Visit them at http://featherweight.fm
LOOK & LISTEN to a small clip of the in studio action - http://youtu.be/Gs2Jr5yU97E