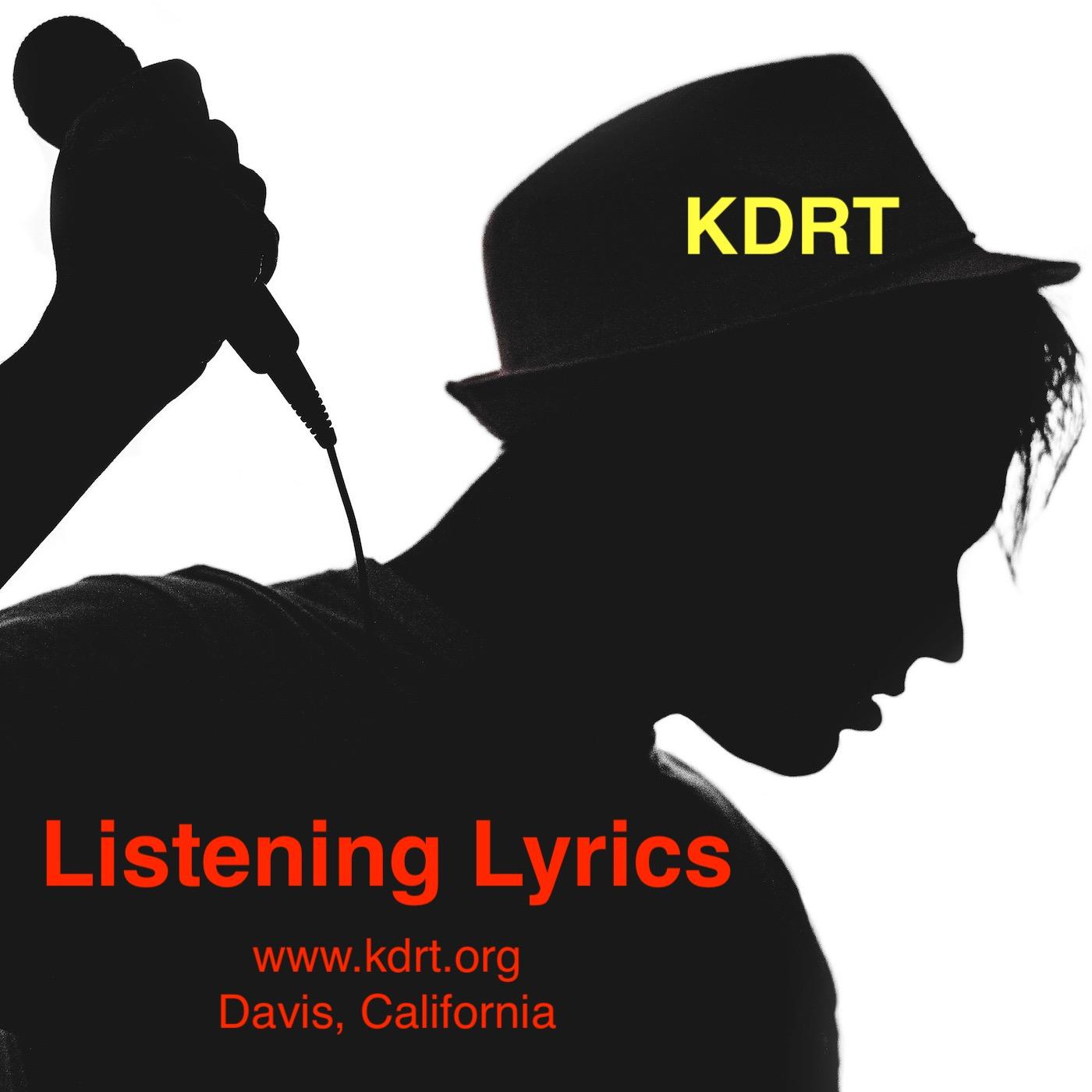 Welcome to an hour of LISTENING LYRICS. Right here on KDRT 95.7FM in Davis, California. Listening Lyrics is a genre free zone - we feature the artist. What makes them do their thing. Listen to the hope and satisfaction in their voices. Listen to what only commercial free community radio can bring you. Close your eyes - open your ears - relax your mind. Join host Pieter Pastoor and co-host Jeanne Pastoor. Now lets enter, the mother of all that is music and lyrics and the human capability of producing art.
Replays Monday 7-8am, Sunday 9-10pm
Live Friday 4-5pm

Podcast
Music programs are only online for two weeks after they are broadcast.
Talk about a special duo. One great voice and a guitar to accent each song makes Evertree a duo to watch - NO, HEAR. Listen in for a full hour with Evertree. 
Evertree is an alternative folk rock duo based in Northern California Lori Hawk, singer-songwriter and keyboardist, and Sam Hawk, singer-songwriter, 12-string guitarist and bassist, play a blend of originals and unplugged classic rock favorites.
Band mates in the folk trio, Finding Fable, Lori and Sam are songwriting partners and fellow seekers of the meaning of it all.
Visit EverTree on their web site at www.evertreeband.com
Sometimes young talent needs a little polishing, but in the case of singer/songwriter CASEY GROAT he comes to us with a shine that begs to be heard. Casey enjoys a natural stage presence along with the tunes that he crafts. Picking away at his guitar shows us that young talent is worth more then a listen but worth our attention.
With Casey was his friend/DJ Zach
Listen now for an hour with Casey.
View a short GoPro video of Casey in the studio here https://www.youtube.com/watch?v=3wE0aYWTjK8&feature=youtu.be
Eliza Gilkyson is a politically minded, poetically gifted singer-songwriter who has become one of the most respected musicians in folk and Americana music circles.  The daughter of legendary songwriter Terry Gilkyson, Eliza entered the music world as a teenager, recording demos for her father.  Since then she has released 20 recordings of her own, and her songs have been covered by such notables as Joan Baez, Bob Geldof, Tom Rush and Rosanne Cash. 
Nat LEFKOFF visited LISTENING LYRICS for the second time, and rightfully so. Nat is an American singer/songwriter from Northern California, currently residing in Washington state. Nat brings with him not only his great writing capability but also a voice that compliments his lyrics. A voice that shares its soul is rare, and Nat does share it with us. It's a complete package that makes you want to hear more. Nat is also full of enthusiasm about his life, and we heard all about it. Nat was accompanied with Tyler Gholson (back up vocals) and Raven (Vocals and violin).
Short video clip from the studio https://www.youtube.com/watch?v=ptsf792dbXo&feature=youtu.be
Listen in to the dynamic duo of Evan Clayburg and Sally Hensel. They are Davis residents who met through their shared passion for music and art. Evan along with Sally are founding members of the THIRD SPACE ART COLLECTIVE in Davis, an art collective and music show venue where emerging creatives express themselves in a supportive atmosphere. In mid September Evan and Sally will be embarking on a 4 month creative journey to share what they've learned and learn from other likeminded creative spaces.
Listen in as you hear a young man funnel his talent through music. He filled the studio with some great sounds. So, Rowan McGuire is my guest for the full hour. Rowan  is a singer-songwriter from Davis, California, where he plays guitar, drums and sings. His songs feature unique finger picking techniques that have percussive elements, and they involve many different tunings. Recently he has added lyrics and vocals to his guitar playing to increase the depth and diversity of his music, blending vocal melodies and harmonies with complex picking patterns. His musical influences are John Mayer, Ben Howard, Michael Hedges, Andy McKee, and Tommy Emmanuel.
Check out the short video clip of ROWAN in the studio https://www.youtube.com/watch?v=CYHf3LdhZSs&list=UUGAP8Loyd3hrcPZNy7POLrg
What a treat to have Steve Kotarek back in the studio. This time Steve will be accompinied by one of his bandmates, Naomi Rogers-Hefley.
Steve has worked his way into the local music scene with his talent as a songwriter and uses his voice to convey a message in song. Steve lives in Woodland and his music is heard around northern California. Once you hear Steve perform you will be VERY tempted to pick up one of his CDs.
Naomi hails from the UK, recently moved to California. With her classical background, she brings a unique appoach to fiddle playing that complements Steve's music.
Visit Steve at https://www.facebook.com/SteveKotarekBand
View PLAYLIST below for song information
Many months in the making and now its in the can.  - RED UNION BLUE in the studio for the whole hour. Red Union Blue from Sacramento, CA brings together the musical talents of Trena Thompson and Chris Lee into an exciting new blend of country, rock, pop, and folk. Since 2012, the band has grown into one of the area's most promising up-and-coming artists, combining thoughtful and insightful lyrics with powerful vocals and dynamic musicianship.

The band's first album "Learning To Fall" was released in June 2013. Featuring 10 original songs, the album ranges in styles from the pop choruses of "I Don't Want To Need You" and "Without You & Me" to the introspective folk-rock reflection of "Ghost Town" and "Let It Rain". Recorded by J.K. Northrup (King Kobra, Montrose, Foreigner, Toto) at Alien Productions & Recordings, the album was voted by Twirl Radio as one of the best debuts of 2013.