Live Thursday 11-11:30am
Replays Wednesday 11-11:30am, Sunday 11-11:30am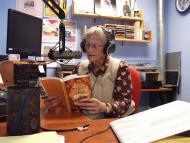 Hear amazing stories from the Golden State, from way back when in the language from way back when, with some stories written by the reader herself! Sit back and enjoy.

Podcast
Chambers Street Theatre for 11am on Aug 21st, 2014
The weather has been so nice, Ruth decided to read her own story: "Just a Stage Coach Ride in the Country." Hope you enjoy the ride.
Chambers Street Theatre for 11am on Aug 14th, 2014
Ruth reads the second half of the Mark Twain recollections of Bret Harte. They knew each other before fame and after. Then Ruth reads a few poems by Harte that are quite entertaining. All this makes for a good half hour of radio.
Chambers Street Theatre for 11am on Aug 7th, 2014
Once again the KDRT Theatre Players perform original material meant to entertain and defuse. Today the skits will be "Salad and the Burning of the KDRT Studio Kitchen, part 2," "Doper Dan," and "Cat's Craddle." The players will be announced on air as they could change at any moment, 'cause that's how it is.
Chambers Street Theatre for 11am on Jul 31st, 2014
In his Autobiography, Mark Twain had a section on Bret Harte. Harte is covered in dress and behavior as Twain knew Harte. This first section is read aloud by Ruth knowing Twain was a good reporter. This is the only time pock marks were mentioned in writing that were on Harte's face.
Chambers Street Theatre for 11am on Jul 24th, 2014
Today Ruth reads from the Mark Twain Autobiography published after his death. Chapter 2 talks about slavery as Twain knew it in his boyhood before the Civil War. Then Ruth tells the story of her childhood when she stood on one side of a large canyon and listened to a Black Church on the other side of the canyon and how it affected her. July 24 is a Civil Rights Anniversary.
Ruth also reads her comments on "The Ice Caps Are Melting," and how to prepare for rising water.
Chambers Street Theatre for 11am on Jul 17th, 2014
After reading almost everything available by Twain, Ruth found a little jem about hunting a turkey. This is pretty good Twain and Ruth gives it her all in the telling. Also on this half hour is an explanation of what happened to Twain's unpublished work and why it's taken so long for most of it to get into print. There have been good comments about the information in this half hour.
Chambers Street Theatre for 11am on Jul 10th, 2014
Once again Ruth reads from Mark Twain's "Roughing It." This time we hear about Slade, one of the characters of the time with 26 murders to his credit. To say Slade was rough is an understatement, but he was also fair for the time, and Twain met Slade under telling circumstances. Listen to this story and hear both sides.
Chambers Street Theatre for 11am on Jul 3rd, 2014
Bryce Parker joins Ruth for another show. We are happy to have the well-known television film maker, Bryce, jump in the skit "The Craft Show." Ruth and Bryce share the craft anyone can do, including Ruth and Bryce. Somehow five yellow pencils get glued to a table. There is also an interview with Parker about his film, "The Rectangular Age."
Chambers Street Theatre for 11am on Jun 26th, 2014
And it's back to Mark Twain and the time he was an Ag Edior of a newspaper. Ruth gives voice to several characters with a complaint about the news as written by Twain. Listen in to hear one of the best, but little known, Twain stories.
Chambers Street Theatre for 11am on Jun 19th, 2014
Ruth reads with Bryce Parker and Tristan Leder, the skit written by Ruth, "What's Cookin?" Few people know the KDRT Studio has an on-air full kitchen for cooking shows. Bryce, Tristan, and Ruth manage to burn the kitchen down while making a salad.
Pages