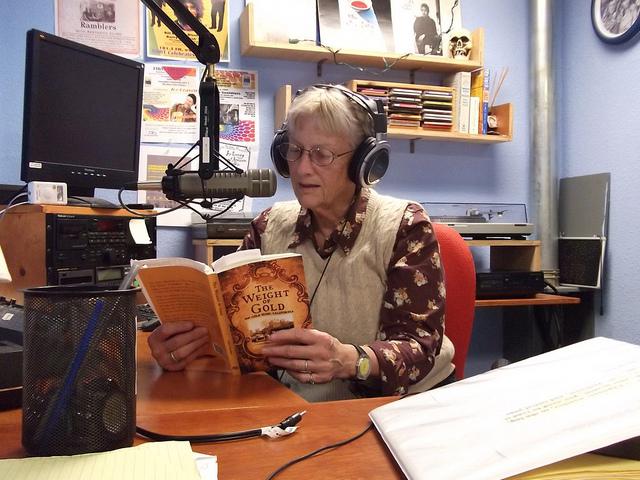 Join host Ruth Chambers as she shares stories from 1800 to 1920 in the dialogue and dialects of the time as written by the authors. You'll hear Gold Rush and Wild West Stories, Tall Tales, and plenty of Mark Twain. Some of the stories were written by the reader herself! Tune in, sit back, and enjoy a taste of simpler times.
Replays Friday 2:30-3pm, Saturday 11:30pm-Sunday 12am
Live Thursday 11-11:30am

Podcast
Station closed so a repeat show played.
Donald Trump has been elected President. This show is all about how to fit in. Ruth uses Trump style to do the show and reads from Mark Twain's "Roughing It" when Twain met Wild Westerners and had to fit in. Trump is the President so how do we keep up and fit in?
We're back with "Roughing It," and the stage coach ride west by Mark Twain before he was famous. Ruth reads some of Chapter 3 and part of Chapter 4. This sheltered boy from Missouri is about to have his eyes opened to The New West.
And here we are again with the 1800's, and the writers who told the tales. Tune in for 30 minutes of the past that's the same as now because people don't change, just the clothes and weapons change. Tune in as Ruth does the best she can to give voice to the past and give history to the present. How about that?
With the Disco music "We Are Family," Ruth starts the show and introduces today's reading from "Roughing It." Chapter 1 and part of Chapter 2 covers the beginning of Mark Twain and his brother's trip by stage out to Nevada from Missouri. See they are brothers so "We Are Family" fits right in even if it's Disco.
Finally the book, "Is Shakespeare Dead?," arrived. And what is this book? While Mark Twain wrote his autobiography, he included short books. The Shakespeare book is 51 pages. I have yet to find the other books, but am guessing they are short, too. Anyway, today Ruth reads from Chapter One. Twain gets himself involved is the old Bacon vs. Shakespeare, "Who wrote the plays?"
While waiting for the Twain short book to arrive, Ruth reads a favorite: "Through the Looking Glass" from the White Knight chapter. The White Knight is a man of inventions that make Alice wonder. The charming part of the story is how the White Knight enjoys his life and even his inventions that don't work.