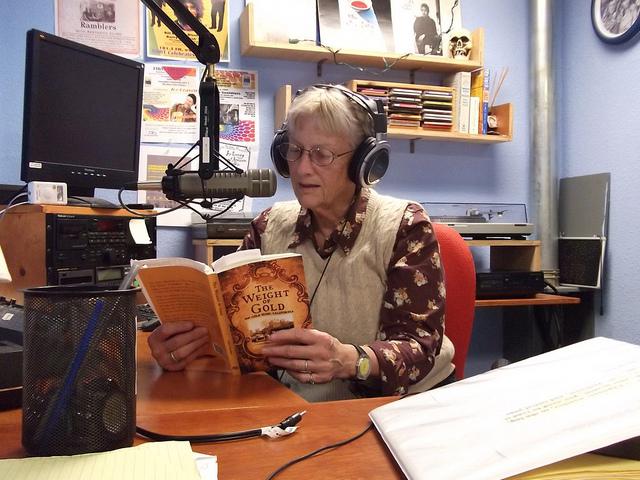 Join host Ruth Chambers as she shares stories from 1800 to 1920 in the dialogue and dialects of the time as written by the authors. You'll hear Gold Rush and Wild West Stories, Tall Tales, and plenty of Mark Twain. Some of the stories were written by the reader herself! Tune in, sit back, and enjoy a taste of simpler times.
Replays Friday 2:30-3pm, Saturday 11:30pm-Sunday 12am
Live Thursday 11-11:30am

Podcast
Music programs are only online for two weeks after they are broadcast.
Here we are on the trail to the next stage coach station and in a snow storm. Twain and group have no fire, no horses, and very little hope.
Twain wrote "Roughin It" years later so we know things took a turn for the better.
Well this is a computer oops. This is the second posting for May 18 so look below for the first posting. Maybe the computer knows something ands wants a space to say "Long live the works of Mark Twain." Live forever.
Here we are in the last of Chapter 30 and the first part of Chapter 31 in "Roughing It." Mark Twain gets stranded on a hotel island in the middle of the flooded Carson River. Eight days go by for all the standed people and then the fighs start. It's Twain at his best writing. Don't miss it.
There was a Gold Rush in the 1800's, but there was also a Silver Rush, and Twain and friends were going to get rich, but they didn't. Hear how they tried to find a silver ledge.
And here we are again hearing Mark Twain's "Roughing It." We're out West during the Silver Rush with Twain before he was famous. A lot of fun.
My goodness, April is almost gone, and we need to say to April's Birthday Girl: Ella Fitzgerald, "Happy Birthday, you'd be 100 years old if you were still alive." Ahh, but she is still alive, and will live forever. We open today's show with "A Tisket A Tasket," the song that made her a star, then go to "Roughing It" by Mark Twain. We're all the way up to Chapter 24. You will hear another Twain part true part tall tale about his buying a bucking horse.
Since it's April, I've been reading two chapters of "The Innocents Abroad," by Mark Twain. April is Easter month so we will go to the Holy Land and hear how it was to visit this holy place in the late 1800s.
Well, here we are at the April time of year so let's go to "The Innocents Abroad." "TIA" is the big success Mark Twain had with the publishing of his notes from his trip to Europe and the Holy Land. We start in Chapter 48 and jump around to Chapter 49 and 50, then back to 48. There's a swim in the Sea of Galilee and other "must dos." Twain sees the current Holy Land as it was in the 1800's, and comments on the changes. This is the show to hear for this time of rebirth and renewal. It's real and it's entertaining.