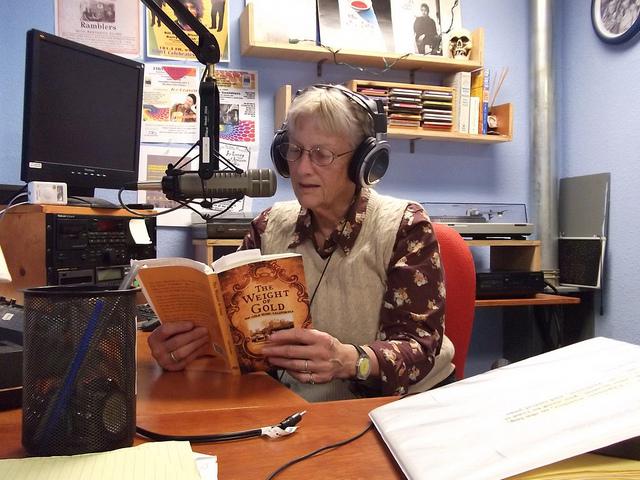 Join host Ruth Chambers as she shares stories from 1800 to 1920 in the dialogue and dialects of the time as written by the authors. You'll hear Gold Rush and Wild West Stories, Tall Tales, and plenty of Mark Twain. Some of the stories were written by the reader herself! Tune in, sit back, and enjoy a taste of simpler times.
Replays Friday 2:30-3pm, Saturday 11:30pm-Sunday 12am
Live Thursday 11-11:30am

Podcast
Music programs are only online for two weeks after they are broadcast.
A.A. Milne wrote "Winnie the Pooh," but did you know he had a full life at Punch writing humor, wrote plays, and in his spare time was at the Somme during WW One. Ahh, the Somme where 58,000 men were lost the first day of battle...the highest loss of men in recorded war. 1/3 were killed.
One of the best writers out of the Irish movement is Liam Flaherty. His book "The Informer" is not put downable. It was made into a movie of the same name. Look it up on the Web. Parts of the book are our reading today.
In keeping with our visit with Bryce Parker last week and his radio serial "Secrets of Fishkeeping" I'll be reading poems of the Sea. So get ready for frogs, fish, and sea birds.
Today we have Chapter 2 of Secret of Fishkeeping. To refresh our memory we start with Chapter 1 then go into Chapter 2. This is the radio serial written and produced by Bryce Parker. We also will hear two songs all the way through we did not have time to play completely last week.
No Mark Twain today. Today is the debut of Bryce Parker's radio serial "Secret of Fishkeeping." We will hear Bryce's cast of radio voices from KDRT in Chapter 1. This is a weekly style serial where each episode is about six minutes. The rest of the half hour of CST will be an interview with Mr. Parker, the writer/producer.
Twain was very careful to record the various speech styles of his time. Here we have two men, both speaking English (by English I mean American) and not communicating. One man a new minister from the East, and the other a fine man from "the mines" out West... Twain has done a fine job of reporting their troubles, and saving for us how people spoke in the past. Listen in for the fun.
Only Twain would know these stories to write about the "all of a sudden" rich miners of Nevada. Twain was there "on the ground," to use Twain's own words. He was evolving into a writer at the local newspaper, and saw all the fun and foolishness.
Well here we are with temps into the 100's so it's time for The Christmas Pudding. I read this each year in the worst of summer heat to remind us of snow and Sierra trees and Christmas Eve with a flaming pudding. Enjoy.
And here we have Twain facing failure again....but what's this? A letter from the Virginia City newspaper....Twain is invited to be the City Editor at $25 dollars a week. Yes, Twain took the job and so began his future with word s.
Twain had been writing letters to various papers on various subjects, and now he had a real job.