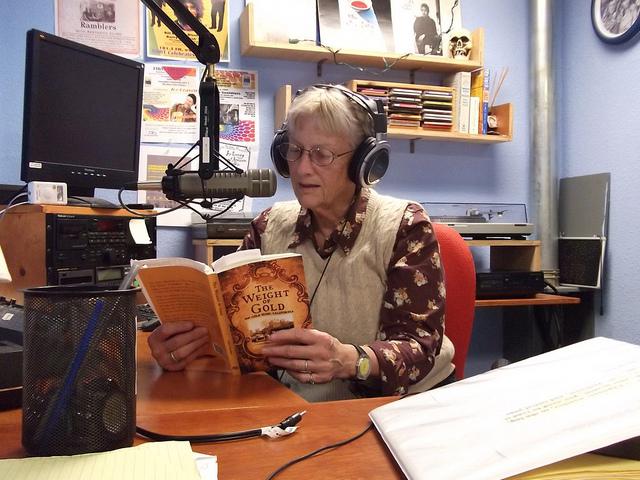 Join host Ruth Chambers as she shares stories from 1800 to 1920 in the dialogue and dialects of the time as written by the authors. You'll hear Gold Rush and Wild West Stories, Tall Tales, and plenty of Mark Twain. Some of the stories were written by the reader herself! Tune in, sit back, and enjoy a taste of simpler times.
Replays Friday 2:30-3pm, Saturday 11:30pm-Sunday 12am
Live Thursday 11-11:30am

Podcast
Music programs are only online for two weeks after they are broadcast.
It's so nice to be back on air. We have been having some pretty big storms but it's been needed water. The five year drought was tooooo long. Well, today's reading is from "Roughing It" by Mark Twain, Chapters 9 and 10. If you ever wondered about the Pony Express, here's your chance to hear the story from men "on the ground." That's what Twain said about himself...he was there for the Gold and Silver strikes, and the Pony Express, and all the rest of the 1800's.
January 12 was a storm day and the studio was awash so there were no morning shows. I know because I was there looking in the window.
Happy New Year and welcome to 2017. This week we hear Chapter 7 of "Roughing It" by Mark Twain. If anything happened in the 1800's, Twain was sure to be there for the best. Listen in for more Twain fun out West.
Station closed so a repeat show played.