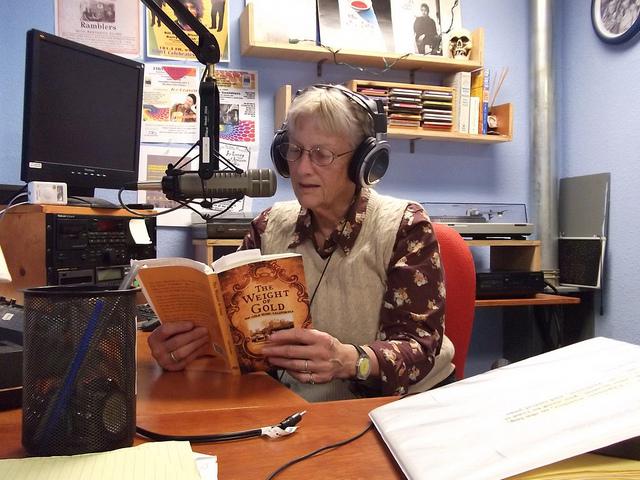 Join host Ruth Chambers as she shares stories from 1800 to 1920 in the dialogue and dialects of the time as written by the authors. You'll hear Gold Rush and Wild West Stories, Tall Tales, and plenty of Mark Twain. Some of the stories were written by the reader herself! Tune in, sit back, and enjoy a taste of simpler times.
Replays Friday 2:30-3pm, Saturday 11:30pm-Sunday 12am
Live Thursday 11-11:30am

Podcast
Music programs are only online for two weeks after they are broadcast.
Here we go with another story written by me. This is "Tom and Sam." You will hear about slavery in California and some humorous twists and turns of real life from the Gold Rush time.
Well, here we are again with my stories from the book I wrote...it was a whole lot of typing. This week we cover real facts about Old Sacarmento, back then Sacramento City, and use the Widow Chambers (fictional) to tell the human story. This story is about the theatre in the 1849-51 Gold Rush time in the rough.
And now just days before Halloween, Edgar Allan Poe's most well known poem: "The Raven." Happy Booooo Day.
Offen called the greatest American novel, "Moby Dick" is this week's selection. It is a study of an obsessed leader and the men who follow him.
And now for the second week of October and the Edgar Allan Poe story "Mask of the Red Death."
Being the first week in October, it's time for some special stories so let's start with "Rip Van Winkle" by Washington Irving.
The weather is a little cooler so it's time for the Yukon with the writing of Robert W. Service. So settle back and get ready for "The Cremation of Sam McGee," and others Yukon characters.
A.A. Milne wrote "Winnie the Pooh," but did you know he had a full life at Punch writing humor, wrote plays, and in his spare time was at the Somme during WW One. Ahh, the Somme where 58,000 men were lost the first day of battle...the highest loss of men in recorded war. 1/3 were killed.