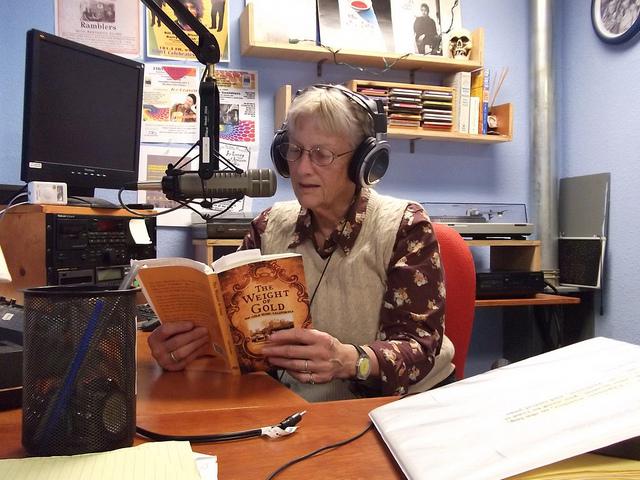 Join host Ruth Chambers as she shares stories from 1800 to 1920 in the dialogue and dialects of the time as written by the authors. You'll hear Gold Rush and Wild West Stories, Tall Tales, and plenty of Mark Twain. Some of the stories were written by the reader herself! Tune in, sit back, and enjoy a taste of simpler times.
Replays Friday 2:30-3pm, Saturday 11:30pm-Sunday 12am
Live Thursday 11-11:30am

Podcast
Music programs are only online for two weeks after they are broadcast.
And now back to Mark Twain....today Ruth reads the Old Ram story and we know it's a real story from the 1800s. Silly and fun....
More Robert W. Service...
Robert W. Service is the 1880s author for today. The Service verses are based on true events during the Alaska Gold Rush. "Dan McGrew" and other verses are read by Ruth.
This week Ruth reads from the Davy Crockett autobiography about family life in 1824. That time had the same problems raising a family as we do, even though there was Bear on the table for dinner.
Going back to 1824, we hear Ruth read from the David Crockett autobiography about Christmas in Tennessee. These are his own words so we hear the voice of the Time on the Frontier.
KDRT on repeat mode for Winter Break.
"A Child's Christmas in Wales" by Dylan Thomas. Ruth reads highlights to start the Winter Holidays.
"The Tale of Johnny Town Mouse" by Beatrix Potter is the first story read today, then on to "The Night Before Christmas" by Clement C. Moore. Burl Ives comes on with the song "foggy, Foggy Dew." It's a fun show for the season.
What happeded to the month. This is November 30 and we are in the Yukon this week with writer Robert W. Service. Opening the show is his poem "The Spell of the Yukon." We close the show with "The Gramophone at Fond Du Lac." Hope you like the rustic humor. We're in the Yukon for the 1894 Gold Rush.