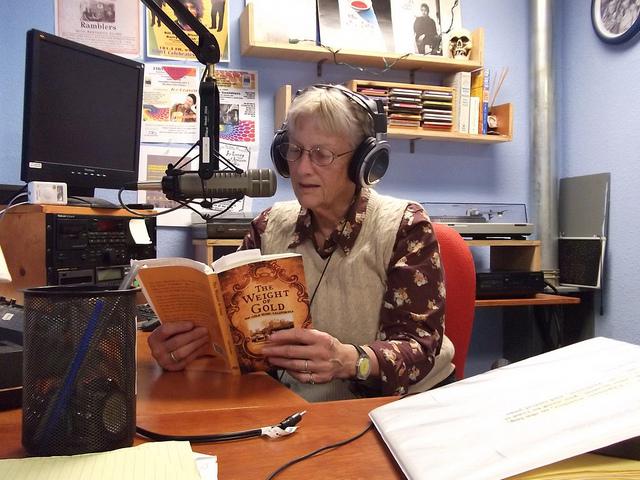 Join host Ruth Chambers as she shares stories from 1800 to 1920 in the dialogue and dialects of the time as written by the authors. You'll hear Gold Rush and Wild West Stories, Tall Tales, and plenty of Mark Twain. Some of the stories were written by the reader herself! Tune in, sit back, and enjoy a taste of simpler times.
Replays Friday 3:30-4pm, Saturday 11:30pm-Sunday 12am
Live Thursday 11-11:30am

Podcast
Music programs are only online for two weeks after they are broadcast.
The 27th show. Well, this show is for the birds... We start with two crow ballads from the English and the Scots, then we go on to Poe's "The Raven." Ruth didn't write any of these. She doesn't have a bird story.
The 26th show. It's a hot day in the summer so I'm reading "The Christmas Pudding." There's snow and a pudding and good friendship. Hope you enjoy the fun.
The 25th show. Mark Twain wrote "Roughing It" to tell his story of his youth before fame. "Mountain Slide" and "Mine Tunnel" are two entertaining stories we can still enjoy today.
The 24th show. And it's Mark Twain with "Roughing It." Love this book. "Caught in a Storm" is one of his best. Don't miss it.
The 23rd show. "Roughing It" by Mark Twain. This book is the best. Ruth reads "Horace Greeley" and "Tarantulas." Very good stories and plenty of laughs.
The 22nd show. "Roughing It" by Mark Twain is the book; the chapter is "The Pony Express." Not enough people know how funny "Roughing It" is. Be sure to spread the word. We all need the laughter.
The 21st show. This week we finish Nathaniel Hawthorne's "The Birthmark." Then it's on to more Mark Twain with "The Pony Express" from "Roughing It," Ruth's favorite Twain book.
The 19th show. Two names are the biggest on the list of Gold Rush writers: Mark Twain and Bret Harte. We start with Chapter 4 from "Roughing It" by Twain, then on to Harte with "Tennessee's Partner."

The 18th show. From "Roughing It" by Mark Twain... Had to edit some of Chapters 2-4 to get most of it in, but it's still Twain and swell of course.