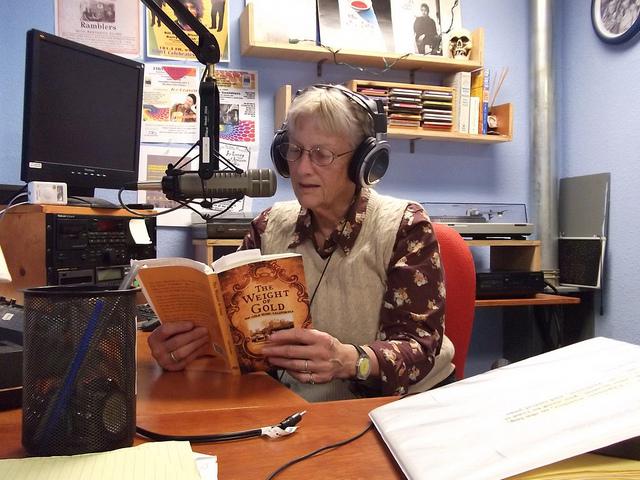 Join host Ruth Chambers as she shares stories from 1800 to 1920 in the dialogue and dialects of the time as written by the authors. You'll hear Gold Rush and Wild West Stories, Tall Tales, and plenty of Mark Twain. Some of the stories were written by the reader herself! Tune in, sit back, and enjoy a taste of simpler times.
Replays Friday 3:30-4pm, Saturday 11:30pm-Sunday 12am
Live Thursday 11-11:30am

Podcast
Music programs are only online for two weeks after they are broadcast.
The 36th show. Two stories by Ruth are read. "Sam and Tom" about two miners with a role reversal, and "The Cabin" about two young lovers. I write these stories because no on else has covered these topics, and the stories of the time should to be heard.
The 35th show. Here we are again with Louisa May Alcott, who was the author of "Little Women," but also a nurse during the Civil War. Here is a story from her book "Hospital Sketches." This reading is "Getting a Pass." It's always so difficult to do anything "well meaning" but just like Alcott, we can stick with it and make a difference. Also read is Ruth's story "The Cat and the Frog."
The 35th show. It is not generally known, but Louisa May Alcott was a Civil War nurse. She was there after Fredericksburg so she saw the worst. She wrote about her time in "Hospital Sketches." Ruth had to send away for a copy of this book. It's not on the shelf in a store. Ruth also reads her own story, "Cat and the Frog."
The 34th show. "Bricks" is the story of the Widow making a Bee Hive Oven in Sacramento City. "The Shadow's Edge" tells about the game food disappearing and the founding of the Dept. of Fish and Game. Did you know oysters were the first game hunting fight? Yes, they were. Not with each other -- oysters are a peace loving group, but the human gatherers were in a killing mood over oysters. Something had to be done. And it all started in 1849. Two stories by that Chambers lady.
The 33rd show. It's Jack London time, and about time. One of his best stories is "To Build a Fire." Ruth reads the first part of this story. Of course this is the Gold Rush in Alaska so there is plenty of snow. It doen't take much to figure we're going to have to build a fire.
The 32nd show. From the book "Louisa May Alcott" by Susan Cheever, we hear "Civil War Nurse and Medical Practices." Alcott was a Civil War nurse just after Fredericksburg so she saw some rough times. Then we hear "How I Edited an Agricultural Paper" by Mark Twain. We can use a good laugh after the Alcott Civil War story.
The 31st show. This is a redo of the 30th show when we had Techical Problems. "Innocents Abroad" by Twain covers "Dealing with Guides," and "Alice in Wonderland" by Lewis Carroll covers dealing with Alice. Then we have a Turkish tale to close the show.
The 30th show. We had Techical Problems so go to August 23 when we redo this show. We can repeat any show when we have tech problems since it's a crime to throw away a good show with Twain and Carroll, or any great authors.
This is the 29th show. It's Lewis Carroll and his "Through the Looking Glass." "Jabberwocky," "Tweedledum and Tweedledee Battle," "The Walrus and the Carpenter," and "It's My Own Invention" are on the bill. Then it's on to "Innocents Abroad" by Mark Twain.
The 28th show. For all you Mark Twain fans, here is "Roughing It." This is a fun book about the Gold and Silver rushes. Chapter XLIII is called "The School Report," and has the Twain touches we all love.