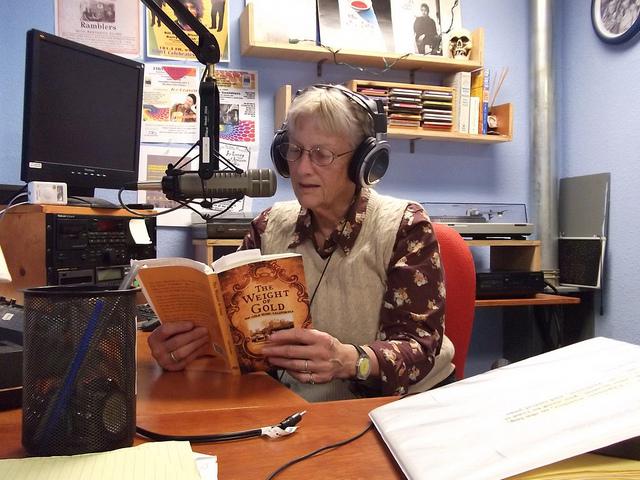 Join host Ruth Chambers as she shares stories from 1800 to 1920 in the dialogue and dialects of the time as written by the authors. You'll hear Gold Rush and Wild West Stories, Tall Tales, and plenty of Mark Twain. Some of the stories were written by the reader herself! Tune in, sit back, and enjoy a taste of simpler times.
Replays Friday 3:30-4pm, Saturday 11:30pm-Sunday 12am
Live Thursday 11-11:30am

Podcast
Music programs are only online for two weeks after they are broadcast.
52nd show
Ruth reads one of her stories, "A Walk In Time." The story relates to slavery sales in Sacramento after 1850 when California came into the Union as a Free State. Yet there were slave sales. Hear the story and learn about the people. Ruth wrote this story because so little has been written about slave sales after 1850.
The 52nd show. There are tech problems, but you can listen to the show. Ruth redoes the show next week without the funny sound.
The 51st show. We had some tech problems so this show will be redone next week. We can do this because it's our show. Ruth's book "The Weight of Gold, 2nd Expanded Edition" is used for this show. "A Walk in Time" is read. It's about slavery in California after 1850 when California came into the Union as a Free State, but there were still slave sales after 1850. Interesting...
The 51st show. And here it is again because this is a computer program and things don't always go smoothly.
The 50th show. "Just a Stage Coach Ride in the Country" is one of Ruth's stories. The ride covers a fine lady getting sick from the rocking and swaying of the coach, an Indian attack, and a family reunited. Much humor and fun history.
The 49th Show. Ruth reads from the first edition of her book, "The Weight of Gold," the chapters "The Governor's Ball," and "The Photographer." Well this isn't some photographer in town, this is a photographer who takes a wagon and glass plates up into the Gold Hills to photograph the miners. It's quite an adventure.
This is the 48th show. Stories are read by Ruth from her book "The Weight of Gold," first edition. We hear three Indian related tales: "Cow Feet", "The Indian," and "The White Indian Man." There has been good response to this show.
Davis Media is closed for the Winter Holidays. There may or may not be a repeat program on.
The 46th show. Ruth reads her story "The Christmas Pudding." This is a story of the well meant efforts of a group of miners to have a Christmas Pudding. BUT there is no flour so they have to make some creative choices. Christmas Eve is celebrated in a group feast by a circle of friends.