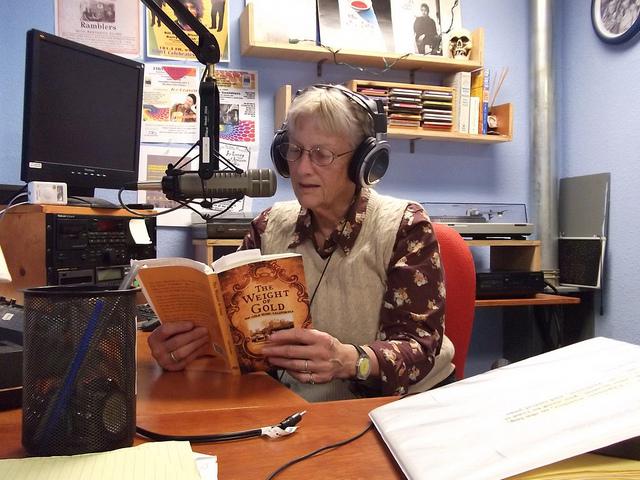 Join host Ruth Chambers as she shares stories from 1800 to 1920 in the dialogue and dialects of the time as written by the authors. You'll hear Gold Rush and Wild West Stories, Tall Tales, and plenty of Mark Twain. Some of the stories were written by the reader herself! Tune in, sit back, and enjoy a taste of simpler times.
Replays Friday 3:30-4pm, Saturday 11:30pm-Sunday 12am
Live Thursday 11-11:30am

Podcast
Music programs are only online for two weeks after they are broadcast.
The 72nd Show. "Ghost Stories of California" with Chapters "Haunted...Theatres" and "Haunted Transfer Station."
The 71st Show. A Comparison of Emotional Life
Emily Dickinson: "There's Been a Death...," "Frigate," "Narrow Fellow," "Closed Twice," and "No Surprise."
T.S. Eliot: "Love Song..."
June 6, 2013 Ruth reads from her book, "The Weight of Gold." It's the fire and flood times in Old Sacramento when the city was raised one story to stop flooding and buildings were made of brick. It's the real Old West complete with problem solving.
May 30, 2013 With the weather nice and warm, Ruth reads from her book about snow in the Sierras and "The Christmas Pudding." Miners up in the snows of Winter create a pudding from what's available on a mountain far from home.
May 23, 2013 Today Ruth reads Native American stories from before the Settlers and before the Small Pox. These are the old stories of a oneness with the animals and nature, and the adventures of the trickster Spider.
May 16, 2013 Yes, there was another Gold Rush, and it was way up North with the snow and ice of Canada and Alaska. Who better to tell the tales of the 1890 time than author Robert W. Service? It's a half hour of Service at his best, read by Ruth.
May 9, 2013 Before we forget, living at the same time as Mark Twain was Poe. Ruth reads "The Raven" once again because she likes this poem/story, and adds two old crow ballads, one from England and one from Scotland, with a surprise or two. One of the best shows we've done.
May 2, 2013 It's another fun show of Robert W. Service stories/poems. Ruth reads Service because he is one of the best, and one of the few to tell the Gold Rush story from 1890 Alaska. Hear how one man finally got warm in that drat North weather.
This week is Mark Twain time with "The Jumping Frog of Calaveras County." This was the short story that made Mark Twain famous.
Gwen Moffat had a full life in Wales as a trail guide and later a book writer. She first wrote about trails, then about crime. Her publisher invited Gwen to come to America and follow the trail of the wagon trains. She did this in a four wheel drive and mostly by herself. Hear her take on South Pass and Yellowstone as read by Ruth.