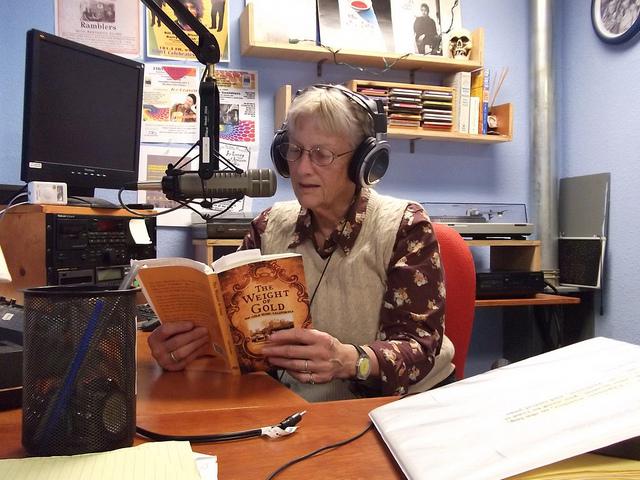 Join host Ruth Chambers as she shares stories from 1800 to 1920 in the dialogue and dialects of the time as written by the authors. You'll hear Gold Rush and Wild West Stories, Tall Tales, and plenty of Mark Twain. Some of the stories were written by the reader herself! Tune in, sit back, and enjoy a taste of simpler times.
Replays Saturday 11:30pm-Sunday 12am
Live Thursday 11-11:30am

Podcast
Music programs are only online for two weeks after they are broadcast.
Repeat Show due to Ruth being voiceless and ill.
Moby Dick, first chapter is read again.
Repeat show due to Ruth being voiceless and ill.
Moby Dick, chapter one is read again.
The 74th Show. "Moby Dick," Chapter 1 is read by Ruth. This is a chapter with humor so don't miss this chance for laughs in "Moby Dick."
It's July 4 and there is no show today since it's a holiday. See you next week.
The 73rd Show. "Just a Stage Coach Ride in the Country" from Ruth's book "The Weight of Gold, the extended 2nd Edition" not available at this time. A married woman comes out West to find her husband and two sons thinking she will be a great lady with all the gold her men folk have acquired. A story with many twists and turns and Indians attacking a Stage Coach.
The 72nd Show. "Ghost Stories of California" with Chapters "Haunted...Theatres" and "Haunted Transfer Station."
The 71st Show. A Comparison of Emotional Life
Emily Dickinson: "There's Been a Death...," "Frigate," "Narrow Fellow," "Closed Twice," and "No Surprise."
T.S. Eliot: "Love Song..."
June 6, 2013 Ruth reads from her book, "The Weight of Gold." It's the fire and flood times in Old Sacramento when the city was raised one story to stop flooding and buildings were made of brick. It's the real Old West complete with problem solving.
May 30, 2013 With the weather nice and warm, Ruth reads from her book about snow in the Sierras and "The Christmas Pudding." Miners up in the snows of Winter create a pudding from what's available on a mountain far from home.
May 23, 2013 Today Ruth reads Native American stories from before the Settlers and before the Small Pox. These are the old stories of a oneness with the animals and nature, and the adventures of the trickster Spider.