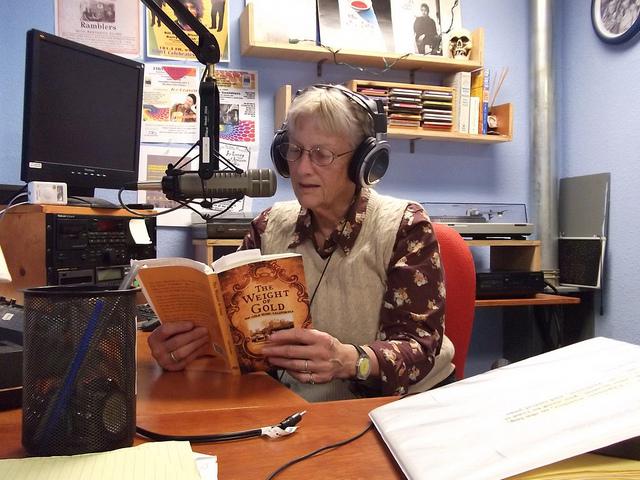 Join host Ruth Chambers as she shares stories from 1800 to 1920 in the dialogue and dialects of the time as written by the authors. You'll hear Gold Rush and Wild West Stories, Tall Tales, and plenty of Mark Twain. Some of the stories were written by the reader herself! Tune in, sit back, and enjoy a taste of simpler times.
Replays Saturday 11:30pm-Sunday 12am
Live Thursday 11-11:30am

Podcast
Music programs are only online for two weeks after they are broadcast.
The 49th Show. Ruth reads from the first edition of her book, "The Weight of Gold," the chapters "The Governor's Ball," and "The Photographer." Well this isn't some photographer in town, this is a photographer who takes a wagon and glass plates up into the Gold Hills to photograph the miners. It's quite an adventure.
This is the 48th show. Stories are read by Ruth from her book "The Weight of Gold," first edition. We hear three Indian related tales: "Cow Feet", "The Indian," and "The White Indian Man." There has been good response to this show.
Davis Media is closed for the Winter Holidays. There may or may not be a repeat program on.
The 46th show. Ruth reads her story "The Christmas Pudding." This is a story of the well meant efforts of a group of miners to have a Christmas Pudding. BUT there is no flour so they have to make some creative choices. Christmas Eve is celebrated in a group feast by a circle of friends.
The 45th show. For all you Mark Twain fans, here it is, the Duke and King in all their silliness from "Huckleberry Finn." Chapter 20 and 21 are read for the enjoyment of all.
The 44th show. It's Mark Twain and his "Huckleberry Finn." It's the King and the Duke -- two of Ruth's favorites. Chapter 20 &21 for a good time and lots of laughs on the Mississippi.
Due to the Thanksgiving Holiday, there is no broadcast today so there is no show to listen to. Hoping all had a pleasant holiday. Eat that turkey and enjoy the cranberries.
The 43rd show. "Treasure Island" by Robert Lewis Stevenson, and "Huckleberry Finn" by Mark Twain (first pages) are read by Ruth. Here are two examples of the beginning of young boys and their adventures being told in book form. Before these books, the heros were mostly grown men of the hero/knight variety.
The 42nd show. "Five Weeks in a Balloon" by Jules Verne started a worldwide hot air balloon fad. This first major balloon event (fictional) was sailing over Africa in comfort without illness or torture on the ground. It was fiction, but it started a fad. Next read is "Wizard of Oz" by L. Frank Baum and of course the Wizard is taking off in his hot air balloon.