Tune in to The Awesome Patrol Show (TAPS) to find out what host SaraTAPS is offering this week! Every Thursday at 7pm, I'll do my best to serve you a variety of the freshest tunes, some of my fav's along with the scoop on shows and noteworthy events in and around Davis. Cheers Friends! All are welcome at this DaNCePaRtY!
Replays Tuesday 10-11pm, Friday 5-6pm
Live Thursday 7-8pm

Podcast
Fri, 03/01/2013 - 6:05pm | Danny
WILDCARD!! With many super special guests.... take a listen to see what's what this week on TAPS!!
Friday Feature: Chapters Change Children - A student driven project by the amazing D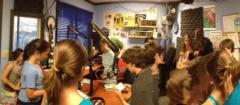 avisville kids. The project is currently collecting funds to ship over 4,000 books donated by our community to kids in Kenya. Look for collection sites on various elementary school campuses throughout Davis. Or send your donation to: Davis Sunset Rotary, PO Box 2112, Davis, CA 95617.
Fri, 02/22/2013 - 6:05pm | Danny
Festival Season Kickoff: BottleRock Ed.
Fri, 02/15/2013 - 6:05pm | Danny
Above & Below: Measure I Balls
Fri, 02/08/2013 - 6:05pm | Danny
SICK SHOW DUDES: with the cold and flu season in full swing, we decided to dedicate this week's happy hour to sick of being sick! Enjoy a heavy pour of jams to make you feel better. *cough sniffle*
Fri, 02/01/2013 - 6:05pm | Danny
PowerTrippin: The Joe Kro Bro Show ~ featuring our love of power-plays, secret shows & a birthday.
Fri, 01/18/2013 - 6:05pm | Danny
Broked: Falling Bruising Crying Laughing Breaking Drinking Recovering

Fri, 01/11/2013 - 6:05pm | Danny
Adult Bevvies & Brewskis: this week on taps is what y'all could be throwin down that throat and your ear drums at that same time ya know.
Fri, 01/04/2013 - 6:05pm | Danny
HNY EP 2013: time to re-the-f-up.
Fri, 12/28/2012 - 5:00pm | Danny
Winds of Change (Nov 23rd repeat)
Fri, 12/21/2012 - 5:00pm | Danny
Winter Solstice Edition: Earth, Water, Air & Fire