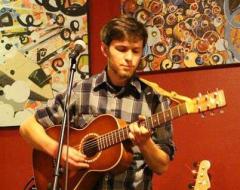 A very talented, up-and-coming singer/songwriter will be in the studio to introduce his new CD. Listening Lyrics is thrilled to spend an hour with Colin Wagner, his guitar, and his voice.
Moonlit Wheat
was born in a cinderblock cell of a dorm room when Colin found himself fascinated enough with the warm glow of early Mountain Goats records streaming through his computer that he devoted himself to pursuing the captivating witchcraft of songwriting.
After learning the basics of guitar on his old high school bandmate's debatably functional guitar, Colin grew and honed his songwriting abilities shrouded in the confusion, self-consciousness, and reverent conviction in the ethereal that he had so wholesomely fostered within himself.
The music of Moonlit Wheat has been praised for its haunting emotional intensity and vivid lyrical imagery. Capturing moments and feelings where the basic and universal meet with the romantic and colorful is the core of the project's sound. Visit Moonlit Wheat at www.moonlitwheat.com