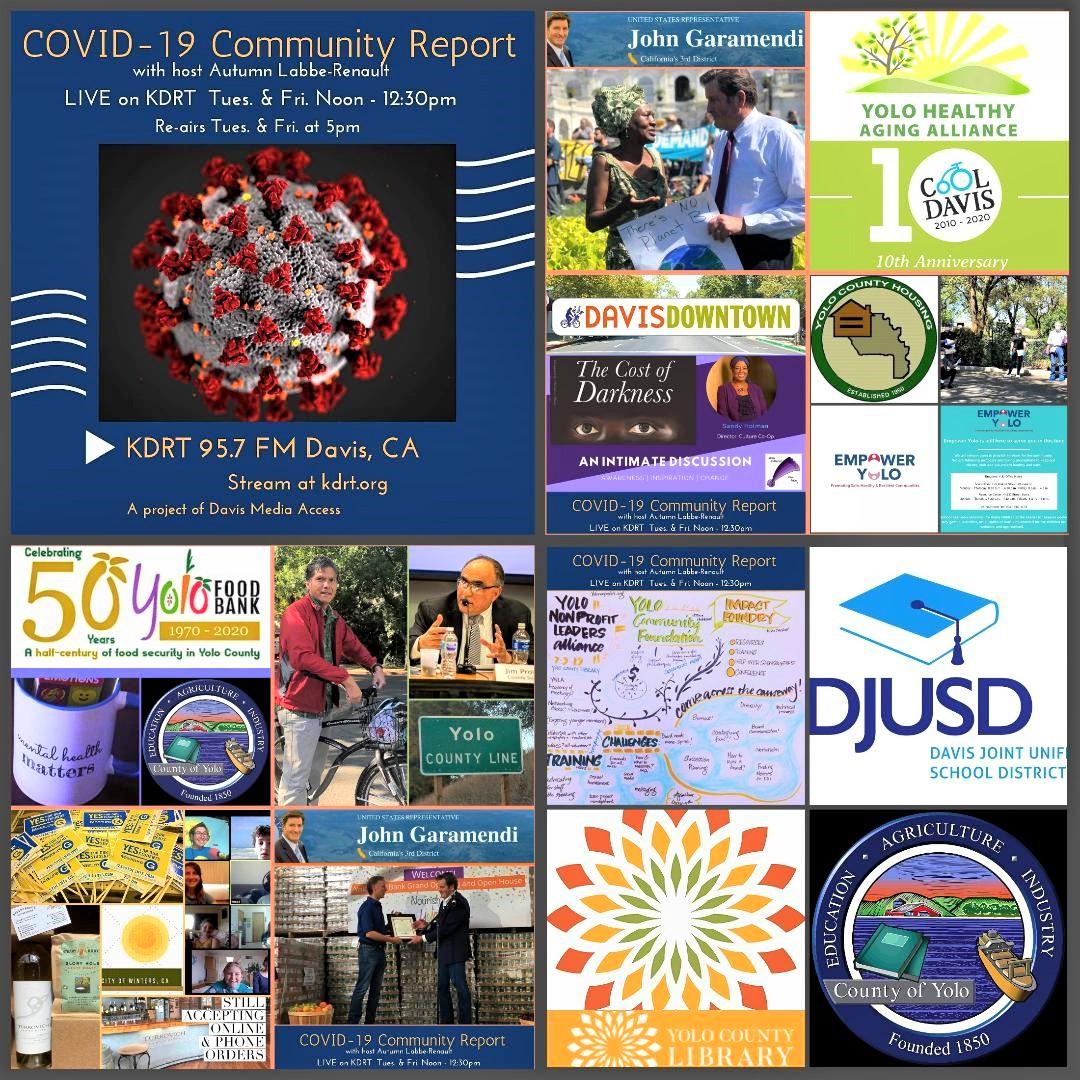 In a time of physical distancing, access to local news and information is more important than ever. Join Host Autumn Labbe-Renault live Tuesdays from 12-12:30. On the air since March 17, 2020, Autumn's been interviewing public health representatives, elected officials, community activists, nonprofit leaders, teachers and more. The information, resources, and strategies around COVID-19 are ever changing, and hearing from decision makers and community members in this moment is powerful. These shows are rebroadcast on Tuesdays and Fridays at 5 pm, and Sundays at noon. Autumn is executive director of Davis Media Access and is currently focusing some of her work time on documenting the effects of the pandemic here in Yolo County, using radio and video archives.
Please scroll down below this description for the archives of all previous episodes available to stream.
Replays Tuesday 5-5:30pm, Friday 12-12:30pm
Live Tuesday 12-12:30pm

Podcast
Music programs are only online for two weeks after they are broadcast.
At a moment when Yolo County has been returned to the most restrictive tier under the state's COVID-19 protocol, we hear two perspectives about the pandemic's impact on school-aged populations here in Davis.
My first guest today is Lorraine Nail-Visher, president of the Davis School Arts Foundation, which supports culturally relevant arts education for children in Davis public schools through project grants, advocacy, and arts integration training for educators. We'll hear about the foundation's work in general, its funding, and its recent decision to concentrate its efforts on one grade and on one centralized effort during the pandemic, with the Arts Kit project in partnership with the Davis Arts Center.
So, a group of local clergy walks into a community media station…it sounds like the start of a joke, but rest assured it's not. More like, a sign of the times.
For the past seven months, I've been talking to people about how COVID has impacted their lives — how it's changed their business, their operations or services, and their lives. As I've also mentioned many times during this course of this show, it's not just a global pandemic we're weathering--2020 has been a highly complex year, one where layers are being peeled back on institutionalized racism, where fear and scarcity loom large, and where divisiveness seems to be the order of the day. In short, we're a highly stressed populace.
Each October, the Davis Cemetery District & Arboretum holds a marvelous Dia de los Muertos celebration. Can you think of a more fitting setting for our local adaptation of this beautiful celebration of life and death that originated in Mexico, and today is celebrated all over Central America and here in the U.S.? Despite COVID, the celebration is on, and we'll hear from Executive Director Jessica Smithers how it's been adapted for this year. We'll also learn about some of the other unique features of this suprising local resource.
Today we  hear about local support available to families who may have reached a tough place, or who are in true crisis - we hear about the many ways Yolo Crisis Nursery steps up to help. We also hear from Evie Wright, president of Soroptimist International of Davis, which works to empower women and girls through education, training, and financial support as stepping stones to economic empowerment.
This week's guests include Michael Bisch, executive director of the Yolo Food Bank and Natalie Nelson, executive director of the Pence Gallery in downtown Davis.
Tasked with the mission of reducing food insecurity in our county, the Yolo Food Bank has been distributing 60,000 meals per month. Michael talks about bringing food security to Davis during the pandemic, including partnerships with local college campuses and the Interfaith Rotating Winter Shelter.  When asked what he is most grateful for he replied  "The 181 volunteer residents of Davis that are assisting their neighbors countywide, and the many food donors including local farmers, grocers and more".  There are still openings for volunteering to sort, pack, deliver and hand-out meal kits. Link to their website for additional information to volunteer.  
My guests this week are  Jesse Salinas,  Assessor/Clerk-Recorder/Registrar of Voters for Yolo County, and artist and community organizer NJ Mvondo, to speak about the new Healing Art Project unfolding in Davis.
Jesse's office  is responsible for multiple key functions within Yolo County, but for this show,  we'll focus on his role as registrar of voters. Jesse's team has been very busy getting out information about the changes to voting during the Nov. 3 election cycle, and I'm delighted to speak with him and get fully up to speed on what we need to know here in Yolo County.
Today''s guest is UC Davis Chancellor Gary S. May, who happens to be the most-requested interview from a poll of community members asked to suggest future guests. Some 24,000 UC Davis students are expected to be living here for the fall quarter, which starts Sept. 28, with the vast majority living in apartments and single-family homes in Davis and surrounding cities. What impact will this have on our COVID-19 numbers? How is the university managing its approach to COVID?