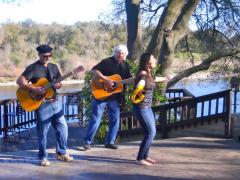 This week ( March 22 at 4:00PM) we will have the pleasure of having Tim and Ruby of Ruby and the Emeralds live in the studio.
Their sound is an integration of Ruby's Tex-Mex upbringing and musical heritage and Tim's deep folk, folk-rock and rock & roll influences.

Many of Tim's tunes were composed in Mexico and weave Spanish language elements into verses and choruses, expertly interpreted by Ruby's native tongue. Their songs have a decidedly "Americana" acoustic instrumentation while reaching out towards a "world music" orientation in their use of percussion, horns and cultural touches.