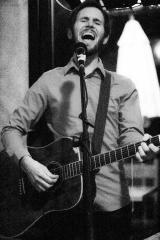 Listening Lyrics has been after this guy for months and finally we get to spend an hour with him.
Justin (from Winters, CA) started playing guitar as a teenager, and went on to front a couple of punk bands (Mr. Nobody and Stenna & the Poison Apples) during high school and college.
A writer by trade, he has a deep appreciation for sentence structure and storytelling. His approach to songwriting has been shaped by artists like Jackson Browne and Paul Simon, but his most formative musical years were spent listening to bands like Goldfinger, Against Me! and Fugazi. You can hear this blend in his songs.
Twitter: @CoxJustin Bandcamp: http://justincox.bandcamp.com/