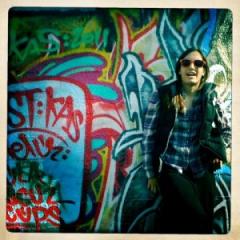 Alicia Murphy is a singer-songwriter from San Pedro, CA. She sings her all-original songs with a fierce rhythm guitar, a kick-drum, and unexpected harmonies. Alicia recently released her It Is and It Isn't EP, produced by multiple Grammy-winning Rami Jaffee (Foo Fighters, The Wallflowers) and Ran Pink atFonogenic Studios in Van Nuys, CA.
Alicia 's performances range from girl-and-her-guitar to full rock band. Most often she performs as a folky duet with her sister Sé Reed, who provides harmonies and light percussion.
She has performed at a range of venues throughout the West Coast, sharing the stage with an eclectic assortment of musicians along the way, including Matt Chamberlain, Daryl Hannah, Minnie Driver, Joesph Arthur, George Watsky, Ben Sollee, and Mother Falcon.
Alicia recently earned a B.S. in hydrology from UC Davis and is passionate about environmental conservation, particularly water conservation and clean water access, a theme that is present in many of her songs. Read more about her environmental advocacy on her water blog.
Alicia will be perferming at Third Space on 3/21/14
(946 Olive Drive)
Whole Earth Festival Party
All Ages, 7pm
facebook event!