Davisville, 1/20/14: Is that bacon? Ewww. A look at the Co-op's Suggestion Box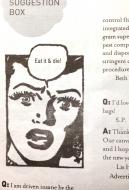 A customer who doesn't want to smell bacon. Product questions. Criticism of music played in the store. The Suggestion Box at the Davis Food Co-op, one of Davis' iconic businesses, fields 80 contacts a month as part of one of the most basic transactions at any business: Dealing with the public. In this case, the Davis public. On today's Davisville we talk with Membership Director Doug Walter about keeping the customer happy, plus related subjects concerning the Co-op, expectations for choice, and more.
Davisville, 1/6/14: The project to save Explorit
Explorit Science Center, founded in Davis 32 years ago to be "a place [where] people could find out how science is part of our everyday lives," nearly had to close this winter for lack of money. In today's program, Lars Anderson—Explorit's board president and interim executive director—talks about how they plan to recover.
Davisville, 12/23/13: Following up on a few favorite shows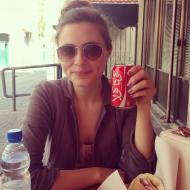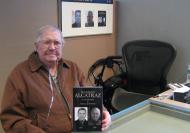 We end the year with updates from four prior guests: former Alcatraz convict Bob Luke, 86 (left); UC Davis grad and former Disney teen actress Lindsey Black (right, in Nazareth); Davis Enterprise Editor Debbie Davis, who assesses 2013; and Cathy Speck, a Davis musician (Duval Speck) and activist, who is dying from Lou Gehrig's disease, and writes about the experience on her "blong," http://www.cathydyingasliving.com.
Davisville, 12/9/13: Updating David Breaux's 4-year vigil for compassion downtown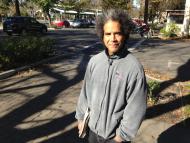 In summer 2009, David Breaux began standing at 3rd and C to ask passers-by to define compassion, and to write their definition in his notebook. As 2013 ends he's still at it, having collected 10,000 definitions, about a third of which have been gathered into a book. A bench, built at the corner with donated money, material and effort, honors his vigil. David first appeared on Davisville in June 1010; today he talks about what he has learned, and the Compassion Tour that might take him out of town for a year starting in summer 2014. But he says he'd come back.
Davisville, 11/25/13: The movies of 2013 with Derrick Bang
Derrick Bang writes reviews for the Davis Enterprise and his blog, Derrick Bang on Film. On today's show, an autumn tradition on Davisville, he discusses the year-end films, the movie hits and misses of 2013, the passing of Roger Ebert, and even a little about holiday jazz. You see him here next to a poster at the Varsity for "12 Years a Slave"—the first movie of 2013 to earn one of his rare 5-star reviews.
Davisville, 11/11/13: With Cannery decision due, we take a look at Davis housing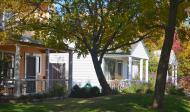 With the Cannery housing development coming up for a decision, now's a good time to take stock of the Davis housing market—including trends this year in sales and prices, the outlook for 2014, who's buying, and the effect of adding the Cannery's proposed 547 homes to the local supply. We discuss this and more with returning guest Steve Boschken, a Davis mortgage and real estate broker who also has a degree in environmental design and urban planning from UC Davis.
Davisville, 10/28/13: Understanding Davis Makerspace
Davis Makerspace, sort of a cross between a workshop and a public library, and open to science and tech as well as to art, opened in a converted storage unit in a downtown alley this year. So how does the budding nonprofit work, why is it here, who's it for, and what does it offer to Davis? We get answers today in a talk with three of its members/directors – Nicholas Weigand (far left), Jeff Tolentino (holding a drum he made at makerspace), and Braden Pellett.
Davisville, 10/14/13: School tech, aides and counselors, plus Acme's Halloween treat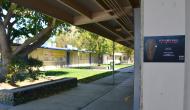 Today's show has two segments with seasonal connections. The first is a talk with Maria Clayton of the Davis Schools Foundation about the goals of its latest fund-raising campaign on behalf of Davis public schools; then we talk with Betsy Raymond of Acme Theatre Company, and Raphi Gorga, who plays the title role—and nails the accent—in Acme's fall production, Dracula.
Davisville, 9/30/13: Muslims fighting Muslim fundamentalism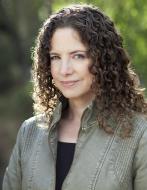 "Your Fatwa Does Not Apply Here," a new book by UC Davis international law Professor Karima Bennoune, has stories about people in Muslim-majority societies who resist Muslim extremism; she discusses what the United States should do, why fundamentalism has spread, how the left and the right get the issue wrong, and more, today on "Davisville."
Davisville, 9/16/13: Two new tales of creative achievement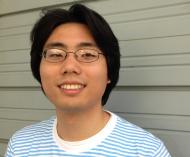 Today's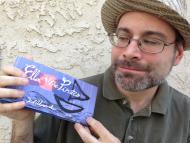 Davisville presents two new interviews with entrepreneurs in Davis: Theo Mak, far right, co-creator and executive editor of The-O Network, which posts news and information about movies, art and music from Japan; and artist/illustrator Jed Alexander (Nickleodeon, Cricket), whose "(Mostly) Wordless" picture book will be printed in 2014 thanks to his successful Kickstarter campaign.
Pages