Davisville, 4/14/14: How much sweet do you want?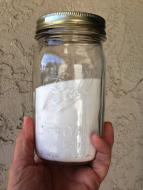 Drink a 20-ounce regular soda daily for a week, and you'll consume as much sugar as you see in this one-quart Mason jar. On today's program Harold Goldstein, executive director of the Davis-based California Center for Public Health Advocacy, talks about their efforts to tame the tide of sugar in the name of public health.
Davisville, 3/31/14: A $15 per hour minimum wage for Davis?
This spring, Raise the Wage Davis is collecting signatures for a November ballot initiative to increase the minimum wage inside Davis to $15 per hour by Jan. 1, 2016. On today's Davisville, Neil Ruud, volunteer coordinator for the group, discusses their goals, plans, and why they chose $15. He also fields questions about the impact on employment inside the city.
Davisville, 3/17/14: Davis performer Paul DelBene presents 'Olaf the Fool'
Meet Olaf. He's a fool. Paul DelBene (shown here) knows because he created the character, and he'll bring Olaf onstage for three "An Evening with Olaf" performances April 4-6 to benefit the Cesar Chavez school PTA and Davis Schools Foundation. On today's program we talk about the shows, DelBene's work (mostly in Europe), clown boot camp, clown college, performing for Pixar … and the value Davis could get from a small professional multi-functional venue, of maybe 200 to 300 seats, for music, performances, dances, and more.
Davisville 3/3/14: A Royal Academy veteran directs 'The Grapes of Wrath' at UC Davis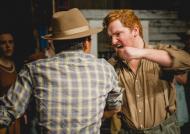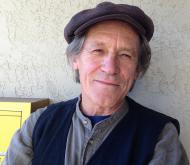 "The Grapes of Wrath" is John Steinbeck's iconic book about the Joad family as they leave the Oklahoma dustbowl for California during the Great Depression; from March 6-16 it's also a play in Davis, directed by Miles Anderson. He's an actor (Royal Shakespeare Company, Royal Academy of Dramatic Art, West End, San Diego's Old Globe Shakespeare Festival) and the current Granada Artist-in-Residence at UC Davis. Today we talk about the story, the play adaptation by Frank Galati, the UC Davis cast and crew, plus a thought or two drawn from Anderson's years in theater. (The photo on the left, by Abigail Alcala, shows Daniel Ferrer and Mark Merman from the UC Davis production.)
Davisville, 02/17/14: This time it's the city, not the schools, asking for more money
The city of Davis, facing a $5 million yearly deficit and a backlog of deferred road repairs (this photo, shot through a windshield, shows Olive Drive), has asked voters to boost the city sales tax by a half-cent per dollar starting this fall. Citywide votes on water rates and possibly a new city parcel tax are also in the works this year. On today's show, Davis Vanguard blogger David Greenwald--who has written extensively about the city's finances--talks about how the city dug this hole for itself, the options, and where we go from here.
Davisville, 2/3/14: Talking about Davis & Winters with columnist Debra DeAngelo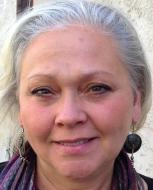 Debra DeAngelo, managing editor of The Winters Express, also writes the often-feisty "Because I Say So" opinion column that appears every Sunday in the Davis Enterprise. Today we talk about the column, her work, misperceptions that Davis and Winters have about each other, and more.
Davisville, 1/20/14: Is that bacon? Ewww. A look at the Co-op's Suggestion Box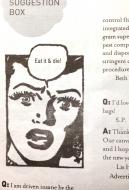 A customer who doesn't want to smell bacon. Product questions. Criticism of music played in the store. The Suggestion Box at the Davis Food Co-op, one of Davis' iconic businesses, fields 80 contacts a month as part of one of the most basic transactions at any business: Dealing with the public. In this case, the Davis public. On today's Davisville we talk with Membership Director Doug Walter about keeping the customer happy, plus related subjects concerning the Co-op, expectations for choice, and more.
Davisville, 1/6/14: The project to save Explorit
Explorit Science Center, founded in Davis 32 years ago to be "a place [where] people could find out how science is part of our everyday lives," nearly had to close this winter for lack of money. In today's program, Lars Anderson—Explorit's board president and interim executive director—talks about how they plan to recover.
Davisville, 12/23/13: Following up on a few favorite shows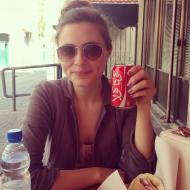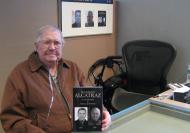 We end the year with updates from four prior guests: former Alcatraz convict Bob Luke, 86 (left); UC Davis grad and former Disney teen actress Lindsey Black (right, in Nazareth); Davis Enterprise Editor Debbie Davis, who assesses 2013; and Cathy Speck, a Davis musician (Duval Speck) and activist, who is dying from Lou Gehrig's disease, and writes about the experience on her "blong," http://www.cathydyingasliving.com.
Davisville, 12/9/13: Updating David Breaux's 4-year vigil for compassion downtown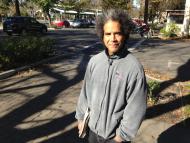 In summer 2009, David Breaux began standing at 3rd and C to ask passers-by to define compassion, and to write their definition in his notebook. As 2013 ends he's still at it, having collected 10,000 definitions, about a third of which have been gathered into a book. A bench, built at the corner with donated money, material and effort, honors his vigil. David first appeared on Davisville in June 1010; today he talks about what he has learned, and the Compassion Tour that might take him out of town for a year starting in summer 2014. But he says he'd come back.
Pages