Return of a popular show from a few years back. Judith Plank has existential conversations about the state of the world and the arts, relationships, humor and hodge-podge. Every other week they will interview an important person in Davis: the mayor, a teacher, a mom, a cab driver, a garbage collector, a teenager, etc.

Podcast
Album of the Week Jun 19th, 2014, SHIPS HAVE SAILED
Posted by permission of SHIPS HAVE SAILED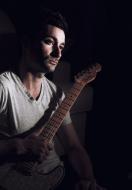 Los Angeles is a hub of musical talents that are struggling to get heard. Some of these bands or artists are so good, it amazes that they aren't household names. One such "group" is "
SHIPS HAVE SAILED
", I say group but the driving force behind SHIPS HAVE SAILED is
WILL CARPENTER.
Will has spent 10 years in LA creating and playing. With this band he has a set of songs that trully have solid bones. By that I mean the raw songs are well written with lyrics to match. Then he adds a group of musicians and some technical wizardly to create an LP of 6 songs - some lush, some pop, some singer/songwritter. This album has a variety that makes the listener want to hear what else is hidden here. Yes LA should be proud of the fact that it still has the energy and creative force to produce hidden jewels sounds as this

This week will include an interview with

WILL CARPENTER

as he shares histhought this album.
A Broad Perspective for 11am on Apr 30th, 2013
A Broad Perspective for 11am on Apr 23rd, 2013
A Broad Perspective for 11am on Apr 16th, 2013
A Broad Perspective for 11am on Apr 9th, 2013
A Broad Perspective for 11am on Apr 2nd, 2013
A Broad Perspective for 11am on Mar 26th, 2013
A Broad Perspective for 11am on Mar 19th, 2013
A Broad Perspective for 11am on Mar 12th, 2013
A Broad Perspective for 11am on Mar 5th, 2013
Pages