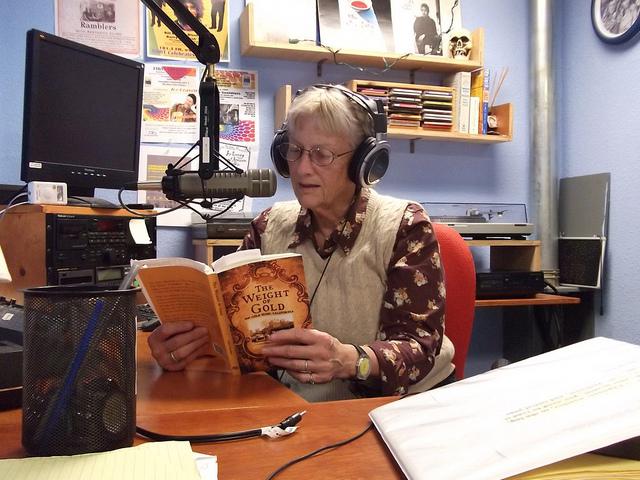 Join host Ruth Chambers as she shares stories from 1800 to 1920 in the dialogue and dialects of the time as written by the authors. You'll hear Gold Rush and Wild West Stories, Tall Tales, and plenty of Mark Twain. Some of the stories were written by the reader herself! Tune in, sit back, and enjoy a taste of simpler times.
Replays Friday 2:30-3pm, Saturday 11:30pm-Sunday 12am
Live Thursday 11-11:30am

Podcast
The 12th show. "Just a Stage Coach Ride in the Country" is another of Ruth's stories. This one is about a lady getting sick on the stage and saving the lives of all on the stage. It's kind of funny. And there are Indians.
The 11th show. Another of Ruth's stories about something not written about much, the lost husband. Did he die in a snow storm, did he have another family, did he take on another kind of life....? The story is titled "Rumor of a Man."
The 10th show. Ruth reads her story about missing women. Where did they go? Are they still alive? Did someone kill them? And then the story of Baseball. It's a "believe it or not," 'cause Baseball started in 1849.
The 8th show. Reading from her book, "The Weight of Gold," Ruth reads about the Chinese who were so important in California history.
The 7th show. Ruth reads from her stories: "City Cemetery," "White Indian Man," "Civil War," and "The Chinese."
The 6th show. Ruth reads chapters from her book: "The Long Night," "Looking at Things," "The Chinese."
The 5th show. More Sacramento and California history: "Of Bears and Pies," and "Receding Water and the Riot." These are stories written by Ruth.
The 4th show. Another mishap and some "dead air" (meaning no sound) but when Ruth reads it's from her book and the story "The Photographer."
The 3rd show. Reading from her book, Ruth reads chapters: "The Flood," "Joaquin Murrieta," "The Cabin," and sang "For All You People Alone."