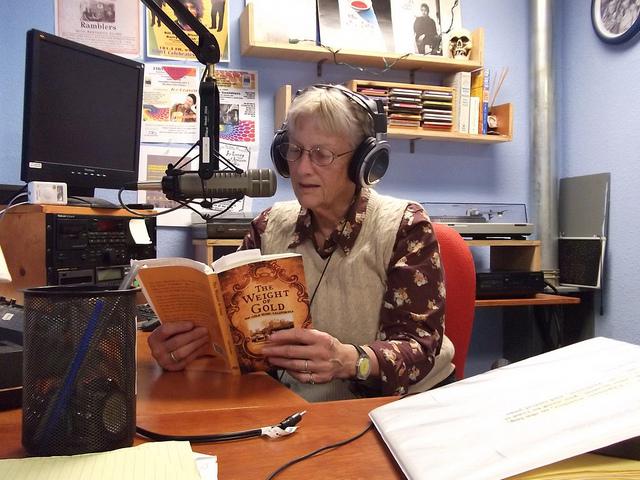 Join host Ruth Chambers as she shares stories from 1800 to 1920 in the dialogue and dialects of the time as written by the authors. You'll hear Gold Rush and Wild West Stories, Tall Tales, and plenty of Mark Twain. Some of the stories were written by the reader herself! Tune in, sit back, and enjoy a taste of simpler times.
Replays Friday 2:30-3pm, Saturday 11:30pm-Sunday 12am
Live Thursday 11-11:30am

Podcast
Music programs are only online for two weeks after they are broadcast.
The sound is back. This week's show is from "A Tramp Abroad" by Mark Twain. In his past he was a reporter and in Chapter XL he does his reporting style without jokes. We hear about the Mont Blank glacier and one of the groups who did not do well. Three of the guides fell down a crevass and 42 years later came out the front. This story is from a time when people were just learning that glaciers moved and that lost hikers would move within the glacier.
Today Ruth reads from "Tramp Abroad" by Mark Twain, Chapter 8 "The French Duel." Dueling was a popular way of killing one's self in the 1800's. It took Mark Twain to make fun of this deadly sport and show the silliness of dueling. Hope you enjoy this best of the best of Twain humor.
Finally Ruth is back after the flu. Don't get it. It's bad this year. Well, today Ruth reads from "A Tramp Abroad" by Mark Twain. Chapter 8 is called "The Great French Duel." Dueling was a serious business during the 1800's so Twain found a way to make fun of this dangerous way to resolve quarrels. Ruth only coughed once during reading.
This show has a few false starts but hang in there and after a few announcements you will get to the "Christmas Pudding."
Nearing the Winter Holiday time, Ruth reads "The Christmas Pudding" from her book "The Weight of Gold." The story takes place up in the gold hills of California in a mining camp. Some snow bound, rain soaked miners are preparing a Christmas Pudding to remind them of home.
This show has technical problems so don't waste your time listening to this show. Well, maybe you like to laugh at bouncing voices and such like.
This is the 91st show on KDRT and it's the Winter Holiday Show: "The Christmas Pudding" written by Ruth Chambers. It's December and it's time for a Christmas Pudding. The story is from the California Gold Rush of 1849 up in the Sierra Nevada Mountains with rain and snow. Miners in Red Dog Camp are preparing a Christmas Pudding for a touch of home on Christmas Eve.